Almost half of Kim Jong-un's cabinet is replaced
심규석
입력

2021. 1. 18. 17:56
글자크기 설정
파란원을 좌우로 움직이시면 글자크기가 변경 됩니다.
이 글자크기로 변경됩니다.
(예시) 가장 빠른 뉴스가 있고 다양한 정보, 쌍방향 소통이 숨쉬는 다음뉴스를 만나보세요. 다음뉴스는 국내외 주요이슈와 실시간 속보, 문화생활 및 다양한 분야의 뉴스를 입체적으로 전달하고 있습니다.
North Korea overhauled its cabinet in response to the economic failures of the past five years during a session of its rubber-stamp legislature, state media reported Monday.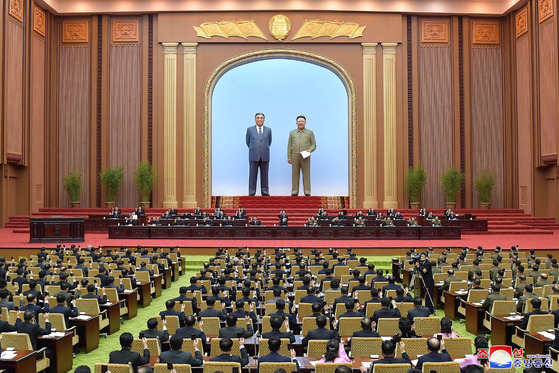 North Korea overhauled its cabinet in response to the economic failures of the past five years during a session of its rubber-stamp legislature, state media reported Monday.
A new cabinet composed mostly of technocrats with field experience was appointed by the Supreme People's Assembly (SPA) in its fourth session that convened in Pyongyang on Sunday, according to a report by the official Korean Central News Agency (KCNA).
In a report to the legislature, Premier Kim Tok-hun cast blame on the outgoing cabinet for "serious mistakes" in carrying out the regime's five-year growth strategy recently supplanted by a plan outlined at the recent Eighth Congress of the ruling Workers' Party earlier this month.
"He stressed that the cabinet will definitely put our economy on a normal track that makes sustained development unaffected by any outside influence," read an English-language KCNA report.
The premier's declaration echoed those made by North Korean leader Kim Jong-un at the congress admitting to serious failures in reaching development objectives following a disastrous year for the regime's sanctions-hit economy.
The SPA convened Sunday to officially approve the decisions reached at congress, which included a plan to redouble efforts to develop key industries like coal, mining and machinery, as well as meet crop production quotas.
To implement those plans, around half of the regime's cabinet is believed to have been shuffled out.
Out of the 56 minister-level positions in the North Korean cabinet reckoned by South Korea's Ministry of Unification, state media reported Monday 27 new officials — including six vice premiers — had been newly appointed.
If Seoul's estimates are correct, this would mean 48.2 percent of the North's ministries are now under new leadership — a major personnel shift even by the standards of the regime, where Kim Jong-un's whims often dictate reshuffles at top levels.
Many of the new appointees were relatively obscure figures in South Korea, though they are believed to be figures seasoned in their respective economic fields.
Professor Lim Eul-chul, who teaches North Korean studies at the Institute for Far East Studies at the South's Kyungnam University, said the new officials appeared to be "technocrats equipped with practical skills and expertise."
Minister of Light Industry Ri Song-hak and Minister of Construction and Building-materials Industry Pak Hun were both promoted to vice premiers, presumably in recognition of achievements made in an especially difficult 2020.
Agriculture Minister Ju Chol-gyu, who was also appointed a vice premier, is also known to be experienced, having served various positions in the North's Agriculture Ministry since 2008.
The regime's health minister was replaced, likely in connection to the effects of Covid-19 on the country. An official report made at the SPA's budget committee on Sunday blamed "certain economic officials" for failing to follow through on production goals in response to the health crisis.
Pyongyang officially denies it has had any coronavirus cases, though this is disputed by international analysts. The pandemic has indubitably hurt the country's economy due to its self-imposed border shutdown.
Sunday's reshuffle at the SPA also followed an earlier reshuffle announced during the congress, when Pak Pong-ju, the North's elderly economy czar who twice served as the country's premier, was removed from the party's five-member political bureau presidium and replaced by Kim Jong-un's close aid Jo Yong-won.
It was not yet clear on Monday whether the SPA discussed whether Jo would take over Pak's seat on the State Affairs Commission (SAC), the supreme decision-making body chaired by Kim Jong-un.
The presidium represents the party's top officials, but the 14-member SAC is the country's top executive body formally elected by the SPA.
BY SHIM KYU-SEOK [shim.kyuseok@joongang.co.kr]