[Column] Sparking big bang in service sector
입력

2023. 4. 2. 19:51
수정

2023. 4. 3. 09:16
글자크기 설정
파란원을 좌우로 움직이시면 글자크기가 변경 됩니다.
이 글자크기로 변경됩니다.
(예시) 가장 빠른 뉴스가 있고 다양한 정보, 쌍방향 소통이 숨쉬는 다음뉴스를 만나보세요. 다음뉴스는 국내외 주요이슈와 실시간 속보, 문화생활 및 다양한 분야의 뉴스를 입체적으로 전달하고 있습니다.
If you are really concerned about your future, you must draw a bigger picture.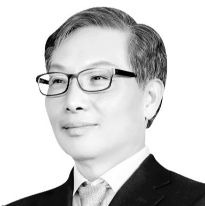 Choi Byung-ilThe author, a professor of economics at the Ewha Womans University Graduate School of International Studies, is president of the Korea Foundation for Advanced Studies.
"What would it take to make iPhones in the United States? Why can't that work come home?" asked then-U.S. President Barack Obama to the late Apple CEO Steve Jobs at a dinner with industry bigwigs in Silicon Valley in February 2011. "Those jobs aren't coming back," replied Jobs cynically.
After successfully breaking the racial glass ceiling of U.S. politics three years ago, Obama had reelection in his mind at the time. But what determined the results of U.S. presidential races was — and still is — the votes from the Rust Belt. After being elected president in 2008 at the peak of the Wall Street-triggered global financial crisis, Obama was devoted to creating more manufacturing jobs in the U.S. A business U-turn was not only the Obama administration's strategy to resuscitate the moribund U.S. manufacturing sector but also his reelection campaign. Jobs, who was well aware of his calculation, abruptly splashed cold water on Obama's dream.
"Designed by Apple in California, Assembled in China" — the line inscribed on the back of iPhones — is the IT giant's declaration of a global iPhone supply chain based on its unfettered technology leverage. Owning technology and manufacturing products overseas was the profit-making formula sweeping the globalization era. Thanks to the powerful recipe, U.S. companies left for foreign countries en masse at a dazzling speed.
Nearly two decades have passed since. After the globalization era has ended and a new era of factoring in the color of money has begun, U.S. President Joe Biden is more determined to do what Obama couldn't do. The omnipresent global supply chains based on technology supremacy, regardless of ideological differences, sound loud alarms around the world. China — the reliable supply chain troubleshooter for global enterprises — cannot return to its past throne since Biden received the baton from his Republican predecessor to thwart China from gaining technology hegemony across the board — from livelihood products such as cars, smartphones and medical equipment to security items like aircraft, radar and supercomputers. Chips at the center of all of them have become a major battlefield.
Biden wants to build an enterprising chip supply chain in the U.S. Will such magic work in America, where all its chip production ecosystem vanished long ago? The United States is aggressively waving a "magic wand" to draw investments from allies. Memory chip giants like Samsung Electronics and SK hynix from Korea and foundry behemoth TSMC of Taiwan are all constructing their plants in Texas and Arizona, respectively. They made strategic choices despite the apparent rise in construction and transportation costs.
Uncle Sam, as usual, uses a carrot-and-stick approach — subsidy grants and export control — to lure investments from allies. Last winter, the U.S. pressured Japan and the Netherlands into suspending their core chip equipment exports to China. That's a fatal blow to a country that spends more money importing chips than oil. The U.S. subsidy certainly smells fishy. If foreign companies receive a subsidy from the U.S., they cannot invest in China for the next 10 years, not to mention their obligation to disclose the details of their production facilities in the U.S. and share excess profits with Uncle Sam. What did Biden really mean when he championed the construction of a new chip habitat among democracies sharing the values of freedom and human rights? Many pundits wonder what difference there is between the U.S. and China. They ask, "Where is the United States that denounced China for pressuring foreign investors to transfer their technology in return for approving their investments in China?"
Three ominous repercussions of the new Cold War, the population cliff and climate change are pouncing on Korea's manufacturing front. Some say the advent of a new Sino-American Cold War could help Korea earn some time to get past China. Others say Korea's low birthrate and fast aging population could offer Koreans an opportunity to change their lifestyle in a small country. Others say climate change gives a chance to transform Korea's carbon-based manufacturing sector into an eco-friendly one. But clearly, such a rosy future will not arrive without making nearly revolutionary efforts.
The Yoon Suk Yeol administration's bold plan to create a mammoth, cutting-edge technology cluster in the Seoul Metropolitan area shows our manufacturing sector's dilemma. Under the current situation, it is increasingly more difficult for Korea to continue investing in China for security reasons and more complicated to invest in the U.S. than before. It is in any sovereign state's right to keep its key industry facilities onshore, but it must draw a bigger picture for a better future.
Most developed economies are busy bringing back their lost manufacturing base through subsidies. We cannot win the game if we just imitate them. Given the significance of economic security in the new Cold War, those advanced countries just solve the problem in their own ways. Our solution should be different since we have a strong manufacturing industry. While trying to maintain the technology gap with our rivals in chips and other high-tech fields, we must compensate for the relative weakness of our service industry compared to other advanced economies.
Korea is infamous for its outdated service sector. The share of the manufacturing industry in its GDP is 25 percent, higher than any member country of the Group of Seven and all OECD members. For instance, the share is 19 percent in Germany, 20 percent in Japan, 11 percent in the U.S., and 13 percent on average in OECD countries. In contrast, the share of the service industry in the GDP is 57 percent for Korea, 69.5 percent for Japan, 62.9 percent for Germany, 77.6 percent for the U.S., and 71 percent on average for OECD member countries, according to a 2021 World Bank report.
The fact that the service industry creates more than 70 percent of jobs in Korea while accounting for less than 60 percent of its GDP shows the Korean service sector's poor productivity. That helps explain why service industry workers get paid less than their counterparts in the manufacturing sector in Korea, particularly when they work for global companies. No past Korean governments since the democratization in 1987 have treated the service industry seriously. No other country that advanced to the developed category still clings to the manufacturing sector as Korea does. All advanced economies have cultivated a strong service sector. Without lifting the industry's productivity, you cannot achieve high income and high welfare services simultaneously.
Korea could become a manufacturing powerhouse because it overcame all the limits from a small domestic market through heated competition in global markets. Why aren't such competitions happening in the service industry? The government can spark a big bang by devising a creative global strategy. It all starts with its determination.
Japan's dramatic change from a peripheral tour destination to a mainstream tourism attraction shows it all. Just 10 years ago, Korea attracted more tourists than Japan. The number of foreign tourists to Japan, which stood at a maximum of 8 million annually from 2005 through 2011, rose rapidly from 2012. After hitting 13 million in 2014, the number approached Korea's 14 million that year. The following year, Japan outpaced Korea's 13 million foreign visitors by a margin of 6 million. In 2016, Japan attracted 24 million foreign tourists, while Korea did 17 million. In 2018, Japan crossed the point of 30 million.
What was the secret to the surprising debut of Japan as one of the Top 10 global tourism destinations despite its complex public transport system, linguistic barrier and difficulty in using credit cards? There must be some real reasons other than the weaker yen. The answer is the Japanese government's bold initiatives to find a breakthrough in its prolonged economic slump and population cliff by proactively selling the attractiveness of regions to the rest of the world. The central and local governments joined forces to discover all the charming stories from regions and turned them into competitive products. The numbers show their success.
If Korea can elevate its lackluster service industry to a vibrant one, it can help the country find a breakthrough during an economic crisis and population decline, not to mention narrowing the gap between Seoul and the rest of the country. The hot Korean wave will certainly help boost our service industry. If Japan, the origin of the Galapagos syndrome, could make that transformation, Korea also can do it.
Translation by the Korea JoongAng Daily staff.