Kim Gi-hyeon, "Based on Ahn Cheol-soo's Past Comments, It's Doubtful Whether He Agrees with the Philosophy of the People Power Party"
Tak Ji-young, Cho Mi-deop
입력

2023. 2. 7. 17:24
글자크기 설정
파란원을 좌우로 움직이시면 글자크기가 변경 됩니다.
이 글자크기로 변경됩니다.
(예시) 가장 빠른 뉴스가 있고 다양한 정보, 쌍방향 소통이 숨쉬는 다음뉴스를 만나보세요. 다음뉴스는 국내외 주요이슈와 실시간 속보, 문화생활 및 다양한 분야의 뉴스를 입체적으로 전달하고 있습니다.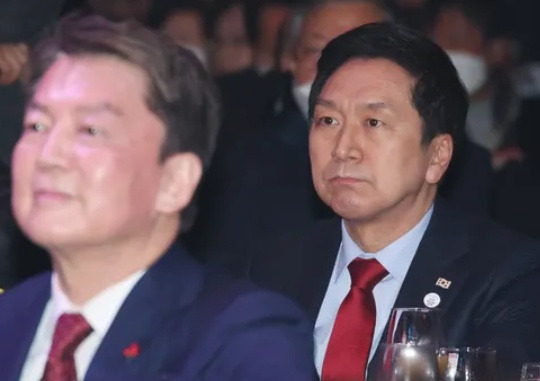 On February 7, Kim Gi-hyeon, a candidate for People Power Party (PPP) leader, raised an issue with a comment that his opponent, Ahn Cheol-soo, made in the past, criticizing it as not befitting the identity of the People Power Party. He pulled out a past remark by Ahn and attacked his philosophy after the Office of the President labeled Ahn as a candidate not supported by President Yoon Suk-yeol. Ahn argued that trying to find fault with past words and actions was the same as giving up on being the ruling party.
On Tuesday, Kim Gi-hyeon wrote on social media, "The past remarks by Ahn have returned to the spotlight with recent press coverage and are stirring party members." He continued and wrote, "It leaves us no choice but to raise a fundamental question about whether Ahn has thoughts and beliefs that agree with the philosophy of the People Power Party, which fundamentally stands on a market economy and liberal democracy." The previous day on social media, Kim asked Ahn to explain his press union-friendly actions, arguing, "If he hesitates or avoids presenting his position, then we must ask Ahn to abandon his bid." Kim personally attacked his opponent about his identity for two consecutive days.
Kim found fault with five comments by Ahn: "These days, there are no spies," which Ahn mentioned during the 2012 presidential election. "Shin Young-bok is a great intellectual," which Ahn said when he visited the funeral hall where the late activist and writer was laid in 2016. "Deploying THAAD missiles does not benefit our national interest," "I will succeed DJ's (former president Kim Dae-jung's) Sunshine Policy," and "Deng Xiaoping is my role model," which Ahn mentioned in a speech he gave as the representative of a negotiation group in the National Assembly in 2016.
Kim Gi-hyeon described Shin Young-bok as the "grandfather of communism," the Sunshine Policy as "unilateral aid for North Korea" and "the starting point of the North Korean nuclear problem," and Deng Xiaoping as "a dictator who suppressed the Tiananmen Square protests and massacred the people" and publicly asked Ahn, "What do you think now?" He went on to suggest that Ahn should at least once clarify his position on words and actions that did not go in line with the identity and ideas of the party if he sought the PPP leadership. He pressed, "Don't avoid the issue and confidently give an answer."
Kim seems to be fueling doubts about Ahn Cheol-soo among party members who strongly lean towards the right ahead of a cutoff survey of party members scheduled to be conducted on February 8-9. The continuous negative campaign could also burden Kim, but he can amplify the impact of his attacks. He is looking for a game changer to win in the cutoff, the party's first official survey, after he trailed Ahn in a series of polls among party supporters recently.
Ahn immediately refuted the accusation. Kim Young-woo, chief of Ahn Cheol-soo's campaign, appeared on the CBS radio show, Kim Hyun-jung's News Show, and described Ahn as a strong candidate for party leader who had worked to support a single candidate, served as the chairman of the presidential transition committee, and was now leading in the race and said, "Trying to find fault with words and actions that he made in the past, when he was a member of the opposition party, is personally giving up on being the ruling party." He criticized, "He is abandoning the most important strategy to win in the parliamentary election--that we must grow bigger." He also argued, "Ahn was the politician who fiercely fought the Moon Jae-in government throughout the five years," and asked, "We don't even have enough time to discuss the present reality. Why does he keep talking about the past?"
ⓒ 경향신문 & 경향닷컴(www.khan.co.kr), 무단전재 및 재배포 금지