Fake news in full swing
글자크기 설정
파란원을 좌우로 움직이시면 글자크기가 변경 됩니다.
이 글자크기로 변경됩니다.
(예시) 가장 빠른 뉴스가 있고 다양한 정보, 쌍방향 소통이 숨쉬는 다음뉴스를 만나보세요. 다음뉴스는 국내외 주요이슈와 실시간 속보, 문화생활 및 다양한 분야의 뉴스를 입체적으로 전달하고 있습니다.
We must keep our eyes and ears open to differentiate what is true and not. Fake news sickens the society.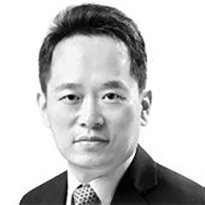 Kim Dong-ho
The author is economic news editor of the JoongAng Ilbo. The smear campaign against President Yoon Suk-yeol has gone too far. He has been mocked for wearing his trousers backwards or having a drink and singing until dawn with lawyers from Kim & Chang, a mighty law firm in Korea. YouTubers have a field day ridiculing the president whenever possible. Given attached comments on their postings, many people seem to believe in their preposterous accusations.
First, one can hardly go around wearing trousers backwards. It would even be impossible to wear a belt over them, let alone walk a few steps. A picture claims that President Yoon standing next to U.S. President Joe Biden with his pants on backwards. The postings have gone viral in cyberspace. Many have joined the ridicule in the comments.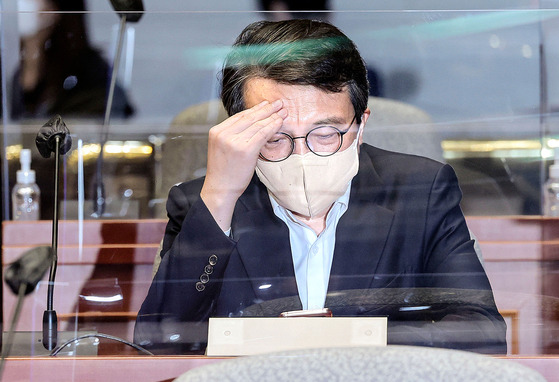 Rep. Kim Eui-kyeom, a lawmaker from the Democratic Party, attends a full meeting of the party at the National Assembly, Nov. 24. He claimed that President Yoon Suk-yeol and Justice Minister Han Dong-hoon had a binge drinking session with 30 lawyers from Kim & Chang, the most powerful law firm in Korea, until 3 p.m. on Oct 28. His claim proved untrue. [KIM SEONG-RYONG]
Second, rounding up 30 lawyers from Kim & Chang cannot be that easy. There are about 2,000 lawyers working for the law firm. Thirty could seem a modest group. But would it? Who would drink until 3 a.m. these days in Korea? After-work drinking tradition already disappeared due to tough regulations for Covid-19. Few married men would survive at home if they drink until dawn. Besides, how can they go to work a few hours later?
A fabricated image of Justice Minister Han Dong-hoon without hair also spread fast on social media with claims that he wears a wig. An attack on the justice minister translates into an assault on the president, as Han is arguably Yoon's most favorite aide. A law practitioner close to Han laughed at the claim. Even if he wears a wig, what's wrong with it? But fabricating an untrue image is wrong. Criticizing the way one wears trousers or styles his hair can feed and reproduce hatred. Stamping someone with negative image can generate a stereotype and augment hatred.
Fake news has been around for a long time in Korea. Former prime minister Lee Hoi-chang failed in a presidential race back to back because of the speculation about his two sons having avoided their military duty because of fragile physique. The allegations proved untrue. Many people come to believe rumors are true if they are strongly argued and spread. The phrase "I heard it through the grapevine," which refers to hearing a rumor or a piece of information that comes from unnamed source, is believed to have originated during the U.S. Civil War. During the time, rumors and propaganda spread like wildfire through newly found telegraph whose poles and wires resembled the strings used to train grapevines.
Today, social media platforms on the internet serve as the grapevines. They are stronger than copper wires and merciless. The rumor and information spreaders do not care if they are true or not. Few care to trace the originator. When allegations arise, the hero or heroine of the scandal must explain. But a president cannot sternly correct the misinformation that he sometimes wears pants backwards or sing songs until dawn.
Malicious image-making can be regenerated infinitely. The obsessive stalking of first lady Kim Kun-hee has become devilish. Her picture in Cambodia holding a sick boy on the sidelines of her husband's trip to Southeast Asia for APEC summits has spitefully been framed as poverty porn. Many seem to be enjoying ridiculing the presidential couple. False information is fed and spread around the clock over the grapevines connected to smartphones. Since comments can be anonymous, the language becomes rougher and more biased than before.
Fake news has less influence than in the past. Many have the sense not to pay heed to words from regular fake news distributor Kim Eui-kyeom of the Democratic Party. But they won't likely go away. We must keep our eyes and ears open to differentiate what is true and not. Fake news sickens the society. We must not fall into the danger.