Korean retail bond purchases nearly triple Q3 on qtr, targeting in long-term maturity
Cha Chang-hee, Kang Min-woo and Cho Jeehyun
입력

2022. 10. 4. 15:09
수정

2022. 10. 4. 15:39
글자크기 설정
파란원을 좌우로 움직이시면 글자크기가 변경 됩니다.
이 글자크기로 변경됩니다.
(예시) 가장 빠른 뉴스가 있고 다양한 정보, 쌍방향 소통이 숨쉬는 다음뉴스를 만나보세요. 다음뉴스는 국내외 주요이슈와 실시간 속보, 문화생활 및 다양한 분야의 뉴스를 입체적으로 전달하고 있습니다.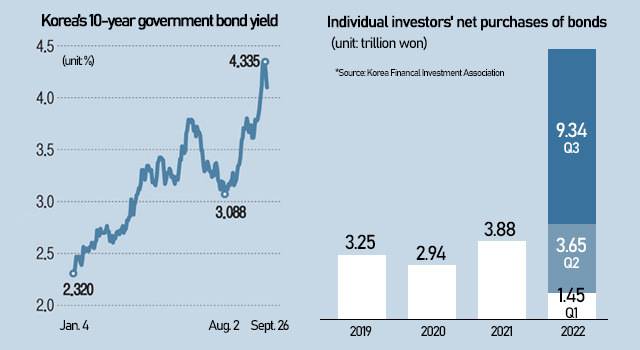 Individual investors in Korea net purchased 9.3 trillion won ($6.5 billion) worth of government bonds in the third quarter, nearly tripled from the previous quarter and versus full 2021, as retailers shift from the stock to debt market amid rapid rises in interest rates.
According to the Korea Financial Investment Association, individual investors net purchased 1.45 trillion worth of government bonds this year to March, 3.65 trillion won in the following three months, and 9.34 trillion won in July-September. Last year, retail investors had bought 3.88 trillion won worth.
Investors have turned to debt since the second quarter after the U.S. Federal Reserve lifted rates faster and greater than expectations on surging inflation, triggering speedier increases in Korea.
A study into the investment portfolio of Korea Investment & Securities clients with assets of 3 billion won or more showed that bonds comprised 26.5 percent of their investment in September, sharply up from 20.3 percent in May, or right before the U.S. central bank delivered a big hike. Investors reduced their investment in stocks, both local and overseas, to 32.5 percent from 41.8 percent.
At Samsung Securities, retail investors with assets of 3 billion won or more have purchased average 900 million won worth of 20-year government bonds in September, up 10.8 times compared to previous eight months. Investors with assets of between 1 billion won and 3 billion won had bought 150 million won worth on average.
Their purchase concentrated on long-term bonds issued in 2019, carrying coupon of around 1 percent.
Investors have been purchasing more in long-term bonds, especially 20-year government bonds that were issued at low interest rate before the Covid-19 crisis. According to Samsung Securities, 20-year accounted for 36 percent of government bonds held by retail investors in September, sharply up from 8 percent a month earlier.
Investors are buying in long-term government bonds as they project the rising pace in interest rates to slow, explained an analyst. Bonds have an inverse relationship to interest rates that if interest rates fall, price of bond goes up.
Yield on 10-year Korean government bond jumped 100 basis points to reach 4.3 percent last month as anticipation grew for the Korean central bank to raise its policy interest rate further up from 2.5 percent to 3.5 percent by the end of this year to keep up with the U.S. counterpart¡¯s aggressive pace. The yield on 10 to longer maturity has visited 4 percent range for the first time in a decade.
As monetary tightening is expected to slow next year, investors are beginning to bet on the fall in interests, said Jung Yong-taek, senior analyst at IBK Investment Securities, adding that the high yield of above 3 percent on long-term bonds also yet make them attractive.
In addition, long-term government bonds with coupon of around 1 percent that were issued before Covid-19 period carries advantage in tax.
Investors are levied as much as 49.5 percent tax rate on large interest and dividend incomes. But tax is exempted on capital gains from trading bonds with 15.4 percent tax is charged only on interest earned.
[¨Ï Maeil Business Newspaper & mk.co.kr, All rights reserved]
ⓒ 매일경제 & mk.co.kr, 무단 전재, 재배포 및 AI학습 이용 금지