Korean banks' net debt offering hit record high in Sept to fan market yields
Seo Jung-won and Susan Lee
입력

2022. 10. 4. 13:54
글자크기 설정
파란원을 좌우로 움직이시면 글자크기가 변경 됩니다.
이 글자크기로 변경됩니다.
(예시) 가장 빠른 뉴스가 있고 다양한 정보, 쌍방향 소통이 숨쉬는 다음뉴스를 만나보세요. 다음뉴스는 국내외 주요이슈와 실시간 속보, 문화생활 및 다양한 분야의 뉴스를 입체적으로 전달하고 있습니다.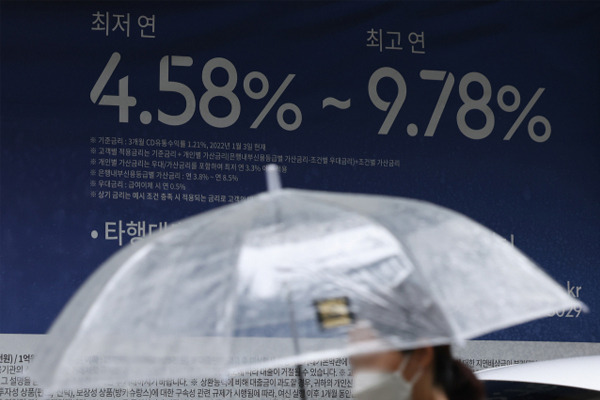 South Korean banks' bond sales topped 7 trillion won ($4.8 trillion) in September, a record high of this year, as the country's major lenders have rushed to sell debts to meet the growing loan demand from companies and the government's liquidity requirement, adding to the oversupply and pressure to send market yields higher.
According to Korea Financial Investment Association (KOFIA), net debt issuance from lenders reached 7.46 trillion won last month. Net issues neared 25.88 trillion won in September.
The Industrial Bank of Korea (IBK) and Korea Development Bank (KDB) - which mainly lend to corporations - each issued 6 trillion to 7 trillion won worth of bonds in September. Commercial banks offered 1 trillion to 2 trillion won worth.
Banks lending to companies average at 4 percent range, whereas the yields for unsecured three-year AA- corporate bonds average above 5 percent and BBB- bonds above 11 percent, turning companies to banks for funding.
Corporate loan balance at the country's top 5 banks – KB Kookmin, Shinhan, Hana, Woori and NH Nonghyup, grew by 4.89 trillion won to 692.33 trillion won as of Sept. 29.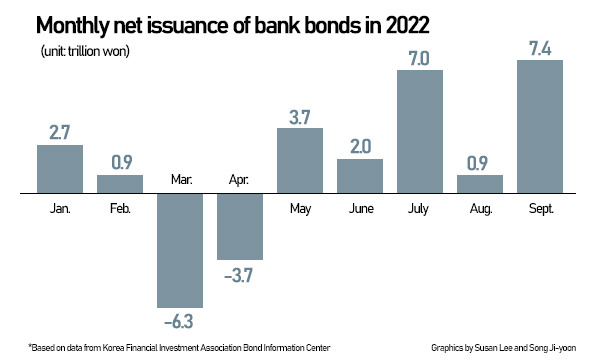 The surge in debt issues by banks was also impacted by the Financial Services Commission (FSC)'s requirements for banks to meet the 90 percent liquidity coverage ratio (LCR) by the end of September. This is 5 percentage points higher than the current level. The LCR regulation requires banks to hold enough high-quality liquid assets such as cash and public bonds to cover cash outflows of 30 days.
The surge in banks' debt sales generally leads to a rise in overall bond yields. According to the BIS, the annual yield on five-year bank bonds rose 0.556 percent in less than a month to 4.851 percent at the end of September from 4.295 percent at the end of August.
The rises in market yields can add to the rising mortgage loans that are mostly lent out in floating rates.
At the end of last month, the five major banks' annual mixed mortgage rates ranged from 4.73 to 7.141 percent. The three lenders with mixed mortgage rates that exceeded 7 percent in the top end were Hana Bank, Woori Bank, and Nonghyup Bank.
Another concerning factor is that a whopping 20.1206 trillion won worth of bonds with high yields are set to mature in October. The yields on bank bonds are expected to continue to surge this month.
"The recent spike in the yields on bonds that mature in less than one year will lead to further hikes in lending rates for households and companies," said Lee Young-sun, the head of the Bank of Korea's financial market research team.
[ⓒ Maeil Business Newspaper & mk.co.kr, All rights reserved]
ⓒ 매일경제 & mk.co.kr, 무단 전재, 재배포 및 AI학습 이용 금지