From Rain to K-medicine
글자크기 설정
파란원을 좌우로 움직이시면 글자크기가 변경 됩니다.
이 글자크기로 변경됩니다.
(예시) 가장 빠른 뉴스가 있고 다양한 정보, 쌍방향 소통이 숨쉬는 다음뉴스를 만나보세요. 다음뉴스는 국내외 주요이슈와 실시간 속보, 문화생활 및 다양한 분야의 뉴스를 입체적으로 전달하고 있습니다.
Following semiconductors, television serials and pop music, I am confident that the new star of Hallyu will soon be K-medicine.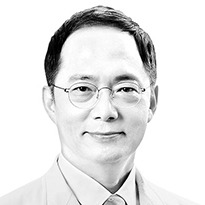 Park Seung-wooThe author is a medical professor at Sungkyunkwan University and director of the Samsung Medical Center in Seoul. I live a busy life as a doctor, so it's been more than 30 years since I made a habit of reading newspapers every morning to learn about changes in the world. Since last year, I took over a hospital's management and became more sensitive to how the world was moving. I would frown when reading about unstable economic situations and various accidents but smile to learn how Korea's soft power, the Hallyu wave of Korean pop culture, has spread around the world.
Recently, Korean medicine has become part of that trend, recognized by the overseas medical community for its excellent treatment outcomes and innovative activities. Some Korean hospitals were highlighted in the global hospital rankings by an American weekly magazine. They were based on surveys and data from more than 300 hospitals and 40,000 medical personnel around the world.
In particular, I was overwhelmed by the news that two Korean hospitals were ranked sixth and seventh in cancer treatment, a field where new drugs and treatments are rapidly developing. Of course, rankings do not guarantee any absolute level of medical care, and rankings change every year. When I read such news, I would be in a good mood and be proud of Korean medicine.
Cancer is still a fatal disease, but the treatment success rate in Korea has recently exceeded the average for advanced countries. We have the world's highest survival rate in some areas. So the recent rankings are not to be disbelieved. Many Korean hospitals are in the world's top ten in various fields such as urology and neurology.
The biggest reason for Korean hospitals' good rankings are outstanding treatment results. The national medical insurance system that allows very ill patients easy access to excellent medical care cannot be ignored, but intense endeavors by the medical staffs is indispensable. Excellent human resources apply to the medical field more than other fields, but getting doctorate degrees from other countries is not easy, and most knowledge is obtained domestically. The accomplishment is especially meaningful as the medical professionals trained themselves and resolved challenges through exchanges among colleagues or foreign experts.
In the university I work for, the percentage of overseas Ph.D.'s for science and engineering professors is 56.4%, while the percent for medical professors is only 2.2 percent. Because most medical students earn master's and doctorate degrees while completing residencies, the opportunity to receive overseas degrees is inevitably low. So it may have been only natural to have a prejudice against Korean medicine, as overseas scholars have rarely encountered it unless they had a special relationship with Korea. Just 30 years ago, when I published research papers at conferences abroad, I often felt disappointed because foreign experts seemed somehow skeptical. I may not be the only person to have such a memory.
In the overseas medical community, Korea was on the periphery of Asia,. The Korean War was the first thing associated with the country. In the 1960s, the University of Minnesota Medical School trained Korean doctors as part of the Minnesota Program. First lady Nancy Reagan, who visited Korea with President Ronald Reagan in the 1980s, brought children with congenital heart disease on her airplane and saved their lives in America. That wasn't good publicity for us.
But more hospitals have global competitiveness now and are visited by doctors from advanced countries to learn Korea's surgical techniques. As Korea's high level in clinical trial accuracy and research outcomes has been imprinted along with enhanced national prestige, Korean medicine is evaluated fairly today.
As advanced IT is applied to hospitals, the Korean medical community is progressing in medical infrastructure, too. In April, my hospital became the first in the world to obtain the highest grade of 7 in INFRAM, an American IT infrastructure certification process verified by the Healthcare Information and Management Systems Society (HIMSS) in the U.S.
Following semiconductors, television serials and pop music, I am confident that the new star of Hallyu will soon be K-medicine.
Translation by the Korea JoongAng Daily staff.