Lotte and Shinsegae pit their virtual models head-to-head
이태희
입력

2022. 8. 15. 19:34
수정

2022. 8. 16. 17:25
글자크기 설정
파란원을 좌우로 움직이시면 글자크기가 변경 됩니다.
이 글자크기로 변경됩니다.
(예시) 가장 빠른 뉴스가 있고 다양한 정보, 쌍방향 소통이 숨쉬는 다음뉴스를 만나보세요. 다음뉴스는 국내외 주요이슈와 실시간 속보, 문화생활 및 다양한 분야의 뉴스를 입체적으로 전달하고 있습니다.
Lotte and Shinsegae will face off once again in the virtual human market.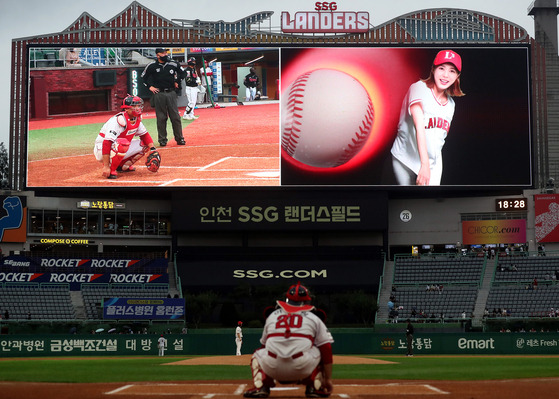 Lotte and Shinsegae will face off once again in the virtual human market.
Shinsegae partnered with Pulse9, a graphics company, and created YT, a virtual human. YT, which is short for young twenty, introduces herself as a 20-year-old interested in various sports such as skateboarding, surfing and golf.
YT opened an Instagram account in March and has garnered over 20,000 followers, posting advertisements for Samsung Electronics, Maeil Dairies and Paris Baguette. It was only revealed that YT was created by Shinsegae when the company showed her on a digital screen throwing the first pitch at Incheon SSG Landers Field in Incheon last week.
"We actually had a lot of companies approach YT for advertisement and brand partnership deals, who only realized YT was made by Shinsegae when they actually signed a contract," said a spokesperson for Shinsegae. "Considering a lot of the existing virtual models are set to be in their mid-20s, we designed YT as a 20-year-old to target the younger people among Generation Z." Generation Z refers to people born between 1996 and 2010.
As a Shinsegae representative, YT is set to do various advertisements for W Concept, an apparel company wholly owned by SSG.com. Shinsegae owns 26.84 percent of SSG.com.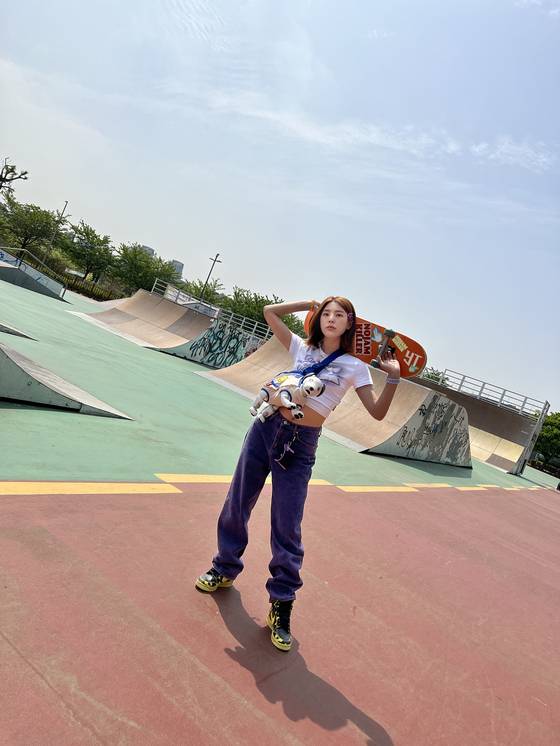 She will also be featured as a host on W Concept's live commerce shows, which are similar to TV home shopping but broadcast live online.
"YT is basically a new experiment for Shinsegae, which aims to become a company that combines retail and entertainment," said Kim Sang-hyun, head of Shinsegae's Creative Lab.
Another virtual model working as a home shopping host is Lucy, created by Shinsegae's retail rival Lotte. She was made by Lotte Home Shopping last year and is described as a 29-year-old model who majored in industrial design.
Lucy has 85,000 followers on Instagram and has appeared on advertisements for Everland, Shake Shack and Lotte Confectionary.
Lucy will also be featured in dramas, signing a contract with Chorokbaem Media, a production company behind popular series like "The Penthouse: War in Life" (2021).
Lotte Home Shopping says Lucy is also loved abroad.
"Korean content is becoming more popular, and Lucy's facial features are more familiar to Asians, and thus there are a lot of followers from Taiwan," said a spokesperson for Lotte Home Shopping.
Of Lucy's Instagram followers, 44 percent come from Korea, 32 percent from Taiwan and 9 percent from the United States. Some 59 percent of her followers were people between ages 18 and 34, with another 8.5 percent coming from people between ages 45 and 54.
There are more and more virtual humans being created worldwide. According to market tracker Virtual Humans, there are around 200 virtual humans used for modeling and advertisements. A large portion is designed as females, as most of the modeling gigs that utilize virtual humans are focused on fashion and cosmetics.
Around $15 billion is expected to be used in 2022 for virtual influencer marketing fees, according to HypeAuditor, an analytics firm.
"A lot of companies are all trying to create their own virtual influencers as they don't get themselves embroiled in scandals like real humans, can work 24-hours a day, give the company a high-tech image and because costs to create them have become cheaper these days," said Suh Yong-gu, a business professor at Sookmyung Women's University. "But virtual humans are developed by humans, and it's important to check if they are programmed in line with social ethics and local laws."
BY BAEK IL-HYUN,LEE TAE-HEE [lee.taehee2@joongang.co.kr]