$1 billion of additional suspicious transactions identified
진민지
입력

2022. 8. 15. 16:50
글자크기 설정
파란원을 좌우로 움직이시면 글자크기가 변경 됩니다.
이 글자크기로 변경됩니다.
(예시) 가장 빠른 뉴스가 있고 다양한 정보, 쌍방향 소통이 숨쉬는 다음뉴스를 만나보세요. 다음뉴스는 국내외 주요이슈와 실시간 속보, 문화생활 및 다양한 분야의 뉴스를 입체적으로 전달하고 있습니다.
An additional $1 billion-plus of suspicious transactions have been identified at Korean banks by the Financial Supervisory Service (FSS).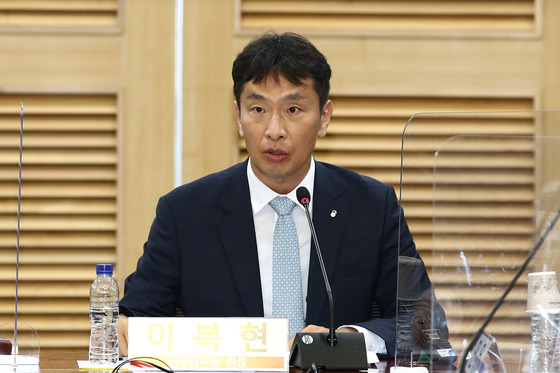 An additional $1 billion-plus of suspicious transactions have been identified at Korean banks by the Financial Supervisory Service (FSS).
This is the second upping of the number as the regulators find more questionable movements of funds.
The FSS announced Sunday that suspicious transactions at the banks, including Woori Bank and Shinhan Bank, now total $6.54 billion, higher than $5.37 billion reported on July 27.
Much of the money was transferred from a crypto exchange, and was then transferred overseas. The name of the crypto exchange was not disclosed.
Transactions made by newly-established companies or the transfers of more than $50 million by a small individual business were some of the transactions the FSS regarded suspicious.
The transferred money was used as payments for the importation of various products, including semiconductors, cosmetics and jewelry, the FSS said.
Suspicious transactions are not necessarily illegal and are simply flagged for further investigation.
A total of 65 companies conducted the transactions, higher than the previous estimate of 44.
The FSS believes they may be paper companies and may have used the crypto-linked accounts to engage in foreign currency transactions without filing the proper reports to banks and the customs office.
The largest amount was remitted to Hong Kong, followed by Japan, United States and China, according to an FSS finding last month.
Regulators began investigating suspicious foreign exchange transactions after Shinhan and Woori Bank reported the transactions in June. Shinhan Bank reported 1.6 trillion won ($1.23 billion) of the suspicious transactions and Woori Bank 900 billion won for over one-plus-year period through this year.
The FSS required other banks to submit suspicious foreign exchange transaction reports by July 29.
It said the investigations into Shinhan Bank and Woori Bank are scheduled to be complete on Friday. The regulator added that additional investigations will be conducted on other banks where suspicious foreign exchange transactions have been found.
"Strict actions will be taken against the illegal and inappropriate conducts in accordance with the regulations and procedures after inspection results are confirmed," the FSS said in a statement. It added that the information on the transactions will be shared with the appropriate authorities, like the Korea Customs Service, if necessary.
FSS Gov. Lee Bok-hyun told reporters that he views the "foreign exchange transactions as a serious matter," following a press event held last Thursday.
The prosecution is expanding investigations into suspicious foreign exchange transactions. The Daegu District Prosecutors' Office arrested three people involved in the crypto-related transactions of 400 billion won abroad through a paper company last week.
BY JIN MIN-JI [jin.minji@joongang.co.kr]