President Yoon Suk-yeol calls Japan a 'partner' in Liberation Day speech
김사라
입력

2022. 8. 15. 12:33
수정

2022. 8. 15. 12:38
글자크기 설정
파란원을 좌우로 움직이시면 글자크기가 변경 됩니다.
이 글자크기로 변경됩니다.
(예시) 가장 빠른 뉴스가 있고 다양한 정보, 쌍방향 소통이 숨쉬는 다음뉴스를 만나보세요. 다음뉴스는 국내외 주요이슈와 실시간 속보, 문화생활 및 다양한 분야의 뉴스를 입체적으로 전달하고 있습니다.
President Yoon Suk-yeol called Japan a "partner" to face common threats with as he urged the two countries to swiftly improve bilateral ties in his first Liberation Day address Monday.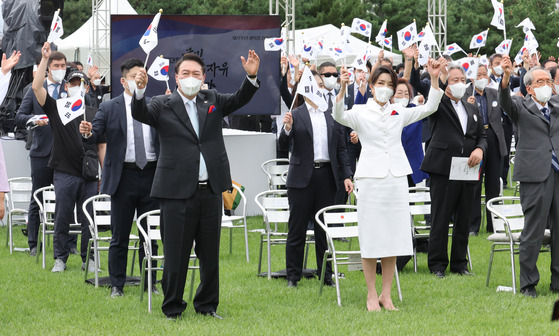 President Yoon Suk-yeol called Japan a "partner" to face common threats with as he urged the two countries to swiftly improve bilateral ties in his first Liberation Day address Monday.
"In the past, we had to unshackle ourselves from the political control imposed upon us by imperial Japan so that we could regain and defend our freedom," said Yoon during a ceremony held on the front lawn of the Yongsan presidential office in central Seoul to honor the 77th Liberation Day, marking Korea's independence from Japan's 1910-45 colonial rule on Aug. 15, 1945.
"Today, Japan is our partner as we face common threats that challenge the freedom of global citizens."
Yoon called to "swiftly and properly improve" bilateral ties by upholding the spirit of the 1998 joint declaration of Korean President Kim Dae-jung and Japanese Prime Minister Keizo Obuchi as a "blueprint of a comprehensive future for Korea-Japan relations."
On Oct. 8, 1998, the two leaders held a summit and made a joint declaration, seen as a breakthrough in bilateral ties, in which Obuchi recognized that Japan in the past caused "tremendous damage and suffering" to the Korean people through its colonial rule and expressed his "deep remorse and heartfelt apology." In turn, Kim called for the two countries to "overcome their unfortunate history and build a future-oriented relationship based on reconciliation as well as good-neighborly and friendly cooperation."
The two countries face ongoing historical spats stemming from Japan's colonial rule over Korea, namely the compensation of forced laborers and wartime sexual slavery issues.
Addressing the friction, Yoon said, "When Korea-Japan relations move toward a common future, and when the mission of our times align, based on our shared universal values, it will also help us solve the historical problems that exist between our two countries."
Yoon stressed that the two countries, "must contribute to the peace and prosperity of the international community" through extensive cooperation in areas ranging from economic and security cooperation to social and cultural exchanges.
On Pyongyang policy, Yoon elaborated on his envisioned "audacious initiative" to "significantly improve North Korea's economy and its people's livelihoods in stages if the North ceases the development of its nuclear program and embarks on a genuine and substantive process for denuclearization."
Yoon said his government will implement a large-scale food program; provide assistance for power generation, transmission and distribution infrastructure; and carry out projects to modernize ports and airports for international trade for the North.
He also offered to help enhance North Korea's agricultural productivity, assist in modernizing hospitals and medical infrastructure and implement international investment and financial support initiatives.
Through this speech, Yoon expanded on the audacious plan for Pyongyang first proposed in his inaugural address on May 10, which appears to lay out a step-by-step framework for economic cooperation with North Korea corresponding to its denuclearization measures.
Yoon stressed that the North's denuclearization "is essential for sustainable peace on the Korean Peninsula, in Northeast Asia and around the world."
He also pointed to the deepening polarization and social divide as urgent challenges to overcome in South Korean society.
In the address, Yoon also focused on the importance of guaranteeing a strong economic and cultural foundation for low-income families and the socially disadvantaged. He promised to strengthen basic-living security benefits and enhance caregiving services for people with disabilities.
He also said the government will stabilize the housing market by "streamlining regulations that distort demand and supply" and offer better housing services to the socially disadvantaged.
Noting the damages from the recent heavy rainfall and flooding, Yoon said the government "will offer thorough and deliberate assistance" to affected people and "spare no effort to provide support and restore damages."
He added that fundamental measures will be taken to prevent future disasters, noting that low-income families and the socially disadvantaged are exposed to greater risks when disaster strikes.
Yoon urged for a "big leap forward to innovate our economy," calling on regulatory reform to help the private sector and scientific and technological developments so that Korea can become "a leader in industrial advancement" rather than a follower.
He concluded, "By contributing to global peace and prosperity in solidarity as a responsible nation on the foundation of the universal values of freedom, human rights and the rule of law, we will be able to inherit and preserve the noble cause of our heroes who dedicated themselves to the independence movement."
The remarks echo the ongoing theme of the address, which mentioned "freedom" 33 times.
The ceremony was attended by some 300 people, including first lady Kim Keon-hee, independence fighters and their relatives, politicians, religious leaders and diplomats.
BY SARAH KIM [kim.sarah@joongang.co.kr]