KEPCO loss at $5 bn Q2, $11 bn H1 and likely see equally big loss H2
Hye-seung Seo
입력

2022. 8. 12. 14:39
글자크기 설정
파란원을 좌우로 움직이시면 글자크기가 변경 됩니다.
이 글자크기로 변경됩니다.
(예시) 가장 빠른 뉴스가 있고 다양한 정보, 쌍방향 소통이 숨쉬는 다음뉴스를 만나보세요. 다음뉴스는 국내외 주요이슈와 실시간 속보, 문화생활 및 다양한 분야의 뉴스를 입체적으로 전달하고 있습니다.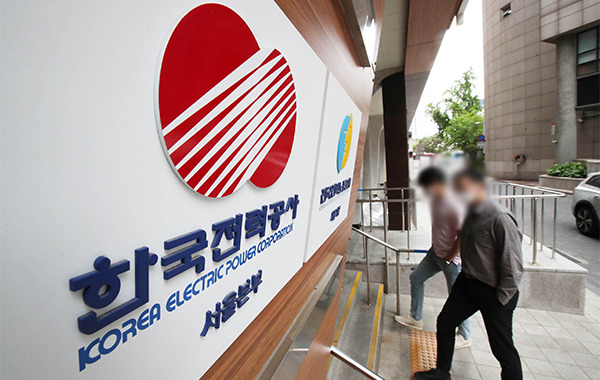 State power monopoly Korea Electric Power Corporation (KEPCO) incurred bigger-than-expected loss of 6.5 trillion won ($5 billion) from operation in the second quarter on the back of record quarterly red of 7.8 trillion won in the previous quarter as power rate increases had been meager versus jump in fuel costs.
KEPCO disclosed Friday its consolidated operating loss came to 6.5 trillion in the second quarter ended June, placing the cumulative six-month loss at 14.3 trillion won.
Consensus had placed the second-quarter loss at 5.4 trillion won and for the first half at 13 trillion won.
Amid limited options and little easing in fuel import prices, the state utility giant is expected to finished the year with losses of around 30 trillion won
Shares of KEPCO were 0.9 percent higher at 22,000 won Friday afternoon.
Net loss reached 4.8 trillion won for the second quarter and 10.8 trillion for the first half.
Revenue fell 5.7 percent on quarter to 15.5 trillion won in the second quarter. It gained 11.5 percent on year to 32 trillion won for the first half.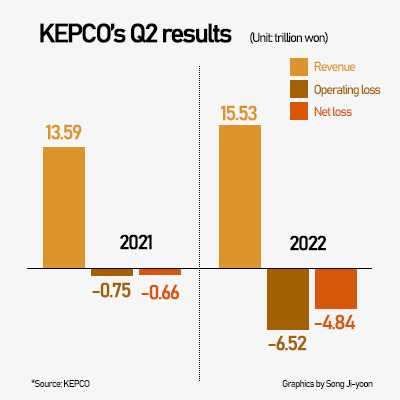 Despite gains in sales, operating expenses shot up 60.3 percent to 46.3 trillion won on spike in purchase cost. Cost for power purchases stretched by 9.7 trillion won and for fuel purchase 6.8 trillion won.
The system marginal price (SMP), which refers to the price that KEPCO pays to electricity producers, averaged at 169.3 won per kilowatt hour (kWh) in the first half, surging 117 percent on year. The purchasing cost for LNG jumped 132.7 percent to 1,344,000 won per ton and coal 221.7 percent to $319 per ton.
KEPCO's average selling price in the first half stopped at 110.4 won. It had been buying power at 169.3 won and selling at 110.4 as fuel rate gains have been capped in light of inflation.
KEPCO is expected to suffer even greater losses in the third quarter as purchase prices have gone even higher.
SMP in July stood at 151.85 won per kWh, up 17.1 percent from June. It reached 200.20 won on August 1, up from 139.88 won at the end of July, and 206.39 won on August 4. Gas prices have soared as Russia has reduced supply.
KEPCO's fuel cost adjustment fee applied for power costs in the third quarter in contrast rose only 5 won per kWh. Electricity bills consist of basic fuel cost, climate environment fee, and fuel cost adjustment fee.
The Ministry of Trade, Industry and Energy in May has given administrative notice on placing a temporary cap on the rise in SMP in the advent of unusual surge, but the move has been stalled due to protest from private suppliers.
Private electricity producers contest they were being sacrificed to make up for KEPCO losses.
The option of further hiking electricity rate also may not be easy, with inflation already flying above 6 percent.
[ⓒ Maeil Business Newspaper & mk.co.kr, All rights reserved]
ⓒ 매일경제 & mk.co.kr, 무단전재 및 재배포 금지