PearlAbyss swing to loss in Q2, Neowiz income halved, Com2uS in record sales
Pulse
입력

2022. 8. 11. 13:51
수정

2022. 8. 11. 15:39
글자크기 설정
파란원을 좌우로 움직이시면 글자크기가 변경 됩니다.
이 글자크기로 변경됩니다.
(예시) 가장 빠른 뉴스가 있고 다양한 정보, 쌍방향 소통이 숨쉬는 다음뉴스를 만나보세요. 다음뉴스는 국내외 주요이슈와 실시간 속보, 문화생활 및 다양한 분야의 뉴스를 입체적으로 전달하고 있습니다.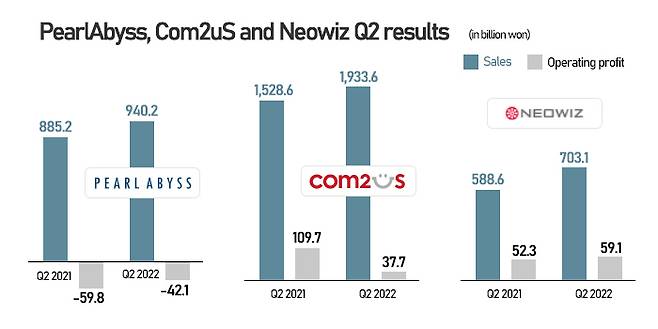 In a common feature of Korean game publishers big and smaller, PearlAbyss, a Korean game developer behind MMORPG "Black Dessert," swung to a loss in the second quarter over spike in payroll while Neowiz behind "FIFA Online" reported halved income from stagnant new releases.
Com2uS made an exception by managing to deliver the best quarterly revenue on global expansion.
PearlAbyss disclosed Thursday that it reported an operating loss of 4.2 billion won ($3.2 million) for the second quarter ended June 30, 2022. The figure goes against an income of 5.2 billion won three months ago and loss of 5.99 billion won a year earlier. Analysts had expected the company to generate 1.2 billion won profit in the second quarter.
Revenue rose 2.8 percent on quarter and 6.2 percent on year to 94.0 billion won.
The game developer said it incurred losses even with higher revenue due to performance incentives payouts to employees.
It completed the global rollout of its flagship video game Black Dessert in the second quarter. It generated 83 percent of its second-quarter revenue from the overseas market, up 3 percentage points from three months ago.
Neowiz, servicing sports to web board games, recorded 5.9 billion won in operating income for the second quarter, down 47.1 percent on quarter but up 13.0 percent on year.
Revenue came to 70.3 billion won, down 8.2 percent on quarter but up 19.4 percent on year.
The game publisher attributed the quarterly fall in income to low seasonal demand for web board games.
It expects an improvement in sales from easing in regulation for web board games. The company is preparing to release new games in the second half of this year while building a blockchain-based gaming platform, Intella X.
Com2uS closed the second quarter with record sales led by robust growth of its flagship game "Summoners War: Sky Arena."
It reported an operating income of 3.8 billion won in the second quarter, sharply turning around from losses of 2.7 billion won loss in the first quarter and 7.2 billion a year ago.
Revenue came to a record high of 193.4 billion won, up 45.1 percent on quarter and 26.5 percent on year.
The stellar performance owes to "Summoners War: Sky Arena," the company's flagship game released 8 years ago, according to the company. Other games, including newly launched baseball games, are also showing robust growth. Revenue from baseball games jumped 28 percent on year in the second quarter to eye worldwide sales of $100 million this year.
On Thursday, shares of PearlAbyss fell 1.65 percent to close at 59,600 won. Neowiz shares closed 4.9 percent higher at 28,950 won, and Com2uS shares up 7.5 percent at 87,600 won. They are all listed on Kosdaq.
[ⓒ Maeil Business Newspaper & mk.co.kr, All rights reserved]
ⓒ 매일경제 & mk.co.kr, 무단 전재, 재배포 및 AI학습 이용 금지