SK geo centric to build EAA factory with Zhejiang Satellite in China for $222 mn
Woo Je-yoon and Susan Lee
입력

2022. 8. 10. 11:03
수정

2022. 8. 10. 15:03
글자크기 설정
파란원을 좌우로 움직이시면 글자크기가 변경 됩니다.
이 글자크기로 변경됩니다.
(예시) 가장 빠른 뉴스가 있고 다양한 정보, 쌍방향 소통이 숨쉬는 다음뉴스를 만나보세요. 다음뉴스는 국내외 주요이슈와 실시간 속보, 문화생활 및 다양한 분야의 뉴스를 입체적으로 전달하고 있습니다.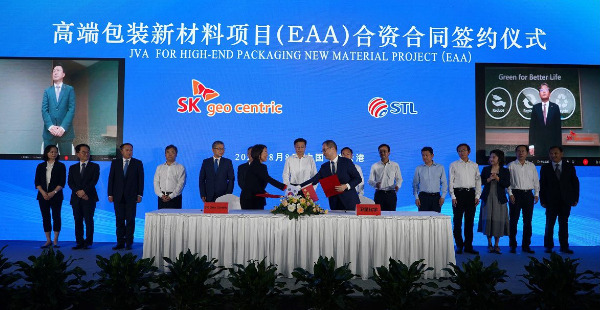 South Korea's SK geo centric Co. will set up a joint venture with Chinese chemical company Zhejiang Satellite Petrochemical to produce ethylene acrylic acid copolymer (EAA), a high-value-added chemical material, in China to make inroads into the Asian EAA market.
SK geo centric announced on Tuesday that it signed an agreement to form a joint venture with Zhejiang Satellite Petrochemical, also known as Satellite Chemical, to build an EAA production plant on a 66,000-square meter land within a petrochemical complex in Lianyungang, China at a cost of about 290 billion won ($222 million). The South Korean company will hold 60 percent of the JV, and the Chinese partner the rest of the stake.
They aim to complete the construction of the plant with an initial annual EAA production capacity of 40,000 tons in the first half of 2025. SK geo centric will produce EAA at the plant with raw materials supplied by Zhejiang Satellite, using its proprietary manufacturing technology.
EAA is a copolymer resin boasting of excellent adhesion between various substrates such as metal and plastic, paper and plastic, and it is widely used as a packaging material and for metal coating.
Many industries are employing EAA in sterilization pouches, vacuum packaging for meat, golf balls, and toughened glass due to its high durability, transparency, and adhesion. EAA is also used in EV battery electrodes to enhance stability. It is an eco-friendly material that can decrease plastic usage and increase recycling rates.
There are only three to four global chemical companies including SK geo centric that produce EAA and they account for more than 80 percent of global EAA supply.
SK geo centric advanced into the EAA market after it acquired U.S. company Dow Chemical's EAA business in 2017. It currently has production bases in Texas and in Tarragona, Spain. Its Spanish plant has succeeded in developing its own "ionomer," which adds metal ions such as sodium to EAA.
The EAA JV in China will serve as SK geo centric's gateway to the greater Asian market.
[ⓒ Maeil Business Newspaper & mk.co.kr, All rights reserved]
ⓒ 매일경제 & mk.co.kr, 무단 전재, 재배포 및 AI학습 이용 금지