Seoul authorities spend record $8.3 bn Q1 on USD-buying intervention, may go higher Q2
Kim Jung-hwan, Kim Yoo-shin and Cho Jeehyun
입력

2022. 7. 1. 14:09
수정

2022. 7. 1. 14:24
글자크기 설정
파란원을 좌우로 움직이시면 글자크기가 변경 됩니다.
이 글자크기로 변경됩니다.
(예시) 가장 빠른 뉴스가 있고 다양한 정보, 쌍방향 소통이 숨쉬는 다음뉴스를 만나보세요. 다음뉴스는 국내외 주요이슈와 실시간 속보, 문화생활 및 다양한 분야의 뉴스를 입체적으로 전달하고 있습니다.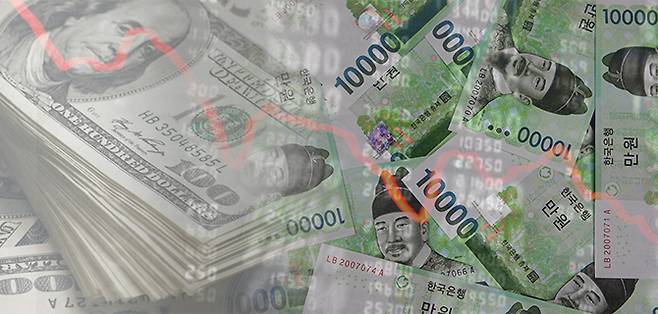 South Korean authorities have sold a net $8.3 billion in U.S. dollars - a record for a three-month period since they disclosed forex interventions - to defend the Korean won value in the first quarter when the greenback began to gain rapid strength after Russia's invasion of Ukraine.
The interventionist dollar sale by the Korean finance ministry and central bank will likely go up in the second quarter as authorities struggle to defend the dollar-exchange rate under the psychologically-important 1,300 won. The dollar two weeks ago had briefly breached 1,300 won for the first time since July 14, 2009. By midday Friday, it is at 1,297.70 won.
Weak won can worsen inflation nearing 6 percent due to higher import costs in commodities and widen trade deficit that topped $10 billion in the first half in a six-month record.
According to the Bank of Korea (BOK)'s posting on first-quarter net transaction data Thursday, authorities have purchased a net $8.311 billion in dollars to stabilize the forex market, higher than the previous quarterly high of $7.1 billion reported in third quarter of 2021. The BOK has been disclosing forex intervention since third quarter of 2019 for greater transparency to avoid manipulating watch list of Washington.
The record spending has caused a dent on Korea's FX reserve, a pillar against crisis for the country's economy vulnerable to external shock and foreign capital flight. It experienced a near-default crisis and an international bailout in 1997.
Korea's FX reserves stood at $447.7 billion in May, losing $1.59 billion from previous month or $14.06 billion through three-month thinning. It is off as much as $21.5 billion from peak of $469.2 billion in October 2021.
Thinning FX coffer can influence the country's sovereign creditability as the phenomenon is coupled with widening twin deficits in the fiscal and trade balance.
Maeil Business Newspaper has discovered South Korea's FX reserves have fallen below the recommended level of the International Monetary Fund.
The IMF advises a country to keep the FX reverses at between 100 percent and 150 percent by counting 5 percent of the value of its annual exports, 5 percent of M2 money supply, 30 percent of current foreign debt, and 15 percent of outstanding balance of foreigners' securities and other investment.
Korea's FX reserve ratio dropped to 98.94 percent last year, which is the lowest level since 2000. The ratio has been coming down after peaking at 114.27 percent in 2000 to falling below 100 percent in 2020 for the first time.
South Korea must sustain strong FX reserves due to high foreign ownership in Korean securities and North Korea-related geopolitical risk, said Kim Jung-sik, an honorary professor of economics at Yonsei University.
The dollar re-crossed 1,300 won to hit 1,303.7 during Thursday. It eased after the National Pension Service was known to be selling dollars for hedging. NPS owns 26.8 percent in foreign stocks and 7.1 percent in foreign bonds within its investment portfolio, thus its trade can influence the exchange rate.
[ⓒ Maeil Business Newspaper & mk.co.kr, All rights reserved]
Copyright© 매일경제 & mk.co.kr. 무단 전재, 재배포 및 AI학습 이용 금지