Asan Medical Center to expand virtual consultation for international patients
Minu Kim
입력

2022. 7. 1. 11:48
수정

2022. 7. 5. 12:00
글자크기 설정
파란원을 좌우로 움직이시면 글자크기가 변경 됩니다.
이 글자크기로 변경됩니다.
(예시) 가장 빠른 뉴스가 있고 다양한 정보, 쌍방향 소통이 숨쉬는 다음뉴스를 만나보세요. 다음뉴스는 국내외 주요이슈와 실시간 속보, 문화생활 및 다양한 분야의 뉴스를 입체적으로 전달하고 있습니다.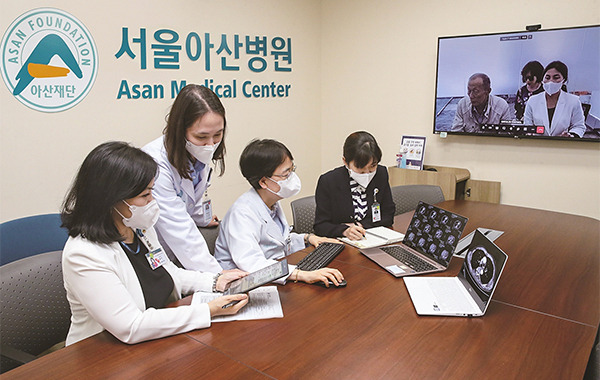 South Korea's Asan Medical Center (AMC) will offer its virtual medical consultation to more offshore patients in the Middle East, Vietnam, Russia, Australia, and Kenya after it successfully treated 266 international patients through its virtual consultation platform in the first five months of the year.
The online medical services delivered by AMC from January to May this year include 132 cases of 'pre consultation,' 86 cases of 'outpatient consultation by proxy,' 19 cases of 'second opinion,' and 29 cases of 'virtual consultation.'
AMC's online medical services for patients in foreign countries are delivered in four phases: 'pre consultation' for case review, and prescribing radiology report; 'outpatient consultation by proxy' offered by AMI on behalf of each medical department; 'second opinion' which provides a written opinion regarding a disease produced by a relevant expert; and, 'virtual consultation' through which the patient, local doctors, and AMC doctors are connected via video conference for collaborated treatment.
From October to November of last year, the hospital provided virtual consultations to 102 patients in Mongolia through 'ICT-based Pre-consultation and Post-care Pilot Project' led by Korea Health Industry Development Institute (KHIDI). Many international patients remained unable to access Korea's advanced medical care due to travel restrictions amid the pandemic and AMC introduced ICT-based remote consultation services for those who want its medical services.
Most of the 102 Mongolian patients were suffering from severe diseases including liver cancer, liver cirrhosis, brain tumor, pancreatic cancer, and pulmonary disease and eventually 13 patients decided to visit AMC for treatment.
Encouraged by its successful recruits and treatments of foreign patients in the past year, AMC plans to provide its virtual medical services to patients in the Middle East, Vietnam, Russia, Australia, Kenya, and more.
[ⓒ Maeil Business Newspaper & mk.co.kr, All rights reserved]
Copyright© 매일경제 & mk.co.kr. 무단 전재, 재배포 및 AI학습 이용 금지