What the summits tell us about global order
입력

2022. 6. 29. 20:20
수정

2022. 6. 29. 20:26
글자크기 설정
파란원을 좌우로 움직이시면 글자크기가 변경 됩니다.
이 글자크기로 변경됩니다.
(예시) 가장 빠른 뉴스가 있고 다양한 정보, 쌍방향 소통이 숨쉬는 다음뉴스를 만나보세요. 다음뉴스는 국내외 주요이슈와 실시간 속보, 문화생활 및 다양한 분야의 뉴스를 입체적으로 전달하고 있습니다.
Three major trends are defining the complicated new global order that is emerging in the 21st Century.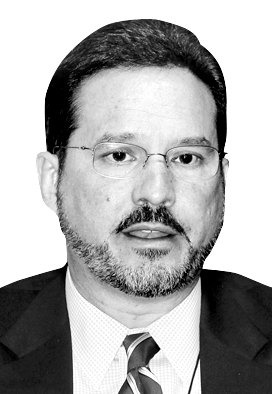 Michael GreenThe author is senior vice president for Asia and Japan chair at the Center for Strategic and International Studies and associate professor at Georgetown University in Washington.
Three major trends are defining the complicated new global order that is emerging in the 21st Century. First is the gradual shift in power over the past two decades from American and Western unipolarity to an increasing multipolarity where rising non-Western powers like India and China but also middle powers like Korea and Indonesia seek a larger role in shaping regional and global rules. The second trend is the return of irridentist great power politics as China, Russia, and Iran each seek to restore perceived former glory in their respective regions through various forms of coercion — most violently by Russia in Ukraine. And the third trend is the increasing rate of disruption from non-state shocks that impact all countries —beginning with terrorism, then the global financial crisis and most recently Covid.
Efforts by leaders to maximize their control over these trends were evident in high profile summits over the past week.
Perhaps most unprecedented is the NATO summit in Madrid on June 28-30, where all of America's major Asian allies are participating for the first time alongside their European counterparts. President Yoon, Japanese Prime Minister Kishida Fumio, Australian Prime Minister Anthony Albanese and New Zealand Prime Minister Jacinda Ardern are joining the summit primarily to show solidarity among all alliances in the face of Vladmir Putin's brutal invasion of Ukraine. But the signals they are sending back to Asia are no less important. Despite the Biden administration's patient and disciplined warnings that Putin intended to attack, most of the world was taken by surprise at the violent development in the heart of peaceful Europe. Putin's attack was a reminder of how dangerous and unpredictable authoritarian nationalist leaders can be —including potentially Xi Jinping of China, who has been rattling sabers in the Taiwan Strait, the East and South China Seas, the Pacific Islands, and the Himalayan mountains — or Kim Jong-un who has been increasing the tempo and volume of his missile tests and other provocations. The fact that American allies and partners in the Indo-Pacific imposed punishing sanctions on Russia likely came as a shock to Putin, but also to Xi Jinping who can now envision the possibility that NATO allies might take similar steps should he resort to force against U.S. allies in Asia. Indeed, NATO had been focusing more on the strategic challenge from China before Ukraine and the presence of the four democratic leaders from Asia at the NATO summit will help to keep Europe focused on the broader global threats to peace.
Some fret that the NATO summit represents the emergence of a Cold War style global alliance to contain China. That certainly is the warning Xi Jinping keeps repeating. However, it is worth remembering that well before Asian leaders chose to go to the NATO summit, Xi Jinping and Putin held a day-long summit the day before the Beijing Olympics in February from which they issued a joint statement pledging a partnership that had "no limits." It was based on that tacit support that Putin attacked Ukraine (though he had to wait until after the Olympics which meant the ground was wet in Ukraine and his tanks were bogged down). China is avoiding financial sanctions but is not hesitating to back Moscow diplomatically and with energy purchases. That diplomatic Sino-Russian strategic alignment as much as anything has pushed America's allies in Europe and Asia together.
Moreover, rather than destabilizing regional security, the growing connection between trans-Atlantic and trans-Pacific alliances is reinforcing stability in two important ways. First, the growing interest of Europe in Asian security is complicating Chinese assumptions about how easy it would be to use force to compel Taiwan to unify or Southeast Asian states to accept Beijing's territorial claims. And second, the growing U.S. reliance on allies on both our Pacific and Atlantic flanks increases the voice of those allies in who want to see more stable U.S.-China relations even as we collective gear up to compete with a more aggressive and ambitious China.
And, of course, it is worth remembering that despite the unprecedented global solidarity against totalitarian aggression manifest in the Madrid NATO summit, the allies are not yet a completely cohesive block. Japan-Korea relations continue to confound alignment among U.S. allies in Asia; Turkey and Hungary are outliers within NATO; and the far right in France is a menace with its anti-NATO stance while the far right in America is a menace with its anti-Europe views. But on the whole, the trend is towards greater alignment among the major democracies and that is a stabilizing factor for this uncertain and unfolding global order.
But it is not the whole story, of course. Because just a week before the NATO Summit Brazil, Russia, India, China, and South Africa held their annual "BRICS" summit in Beijing. Far from ostracizing Putin, the other leaders let him share central stage and made no criticism of his invasion of Ukraine in their individual comments or joint statement. All the BRICS countries combine some level of lingering resentment of the West and internal authoritarianism. India is probably the biggest outlier and Narendra Modi was an enthusiastic participant in the U.S.-Japan-Australia-India Quad Summit in Tokyo in late May which was designed to send clear signals of opposition to Chinese coercion in the Indo-Pacific. But India also depends on Russia for weapons and energy imports and Indian public opinion has been less sympathetic to Ukraine than public opinion in Korea, Japan or Australia because many Indians see Ukraine as pro-Western and Russia as more representative of the anti-Western developing world. Ultimately the geopolitical friction between India and China is far greater than any friction between the democracies present at the NATO summit and the BRICS summit itself is far less operational than NATO's Summit will be. India is likely to gradually wean its dependence on Russia. Nevertheless, the Beijing gathering of BRICS leaders representing 40% of the world's population was a reminder that geopolitics will be a game of caucusing and multiple alignments rather than clear blocs. This will require a diplomacy from Seoul and Washington that is both faithful to our democratic principles and belief in the rule of law, but also agile as we deal with states like India that transcend multiple identities in the international system.