Lee Myung-bak Temporarily Released for 3 Months Due to Suspended Sentence: Will This Lead to a Pardon?
Kim Tae-hui
입력

2022. 6. 29. 15:02
글자크기 설정
파란원을 좌우로 움직이시면 글자크기가 변경 됩니다.
이 글자크기로 변경됩니다.
(예시) 가장 빠른 뉴스가 있고 다양한 정보, 쌍방향 소통이 숨쉬는 다음뉴스를 만나보세요. 다음뉴스는 국내외 주요이슈와 실시간 속보, 문화생활 및 다양한 분야의 뉴스를 입체적으로 전달하고 있습니다.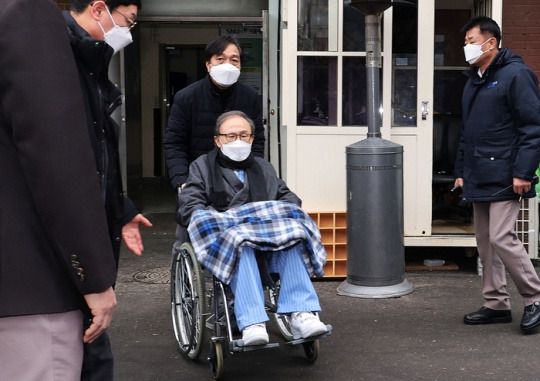 The prosecution decided to suspend the sentence of former president Lee Myung-bak (81), who is serving a sentence of 17 years in prison for embezzling slush funds from DAS, for three months. The decision came a year and seven months after Lee was imprisoned and is expected to trigger a political debate on his pardon.
On June 28, the Suwon District Prosecutors' Office held a meeting of the sentence suspension review board and examined applications for the suspension of sentences including Lee's application and decided to temporarily release Lee. The Suwon Prosecutors' Office announced, "We decided to permit the suspension of the sentence of former president Lee Myung-bak for three months," and added, "The decision was made according to the conclusion reached by the review board, which claimed there was concern that the execution of the sentence could significantly impair his health."
The review board, composed of a deputy chief prosecutor of the Suwon District Prosecutors' Office (chair) and representatives from the legal circle, health care, academia, and civic groups began examining the applications at 2 p.m. this day and decided to suspend the sentence of Lee. Then Hong Seung-wook, chief of the Suwon District Prosecutors' Office, made the final decision to suspend the sentence.
The suspension of Lee's sentence went into effect this day. Lee, who had been receiving in-patient treatment at Seoul National University (SNU) Hospital since last week, will remain in his home and receive treatment at a hospital designated by the prosecutors. After three months, if Lee wants to extend the suspension of his sentence, he must undergo another review by the review board.
One lawyer who once served as a prosecutor explained, "When a sentence is suspended due to health reasons, it is difficult for the prosecutors to make an objective judgment, so the doctor's opinion is important," and said, "His (Lee's) old age and the fact that he suffers from a chronic disease appear to have had a major influence on the decision."
According to the Criminal Procedure Act, the execution of a sentence can be temporarily suspended when there is concern that the execution of the sentence can damage one's health or interfere with the preservation of his life. Earlier, on June 3, Lee submitted an application for the suspension claiming health reasons at the Anyang branch of the Suwon District Prosecutors' Office.
Last week, Lee was admitted to SNU Hospital because of health problems and has been receiving treatment. He is known to have been in and out of the hospital during his imprisonment due to chronic diseases such as diabetes. Lee's representative claimed that it was difficult to predict when he would be discharged because of his health.
Attorney Kang Hoon, Lee's legal representative, told Yonhap News over the phone this day that since Lee was hospitalized, the hospital had to discharge him for him to leave the hospital. Kang also mentioned that the decision was to be made by the doctor and that there was no knowing when such a decision would be made. Kang explained, "When one is released from prison, there are procedures (to return home), but since he (Lee) is in the hospital now, the prison guards will withdraw from the SNU Hospital and guards from the presidential security office will replace them to protect the former president."
He said, "He won't be able to go home in the next couple of days," and added, "If he is discharged, he will have to recover his health in his residence first." This day, Kang wrote about the decision on Lee's suspended sentence on Facebook and said, "Considering his old age and his health, it is a relief, albeit belated." He further wrote that he would share the details later since he had yet to see the former president.
The decision to suspend Lee's sentence by the Suwon District Prosecutors' Office this day is expected to add momentum to the demand for Lee's pardon. In the past, people centered on the governing People Power Party had constantly called for Lee's pardon.
On June 8, People Power Party floor leader Kweon Seong-dong said, "Two former presidents had been imprisoned and one was released with a pardon," and argued, "I don't think it is fair to leave the other in prison."
President Yoon Suk-yeol also strongly hinted at the possibility of a special pardon for Lee. On June 9, President Yoon met with reporters on his way to work at the presidential office in Yongsan and asked, "It isn't in line with precedent to make him serve twenty-something years in prison, is it?" Politicians predict that Lee will be included among those who will be granted a special pardon in time for National Liberation Day on August 15.
Lee was charged for embezzling nearly 33.9 billion won of slush funds from DAS, an automobile parts manufacturer that he actually owned and for having Samsung Electronics shoulder the litigation fees of DAS. He was arrested in March 2018 and imprisoned for a year until he was released on bail in March 2019.
In October 2020, the Supreme Court finalized his sentence of 17 years in prison. Lee was imprisoned at Seoul Dongbu Detention Center in November that year, and after a mass outbreak of COVID-19 was moved to Anyang Prison where he has been serving his time. Lee applied for a suspension of his sentence in December 2020 for fear of contracting COVID-19, but his request was denied.
ⓒ 경향신문 & 경향닷컴(www.khan.co.kr), 무단전재 및 재배포 금지