Lotte Chemical to command capacity in four key solvents for lithium-ion battery
Susan Lee
입력

2022. 6. 29. 14:18
수정

2022. 6. 29. 14:39
글자크기 설정
파란원을 좌우로 움직이시면 글자크기가 변경 됩니다.
이 글자크기로 변경됩니다.
(예시) 가장 빠른 뉴스가 있고 다양한 정보, 쌍방향 소통이 숨쉬는 다음뉴스를 만나보세요. 다음뉴스는 국내외 주요이슈와 실시간 속보, 문화생활 및 다양한 분야의 뉴스를 입체적으로 전달하고 있습니다.

Lotte Chemical Corp., under the South Korean retail giant Lotte Group, is investing an additional 140 billion won ($184 million) to develop all four key carbonate solvents essential to lithium-ion battery production.
Lotte Chemical announced on Wednesday that it will make an additional 140 billion won investment into its efforts to produce ethyl methyl carbonate (EMC) and diethyl carbonate (DEC) using its own technology, which would be a first for a domestic company.
If Lotte Chemical successfully produces EMC and DEC, it will be commanding capacity in all four carbonate solvents – EMC, DEC, ethylene carbonate (EC), and dimethyl carbonate (DMC) – to make lithium-ion batteries.
Lotte Chemical announced in May last year that it will spend 210 billion won into building ethylene carbonate (EC) and dimethyl carbonate (DMC) production plant.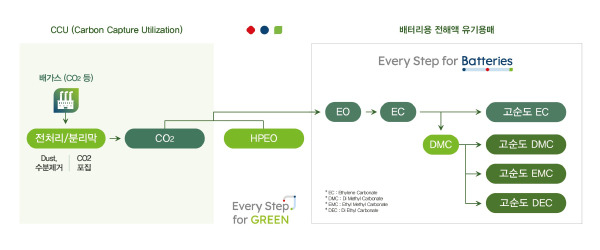 Lithium-ion batteries are made up of four main components: cathode, anode, electrolyte, and separator. The most commonly used electrolyte in the lithium-ion battery is lithium salt such as LiPF6 dissolved in a solvent mixture of the aforementioned four carbonates - EMC, DEC, EC, and DMC - which account for 30 percent of the cost of the electrolyte.
¡°We will continue to make efforts to increase production of materials used in lithium-ion batteries by collaborating with Lotte subsidiaries and strengthen the domestic materials industry,¡± said Lee Young-jun, the Vice-President & CEO of Lotte Chemical.
Lotte Chemical also plans to use the carbon capture utilization (CCU) equipment at the Daesan Complex as fuel for EC and DMC as part of measures to combat the climate crisis and achieve carbon neutrality goals.
Shares of Lotte Chemical traded down 2.61 percent at 186,500 won on Wednesday afternoon.
[¨Ï Maeil Business Newspaper & mk.co.kr, All rights reserved]
Copyright© 매일경제 & mk.co.kr. 무단 전재, 재배포 및 AI학습 이용 금지