US will rely on partners-led sanctions on N.K. and Russia to contain aggression: Treasury Under Secretary
Han Ye-kyung and Lee Eun-joo
입력

2022. 6. 29. 13:57
글자크기 설정
파란원을 좌우로 움직이시면 글자크기가 변경 됩니다.
이 글자크기로 변경됩니다.
(예시) 가장 빠른 뉴스가 있고 다양한 정보, 쌍방향 소통이 숨쉬는 다음뉴스를 만나보세요. 다음뉴스는 국내외 주요이슈와 실시간 속보, 문화생활 및 다양한 분야의 뉴스를 입체적으로 전달하고 있습니다.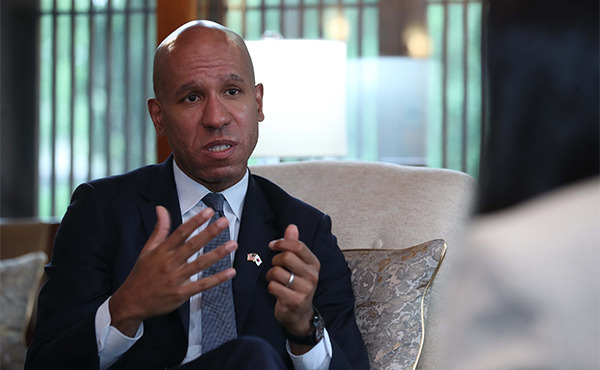 The U.S. government will seek ways to contain North Korea in weapons program and Russia in its war with Ukraine through sanctions enhanced with "partners" as working together proves more effective, according to Brian Nelson, Under Secretary of the Treasury for Terrorism and Financial Intelligence.
"We've had obviously a great relationship with Korea for a long time," Nelson said, in an exclusive interview with Maeil Business Newspaper in Seoul on Tuesday. "Our goal under the new administration is really to continue and deepen the ways that we can cooperate a little."
"I'm here to talk about ways we can deepen our cooperation on really urgent issues specifically with respect to DPRK and its weapons of mass destruction program as well as how we can work together to further ensure that we are responding to Russia's war of aggression against Ukraine."
Nelson underscored on the need for enhanced partnership with Korea to carry out work "more effectively."
The U.S. has been working with its allies to block source of funds of the North Korean regime while imposing further sanctions against the communist country remains a challenge as China and Russia vetoed U.S.-drafted United Nations Security Council resolution in May. The U.S. also stepped up efforts to boost partnership with its allies in imposing sanctions against Russia for its aggression on Ukraine.
"From a treasury perspective, I'm working every day to identify ways that we can go after those revenue generators that allow the weapons of mass destruction program to continue to operate as well as specifically the procurement networks that support the program," Nelson said. "That's something we will continue to do as long as weapons of mass destruction program exists in DPRK."
At the treasury office, Nelson is the highest official of a group that is responsible for sanctions. He oversees the Office of Foreign Assets Control (OFAC) that operates U.S.'s independent sanction programs and manages Specially Designated Nationals (SDNs), a list of countries, business entities, and individuals target of sanctions. The U.S. State Department responds diplomatically against North Korea's sanctions while the Treasury tracks sources of funds supporting the provocations and cuts off economic link.
When it comes to cryptocurrency fraud, Nelson said that it has become a "significant generator of revenue for the regime."
"It's a big priority for us, and it's also a priority in the context of ransomware and other activities that we're seeing that we believe that DPRK is taking advantage of in order to support its weapons of mass destruction program," the Under Secretary said.
The U.S. and its allies have been inviting more countries to become members of the Anti-Money Laundering and Countering Financing of Terrorism (AML/CFT) program.
Despite U.S.'s independent sanctions against North Korea, the regime has been avoiding them through indirect routes China and Russia, according to UN reports. The U.S. could impose secondary boycott on China if North Korea conducts seventh nuclear test.
"From my perspective, what we always find is our sanctions are most effective when we are deploying them with partners," Nelson said. "So we're focused on having those conversations with relevant partners across the world, and of course, here with Republic of Korea."
[ㄏ Maeil Business Newspaper & mk.co.kr, All rights reserved]
Copyright© 매일경제 & mk.co.kr. 무단 전재, 재배포 및 AI학습 이용 금지