NHN Cloud aims to quadruple sales by 2026 with deeper penetration into public sector
Oh Dae-seok and Susan Lee
입력

2022. 6. 29. 13:54
수정

2022. 6. 29. 14:33
글자크기 설정
파란원을 좌우로 움직이시면 글자크기가 변경 됩니다.
이 글자크기로 변경됩니다.
(예시) 가장 빠른 뉴스가 있고 다양한 정보, 쌍방향 소통이 숨쉬는 다음뉴스를 만나보세요. 다음뉴스는 국내외 주요이슈와 실시간 속보, 문화생활 및 다양한 분야의 뉴스를 입체적으로 전달하고 있습니다.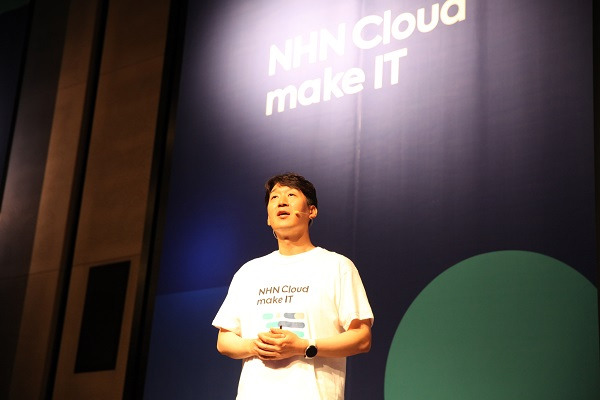 NHN Cloud, which is rapidly expanding its presence in the public sector in South Korea, aims to nearly quadruple its sales to 800 billion won ($619 million) in five years with its niche cloud solutions highly sought-after by e-commerce and games, its chief said in the company's first press briefing since its separation from NHN in April.
"Considering the orders we have so far obtained from the public sector, we expect to easily meet the annual sales target for this year," which was set at 160 billion won, said Kim Dong-hoon, the co-CEO of NHN Cloud, on Tuesday. "We aim to rake in 800 billion won in sales by 2026."
The company has already secured 30-40 percent of the country's entire cloud orders for the public sector this year, Kim said, expecting the company's sales would grow at pace doubled compared to an annual 30 percent growth rate on average.
"The private sector accounted for about 60 percent while the public sector 40 percent. But orders from the public sector have been growing at must faster pace," Kim said.
The Korean public cloud market has been rapidly growing since last year, becoming a very important market for cloud service providers (CSPs). The market size is estimated to be worth at least 400 billion won this year, including a 240 billion won worth government project to implement cloud system at the Ministry of the Interior and Safety.
To meet the goal, it plans to add more cloud data centers across the country. It is currently seeking to build data centers in Gwangju, Kimhae in South Gyeongsang Province, and Suncheon in South Jeolla Province.
NHN Cloud expects regional cloud data centers to also create quality jobs in non-Seoul areas.
The company is confident about expanding its presence in the local cloud market with specialized OpenStack solutions. OpenStack is an open-source platform that develops and manages both private and public clouds.
"While companies such as AWS focus more on universal cloud service that can be applied to industries across the board, NHN Cloud has emphasized the development of specialized OpenStack solutions that carter to the needs of specific industries such as e-commerce or finance," said Kim.
Beyond Korea, NHN Cloud plans to expand its business overseas starting with Japan. NHN Cloud aims to promote its Gamebase service, which helps developers launch their own games, in the U.S. and Japan.
[ㄏ Maeil Business Newspaper & mk.co.kr, All rights reserved]
Copyright© 매일경제 & mk.co.kr. 무단 전재, 재배포 및 AI학습 이용 금지