South Korea to join US-led economic initiative: presidential office
입력

2022. 5. 18. 16:08
수정

2022. 5. 19. 09:14
글자크기 설정
파란원을 좌우로 움직이시면 글자크기가 변경 됩니다.
이 글자크기로 변경됩니다.
(예시) 가장 빠른 뉴스가 있고 다양한 정보, 쌍방향 소통이 숨쉬는 다음뉴스를 만나보세요. 다음뉴스는 국내외 주요이슈와 실시간 속보, 문화생활 및 다양한 분야의 뉴스를 입체적으로 전달하고 있습니다.
China keeping tabs on Korea siding with US, but joining IPEF an 'inevitable' choice for Korea, experts say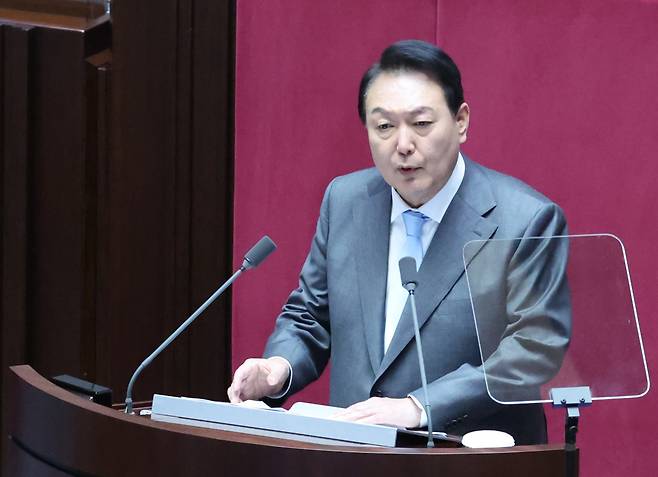 South Korea will join the Indo-Pacific Economic Framework, a US-led economic initiative, as a founding member, the presidential office said Wednesday. The decision appears likely to put further pressure on Seoul to choose a side in the US-China rivalry, with Beijing already expressing opposition to South Korea's entry.
President Yoon Suk-yeol will be participating in the launching ceremony of the initiative via video call, as the event is planned to take place in Tokyo on May 24, according to the presidential office.
Yoon is preparing to make an official announcement about Korea's participation and openly endorse the initiative during his summit with US President Joe Biden, who is set to travel to Seoul and Tokyo this weekend.
IPEF was first introduced when Biden made the proposal at the East Asia Summit last October.
The initiative ostensibly aims for the US to improve partnerships with countries in the Indo-Pacific region on a wide range of areas such as digital trade, supply resilience and infrastructure. But it is widely seen as a regional coalition that excludes China from the global supply chain.
China has already balked at the idea of Korea joining the US-led initiative, when Yoon hinted at the decision Monday.
In the first virtual meeting with South Korean Foreign Minister Park Jin, which took place after Yoon's parliamentary address on Monday, Chinese Foreign Minister Wang Yi warned against Korea's "decoupling" and possibly "cutting off (supply) chains" with China.
"We should proceed from our respective and common interests, oppose the negative tendency of 'decoupling' and 'cutting off chains,' and maintain stability and smoothness of the global industrial and supply chains," Wang said.
Highlighting the importance of a bilateral commitment to openness and inclusiveness, Wang also said it is of "fundamental interest" for the two countries to "guard against the risk of a new Cold War" and "oppose bloc confrontation."
While Korea's participation in the IPEF has brought concerned responses from China, the presidential office stated the grouping is not intended to exclude China. The office added it also plans to discuss establishing a follow-up agreement regarding the free trade agreement with China.
Experts here say South Korea's decision to join the IPEF appears "inevitable," as the country is now placed in a position to choose a side amid the escalating competition between the US and China. 
"As the US-China competition is obviously intensifying and developing into a zero-sum game, South Korea is put in a position to choose a side. Whether Korea joins the IPEF or not, it would have a following cost," Park Won-gon, a professor of North Korean studies at Ewha Womans University, told The Korea Herald.
The government would have considered all the costs and benefits of joining the US-led initiative, but it would have been much harder to not join the grouping, Park said.
"The initiative is surely aimed at building an anti-China coalition, to exclude China from a regional supply chain. IPEF is also said to make a global standard index for the digital economy and technology," Park said, adding that if Korea does not join, it will have a significant impact on its economy.
At least eight countries are widely expected to join the US-led group from its start, including Japan, Singapore, Australia and New Zealand.
By Jo He-rim (herim@heraldcorp.com)
By Jo He-rim(herim@heraldcorp.com)
Copyrightⓒ Herald Media INC. All rights reserved.