Posco Energy, CIP to cooperate on offshore wind power, green hydrogen
글자크기 설정
파란원을 좌우로 움직이시면 글자크기가 변경 됩니다.
이 글자크기로 변경됩니다.
(예시) 가장 빠른 뉴스가 있고 다양한 정보, 쌍방향 소통이 숨쉬는 다음뉴스를 만나보세요. 다음뉴스는 국내외 주요이슈와 실시간 속보, 문화생활 및 다양한 분야의 뉴스를 입체적으로 전달하고 있습니다.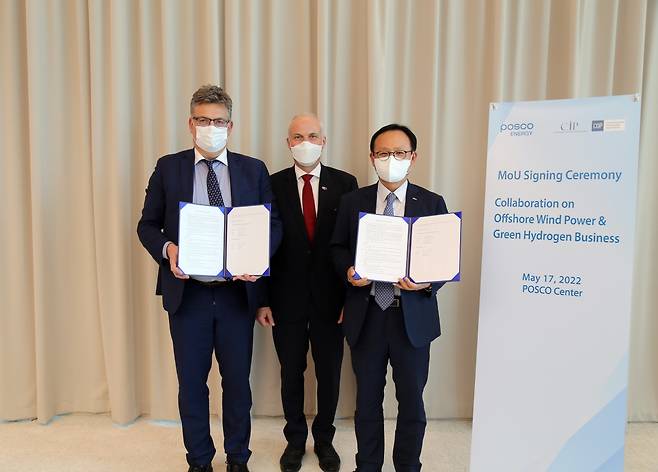 Posco Energy said it signed a deal with a Danish fund management firm focused on renewable energy infrastructure to work together on offshore wind power and green hydrogen business.
The largest private energy producer in South Korea said it will cooperate with Copenhagen Infrastructure Partners on the offshore wind power business; supply chain including steel products for offshore wind power; green hydrogen business; and run a joint working group.
Posco Energy President Chung Ki-sup, CIP Managing Partner Jakob Baruel Poulsen and Danish Ambassador to Korea Einar Hebogard Jensen attended the signing ceremony at Posco headquarters in Seoul on Tuesday.
"Through cooperation with CIP, we will have opportunities not just in Korea but also overseas in the offshore wind power business. We also expect to work together in the green hydrogen business," Chung said.
Posco Energy currently runs a 62.7-megawatt onshore wind farm in Sinan, South Jeolla Province, and has obtained government approval to build and run a 300-megawatt offshore wind farm nearby.
"Posco Energy, a global integrated energy company, is promoting the hydrogen power generation business," Poulsen said, adding that when Posco commercializes hydrogen-based steelmaking, it will generate the largest demand for hydrogen in Korea.
Posco Energy and CIP will closely cooperate by reviewing offshore wind power and global green hydrogen demonstration projects, evaluating their economic feasibility and sharing knowhow, Poulsen said.
Established in Denmark in 2012, CIP currently manages assets worth about 18 billion euros ($18.97 billion) and does business in 14 countries including Korea.
Globally, CIP is developing fixed and floating offshore wind power projects of more than 39 gigawatts and is investing in various renewable energy infrastructure such as onshore wind power, solar energy, green hydrogen and green ammonia projects.
CIP has said it will invest 100 billion euros in green energy by 2030.
By Kim So-hyun (sophie@heraldcorp.com)
By Kim So-hyun(sophie@heraldcorp.com)
Copyrightⓒ Herald Media INC. All rights reserved.