[Herald Review] Beautiful Mint Life 2022 brings festival sing-alongs back to Seoul
입력

2022. 5. 15. 15:43
수정

2022. 5. 15. 18:02
글자크기 설정
파란원을 좌우로 움직이시면 글자크기가 변경 됩니다.
이 글자크기로 변경됩니다.
(예시) 가장 빠른 뉴스가 있고 다양한 정보, 쌍방향 소통이 숨쉬는 다음뉴스를 만나보세요. 다음뉴스는 국내외 주요이슈와 실시간 속보, 문화생활 및 다양한 분야의 뉴스를 입체적으로 전달하고 있습니다.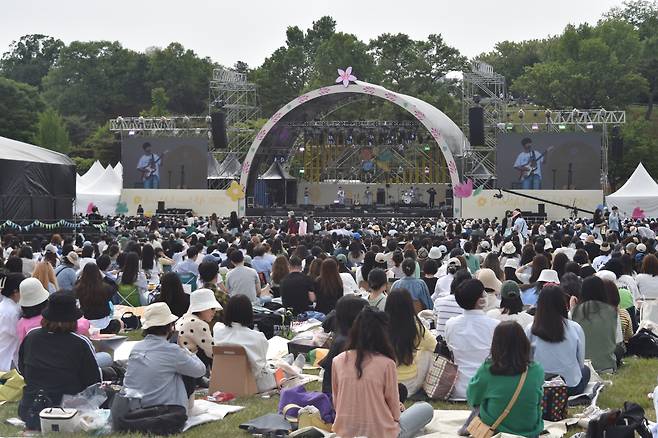 With festival season back in full swing after many COVID-19 social distancing rules were removed earlier this spring, around 8,000 music fans flocked to Olympic Park's 88 Jandi Madang in southeastern Seoul on Saturday, eager to enjoy long-awaited outdoor performances.
Beautiful Mint Life 2022, an annual indie music festival, was special not only for attendees, but also the performers onstage.
With audience sing-alongs and cheerful dances, the performances felt as though people had almost forgotten the pandemic.
This year's Beautiful Mint Life was originally planned as a two-day event, but additional performances were scheduled for Friday due to high demand following the eased quarantine measures. Around 5,000 people attended the festival eve concert on Friday to enjoy live performances by musicians, including Seodo Band, Adoy and Jannabi.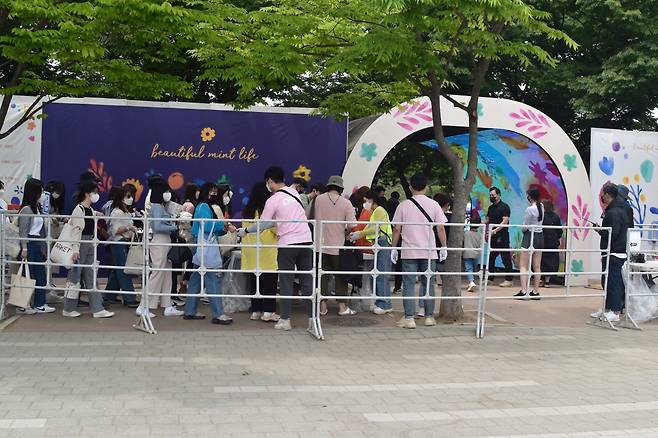 Saturday, the official first day of the festival, saw couples and groups standing in a long line before the gate opening at 12:40 p.m. Their hands and arms held food, cheering tools and picnic tables and they chatted among themselves, their voices and laughter revealing excitement.
Since mask-wearing is still mandatory at both indoor and outdoor concerts, attendees had to enjoy the event in assigned seats and numbered picnic mats. There was no standing zone this year due to COVID-19, but eating and drinking were allowed. Staff walked around with signs to remind festivalgoers that mask-wearing was required when not eating or drinking.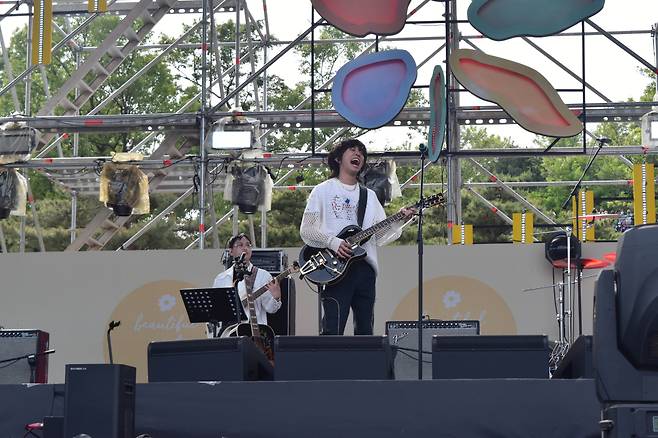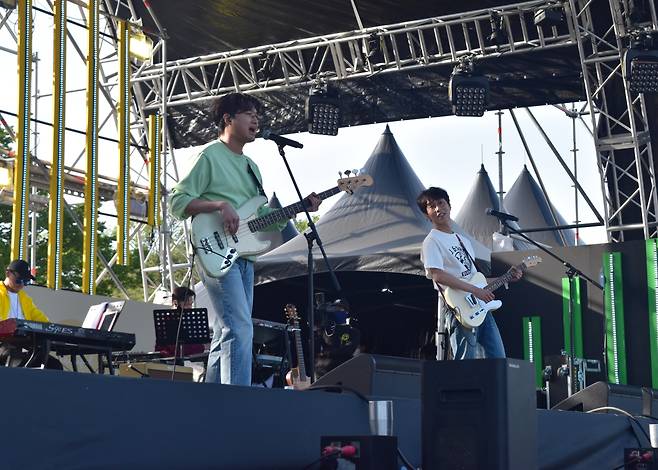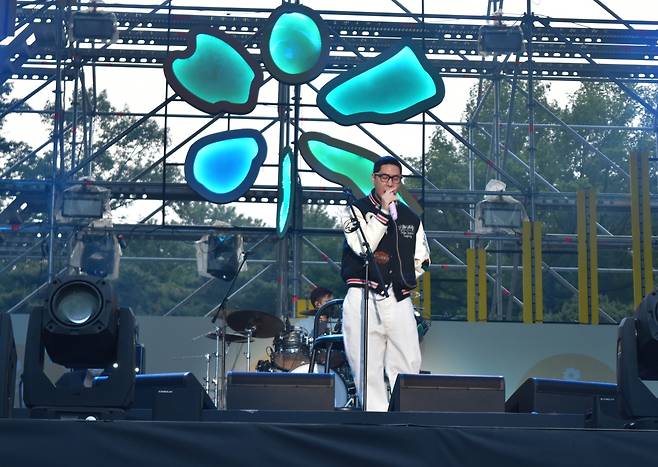 The show kicked off at 1:10 p.m. with singer-songwriter Sung Hae-bin. The Saturday lineup also included the bands Daybreak and Lucy, music duo Peppertones and singer-songwriters Lee Seung-yoon, Jung Joon-il, J.Una and Paul Kim, who all appeared deeply touched by performing live at the large-scale music event amid the losses and missed opportunities caused by the pandemic.
As each musician took the stage, the audience welcomed them with loud cheers. They sang and chanted along to the songs, stood up to dance and shook light sticks and held up signs. In return, the artists showed their big smiles and spiced up the mood with powerful vocals and passionate performances.
"It's nice to meet you again. I was so excited to perform today that I couldn't sleep well last night. (Just like you,) we waited for this day for nearly two years," Daybreak vocalist Lee Won-suk said, before Lucy vocalist Choi Sang-yeop joined him onstage to sing their latest collaboration. Choi was returning the favor from earlier on, when Lee joined Lucy for another song.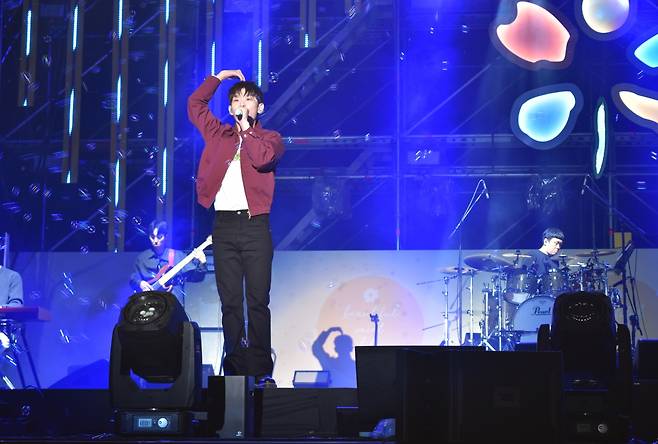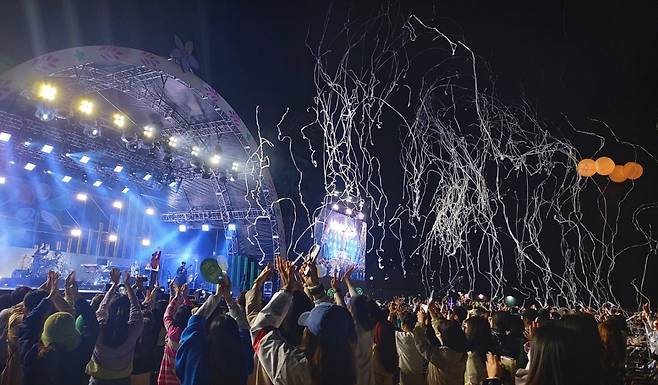 As dusk turns to darkness, the weather turned chilly but the festival atmosphere continued to heat up. Paul Kim, the headliner, wrapping up the evening on Saturday, was about to tear up and said, "I'm a ballad singer and I usually don't move more than five steps when I perform. But today, I was too excited. I feel a lump in my throat." 
Including his hit songs "Coffee With Me," "Every Day, Every Moment," and "Me After You," the artist sang an unreleased song titled "Stars" for the first time. After his 50-minute performance, thousands of people shouted "Encore," and he returned to perform more songs, even coming down from the stage to hold his fans' hands.
By Jie Ye-eun(yeeun@heraldcorp.com)
Copyrightⓒ Herald Media INC. All rights reserved.