"Blue Bayou" director Justin Chon wants to tell Korean American stories
한겨레
입력

2021. 10. 23. 11:26
글자크기 설정
파란원을 좌우로 움직이시면 글자크기가 변경 됩니다.
이 글자크기로 변경됩니다.
(예시) 가장 빠른 뉴스가 있고 다양한 정보, 쌍방향 소통이 숨쉬는 다음뉴스를 만나보세요. 다음뉴스는 국내외 주요이슈와 실시간 속보, 문화생활 및 다양한 분야의 뉴스를 입체적으로 전달하고 있습니다.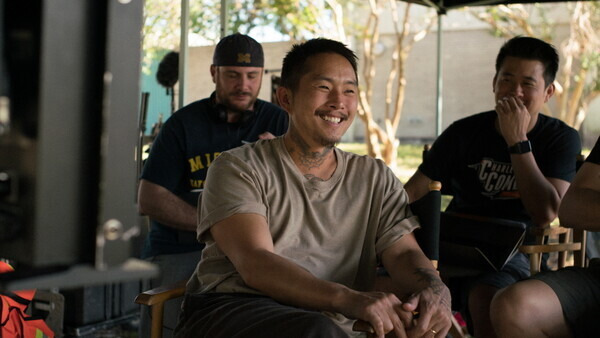 Justin Chon's film "Blue Bayou" is being lauded as the next "Minari" after it wowed the crowd at the 26th annual Busan International Film Festival on Oct. 10. The 40-year-old director said in a video interview with the Hankyoreh on Tuesday morning that his identity as a "Komerican" (American of Korean descent) is deeply displayed in his work.
"I can't separate myself from my story. I'm proud to be Korean. While growing up, I always asked myself questions as an Asian American. 'Why am I here? Why am I in the US?' 'Are our roots in America and if so, where are they?' The reason Korean American movies are filmed in the US is that they want to tell our stories of love and interests to America."
Released in Korea on Oct. 13, "Blue Bayou" tells the story of Antonio LeBlanc (played by Chon), an American adopted from Korea who faces deportation from the US. He struggles to protect his American wife (Alicia Vikander) and her daughter in their unfair dilemma. Debuting at this year's Cannes International Film Festival in the Un Certain Regard section, the film was written, directed and starred in by Chon. Amid the reality facing Korean adoptees and the role of familial love to overcome it, the movie is the realistic and touching story of a man seeking his identity.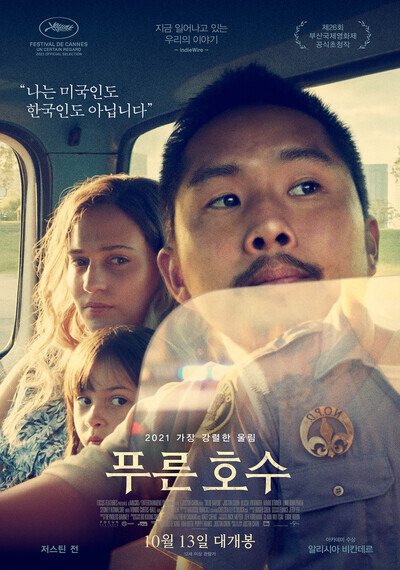 A second-generation Korean American, Chon was born in 1981 in Los Angeles. His face grew familiar in Hollywood after he played Eric Yorkie in the 2008 film "Twilight," and he often appeared in American TV series such as "Deception," "Dr. Ken" and "Just Jordan." He thus made a name for himself as an actor and director familiar to American audiences. In 2019, the mainstream US film industry took notice of "Ms. Purple," his movie about Korean immigrant life in Los Angeles' Koreatown.
"It's a big honor to be invited to such a beautiful film festival. I've been invited to the Busan festival before, and it's a beautiful and impressive event worthy of being called 'world class.' I just wonder how great it could've been if not for the COVID-19 pandemic," Chon said.
On whether his film explores the identity of an outsider, he said. "The topic of 'outsiders' is something I always explore. 'Blue Bayou' also tells the story of choosing one's direction in life through Antonio's path and choices and the choices of the people around him. But it also discusses universal worries."
Chon is aware that his story resembles that of a specific Korean adoptee, something that has ignited controversy in the US over Chon's failure to seek prior consent from the individual in question. "I thoroughly interviewed five adoptees and nine others in advance who were on the verge of deportation like the character in the movie," he said, denying that the plot was based on a single adoptee's life. "All of their stories were incorporated into the story."
"Adoptees who watched the movie said, 'Thank you. It's a movie for the adoptee community.' I'm thankful for this. I think that this movie is now out of my hands. I hope that the film will become one for adoptees not just from Korea but also Latin America and India."
Chon also praised actor Youn Yuh-jung, with whom he is working on the upcoming Apple TV Plus drama "Pachinko," based on the award-winning novel about a Korean family who immigrates to Japan. "She is really the best. She always put her heart into a performance whether she's paid a lot or a little. I consider her a genuine artist," Chon said.
"She has the passion and power to discuss and resolve problems or questions without compromising. She has a huge truthful and honest heart and has an incredibly professional mindset. It was an honor to work with her."
Chon is co-directing "Pachinko," which stars actor Lee Min-ho.
On why Korean content has taken the world by storm, Chon had a simple answer. "It's created to capture any emotion in an extremely faithful manner while displaying universal emotions and problems to make them relatable. Another point is doing one's best. This heated energy is contained in everything [in Hallyu] including music, movies and dramas. It has the power to evoke various emotions without artlessly going over the top, and is great at capturing basic human emotions."
He concluded the interview by saying, "With Korean content growing in popularity like BTS, 'Parasite,' 'Minari' and 'Squid Game,' even Americans can see how we look at the world," adding, "But I want to show the emotional aspects of Koreans like 'han' (regret) and 'jeong' (love or affection)."
By Oh Seung-hun, staff reporter
Please direct questions or comments to [english@hani.co.kr]
ⓒ 한겨레신문사, 무단전재 및 재배포 금지