LGES, Stellantis strike deal for joint battery factory in N. America
Park Yoon-gu and Minu Kim
입력

2021. 10. 18. 19:09
수정

2021. 10. 18. 19:12
글자크기 설정
파란원을 좌우로 움직이시면 글자크기가 변경 됩니다.
이 글자크기로 변경됩니다.
(예시) 가장 빠른 뉴스가 있고 다양한 정보, 쌍방향 소통이 숨쉬는 다음뉴스를 만나보세요. 다음뉴스는 국내외 주요이슈와 실시간 속보, 문화생활 및 다양한 분야의 뉴스를 입체적으로 전달하고 있습니다.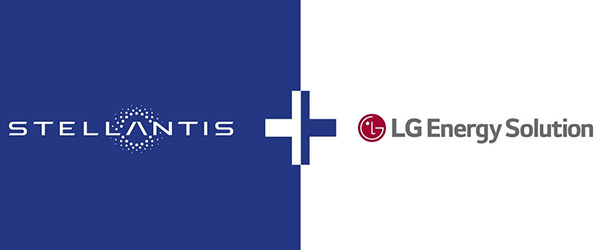 South Korea's LG Energy Solution has been undisturbed by the recall program for GM Bolt as it has found a second U.S.-based automaker Stellantis N.V. for a joint venture to produce battery cells and modules to target the fast-growing North American electric vehicle market.
The JV will establish a new battery manufacturing facility to churn out 40 gigawatt-hours of EV batteries per year. The 40GWh capacity can power up to 600,000 pure EV cars annually. Their investment value for the JV was not disclosed but the industry puts the estimate at around 4 trillion won ($3.37 billion).
The location of the new facility is currently under review and further details will be shared by the end of this year. The groundbreaking for the facility is expected to take place in the second quarter of 2022 with a goal of commercial run in early 2024.
The batteries produced at the new facility will be supplied to Stellantis assembly plants throughout the U.S., Canada, and Mexico for installation in next-generation electric vehicles ranging from plug-in hybrids to full battery electric vehicles that will be sold under 14 Stellantis brands.
"Establishing a joint venture with Stellantis will be a monumental milestone in our long-standing partnership," said Jong-hyun Kim, President and CEO of LG Energy Solution. "LGES will position itself as a provider of battery solutions to our prospective customers in the region by utilizing our collective, unique technical skills and mass-producing capabilities."
The new plant is expected to garner 40 trillion won worth of new orders over the next decade, which could make LGES become the first battery maker with order backlog of 200 trillion won. The company already has a backlog of 180 trillion won.
The latest partnership will allow LGES to maintain its leadership as a major EV battery supplier in the U.S. It aims to secure a total production capacity of about 150GWh by 2025 in the American market alone.
With the JV agreement, the two companies are expected to further solidify their partnership in the EV area, which dates back to 2014 when LGES (then LG Chem) agreed to supply its lithium-ion battery pack systems and controls to Stellantis (then Fiat Chrysler Automobiles) for the Chrysler Pacifica Hybrid, the industry's first electric minivan. Stellantis was launched in January as a new company formed by a merger between French automaker PSA Group and Italian-American automaker Fiat Chrysler Automobiles.
The LGES-Stellantis deal is the latest in a series of battery maker-automaker tie-ups as finished car brands race to secure stable battery supplies in their migration to the electrification of cars.
In December 2019, LGES and General Motors established a U.S. JV Ultium Cells, which is building two 35GWh battery plants, one in Ohio and the other in Tennessee. In January, LGES joined hands with Hyundai Motor to build a joint battery factory in Indonesia.
LG's hometown rival SK Innovation announced its partnership with Ford last month to form a JV BlueOvalSK, which plans to invest 10.2 trillion won to build three new battery factories across the U.S.
Another Korean EV battery maker Samsung SDI is working hard to create new partnerships overseas, while providing batteries to luxury car brand Rolls-Royce and EV startup Rivian.
According to market research firm SNE Research, LGES ranked second in the global EV battery market with a market share of 21.5 percent as of end-August following China's CATL (34 percent). SK On and Samsung SDI took 5th and 6th places with market shares of 5.5 percent and 3.4 percent, respectively.
[ⓒ Maeil Business Newspaper & mk.co.kr, All rights reserved]
ⓒ 매일경제 & mk.co.kr, 무단전재 및 재배포 금지