Korean youth turn to franchising to beat unemployment, behind half of 2021 openings
Lee Ho-Seung and Lee Soo-min
입력

2021. 10. 18. 15:39
수정

2021. 10. 18. 15:45
글자크기 설정
파란원을 좌우로 움직이시면 글자크기가 변경 됩니다.
이 글자크기로 변경됩니다.
(예시) 가장 빠른 뉴스가 있고 다양한 정보, 쌍방향 소통이 숨쉬는 다음뉴스를 만나보세요. 다음뉴스는 국내외 주요이슈와 실시간 속보, 문화생활 및 다양한 분야의 뉴스를 입체적으로 전달하고 있습니다.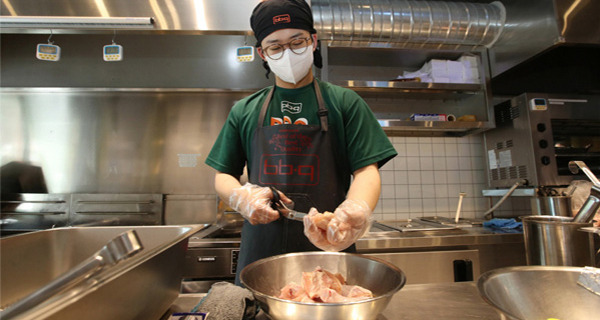 More and more Koreans in their 20s and 30s are trying their hand in managing franchise business, an area that had been mostly reserved for retirees, as youth job conditions worsen under Covid-19 environment.
More than half of fried chicken outlets by Kyochon F&B, the country¡¯s leading fried chicken franchise operator, are run by 20s and 30s. The ratio hit 58 percent as of September.
Out of 280 outlets that opened this year, 57 percent or 160 are run by under-40 owners.
The country¡¯s leading convenience store franchises GS25 and CU have also seen a wave of younger owners coming on board. More than 38 percent of new franchisees who have joined the GS25 network in the first nine months of this year were those in their 20s and 30s, and nearly 29 percent of new CU stores have been opened by them as of August. Bon Dosirak, the local restaurant franchise operated by BoniF Co., reported that more than 44 percent of new branches have been opened by them.
Unmanned franchise facilities like cafes and printing shops are also favored by the youth since they require smaller initial capital.
Franchise business has a huge potential for job creation and economic growth. The annual sales of franchise sector came to 122 trillion won ($102.7 billion) as of end-June this year, accounting for 6.4 percent of the country¡¯s GDP, according to data from the Ministry of Trade, Industry and Energy. The industry employs 1.33 million workers, or 4.7 percent of the country¡¯s economically active population.
The number of franchise brands came to 6,847 as of the end of last year, recording the largest on-year growth rate of 12.5 percent and is likely to grow further.
According to data compiled by the Fair Trade Commission, small-sized franchises with fewer than 10 outlets take up 65.3 percent of the total. Around 80 percent are concentrated in eatery business.
[¨Ï Maeil Business Newspaper & mk.co.kr, All rights reserved]
ⓒ 매일경제 & mk.co.kr, 무단전재 및 재배포 금지