F&F, Hyosung Advanced Materials, Samsung Biologics cited winners in Korean bear run
Kang Bong-jin and Lee Ha-yeon
입력

2021. 10. 18. 14:03
수정

2021. 10. 18. 15:36
글자크기 설정
파란원을 좌우로 움직이시면 글자크기가 변경 됩니다.
이 글자크기로 변경됩니다.
(예시) 가장 빠른 뉴스가 있고 다양한 정보, 쌍방향 소통이 숨쉬는 다음뉴스를 만나보세요. 다음뉴스는 국내외 주요이슈와 실시간 속보, 문화생활 및 다양한 분야의 뉴스를 입체적으로 전달하고 있습니다.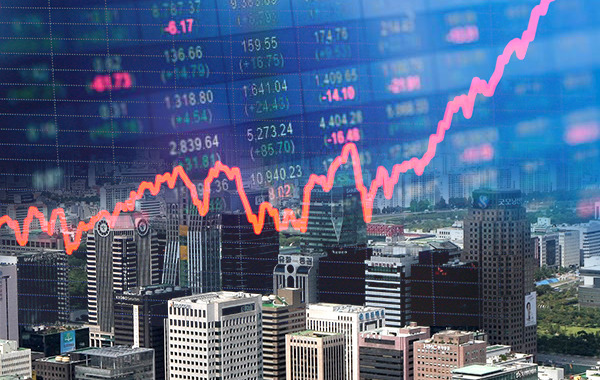 Chill has arrived faster than expected on the Korean stock market, but F&F, Hyosung Advanced Materials and Samsung Biologics are set to survive the bearish period and aim to join the exclusive 1 million won ($844.31) stock club.
Mid-sized fashion house F&F is deemed a strong candidate to reach 1-million-won club.
F&F shares have been heading north, except for a 1.9 percent fall in September, since it was relisted on the Kospi after a spin-off in May. They have gained 25.11 percent this month and closed at 887,000 won in Seoul trading on Friday. Its shares were off 2.14 percent to end at 868,000 won on Monday.
Most analysts recommend buy on F&F shares, citing the continuous growth of its mainstay brands MLB and Discovery.
"F&F's third-quarter operating profit is estimated to have reached record 76.4 billion won on sales of 303.2 billion won," said Ha Nu-ri, analyst at Meritz Securities, advising investors to buy the stock.
Securities firms including KTB Investment & Securities have revised up their stock price target for the fashion house to above 1 million won.
High-strength carbon fiber producer Hyosung Advanced Materials is another candidate to join the 1 million stock club. The stock this year surged 417 percent to 770,000 won as of Oct. 15.
"Following the expansion of its Vietnamese plant, its tire code output also will be scaled up by 2023," said Jeon Yu-jin, analyst at HI Investment & Securities.
Kiwoom Securities recently revised up the price target for the stock to highest 950,000 won in the industry. On Monday, its shares finished 1.04 percent lower at 762,000 won.
Samsung Biologics shares rose to above 1 million won for six trading days in the mid-August as it embarked on Covid-19 vaccine production for Moderna under a contract manufacturing organization (CMO) deal. The stock currently fell from the peak to below 900,000 won, but analysts still present the price target of above 1 million won on average. Its shares fell 1.27 percent to 858,000 won.
LG Household & Health Care and Taekwang Industrial shares are the only Korean stocks trading above 1 million won. LG Household & Health Care has stayed above the 1 million won mark during the virus-led free fall of Korean assets to the level of 2009 last year and despite the recent slowdown in cosmetics exports to China.
NCSoft shares, which hovered above 1 million won until mid-February, almost halved to 600,000 won due to the lackluster response to its ambitious new release of "Blade & Soul 2."
[ⓒ Maeil Business Newspaper & mk.co.kr, All rights reserved]
ⓒ 매일경제 & mk.co.kr, 무단전재 및 재배포 금지