Hyundai Oilbank to export its CCU-based methanol production technology
Lee Yoon-jae and Lee Soo-min
입력

2021. 10. 18. 13:57
글자크기 설정
파란원을 좌우로 움직이시면 글자크기가 변경 됩니다.
이 글자크기로 변경됩니다.
(예시) 가장 빠른 뉴스가 있고 다양한 정보, 쌍방향 소통이 숨쉬는 다음뉴스를 만나보세요. 다음뉴스는 국내외 주요이슈와 실시간 속보, 문화생활 및 다양한 분야의 뉴스를 입체적으로 전달하고 있습니다.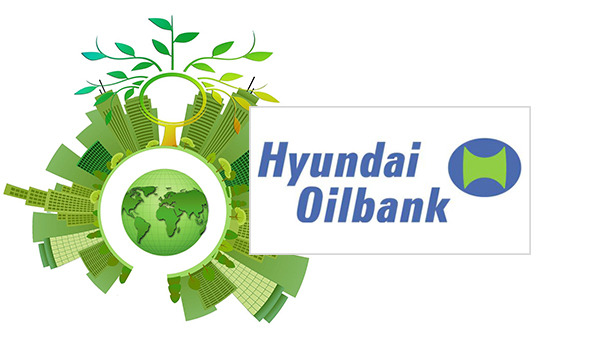 South Korea's major refiner Hyundai Oilbank Co. will make inroads into the global market with its self-developed methanol production technology through carbon capture utilization (CCU) in show of competitiveness in emission control.
Hyundai Oilbank said it will start commercializing its self-developed CCU-based methanol generation technology by joining hands with local and foreign engineering and plant companies and export the technology license to the global market. The oil refinery unit of Hyundai Group has recently completed the testing of a CO2-to-methanol demonstration plant jointly with the state-run Korea Research Institute of Chemical Technology.
The company's CCU is a key technology for recycling methane and carbon dioxide waste gases generated from refinery processes and converting them into methanol.
"A number of countries around the globe are rushing to secure CCU technology to achieve the carbon neutrality goal. Demand for our CCU license is especially huge in major methane producers like Russia and the Middle East countries where methane prices are relatively cheaper," an official from Hyundai Oilbank said.
Methanol is used as raw materials for plastic, rubber and various industrial tools and materials. It has recently been in the limelight as an alternative biofuel that can reduce sulfur oxides (Sox) by 99 percent, nitrogen oxides (NOx) by 80 percent and greenhouse gas emissions by 25 percent, compared to conventional fuel oil. Hyundai Heavy Industries Group has been also heavily investing into accelerating its conversion to methanol-powered vessels under its hydrogen roadmap 2030 unveiled in March.
Hyundai Oilbank's CCU technology license includes technologies for producing construction materials like anhydrite and calcium carbonate, using desulfurization gypsum and CO2, byproducts from refinery operations.
The company will build a carbonation plant with the annual capacity of 100,000 tons next year with an ultimate goal of bolstering the production to 600,000 tons per year. It will enable the company to recycle 500,000 tons of desulfurization gypsum each year, which is equivalent to cutting carbon emissions by 120,000 tons each year.
[ⓒ Maeil Business Newspaper & mk.co.kr, All rights reserved]
ⓒ 매일경제 & mk.co.kr, 무단전재 및 재배포 금지