Chinese display makers made fast strides in OLED, threatening Korean dominance
Oh Chan-jong, Park Jae-young and Choi Mira
입력

2021. 10. 18. 13:57
수정

2021. 10. 18. 21:03
글자크기 설정
파란원을 좌우로 움직이시면 글자크기가 변경 됩니다.
이 글자크기로 변경됩니다.
(예시) 가장 빠른 뉴스가 있고 다양한 정보, 쌍방향 소통이 숨쉬는 다음뉴스를 만나보세요. 다음뉴스는 국내외 주요이슈와 실시간 속보, 문화생활 및 다양한 분야의 뉴스를 입체적으로 전달하고 있습니다.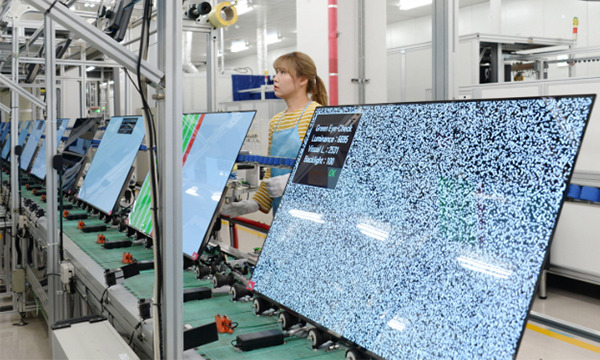 South Korean display makers may have to look over their shoulder on their competitive field of OLED as Chinese names make fast strides in the high-performance flexible panel market after dominating LCD.
BOE, China's biggest display manufacturer, has recently started shipping low temperature polycrystalline silicon (LTPS) OLED panels for 6.1-inch iPhone 13 series.
BOE has won order from Apple after it activated 6th generation flexible OLED manufacturing factory in May 2017. Last year, it began supplying OLEDs for refurbished iPhones.
Industry sources expect the Chinese company will initially split orders with LG Display and Samsung Display for 60 Hz panels for the iPhone 13. Apple's premium lineups iPhone 13 Pro and Promax features 120 Hz OLED panels supplied exclusively by Samsung Display. Industry watchers believe BOE still has a long way to go to develop the 120 Hz panels.
Apple plans to replace liquid crystal display (LCD) panels for its tablet devices and laptop with OLED screens. According to Ubi Research, OLED shipments for IT devices and TVs topped 10.29 million units in the first six months of the year, surpassing the 10 million mark for the first time. OLED sales doubled from the same period last year to $2.9 billion.
Samsung Display dominates the small and mid-sized OLED market with 73.1 percent shares based on 2020 sales, followed by LG Display with 12.3 percent, and BOE with 8.7 percent. Samsung's share in the smartphone OLED market is estimated to fall to 60 percent range next year due to China's fast ascent.
According to Omdia estimate, Samsung Display's annual sales growth from 2020 to 2025 was projected at 12 percent and LG Display at 19 percent, whereas 25 percent forecast for BOE and 52 percent for CSOT.
Chinese companies had just one fifth of OLED display manufacturing capacity compared with Korean makers two years ago, but their capacity would be increased to match 50 percent of Korean rivals in three years time, according to industry experts.
BOE runs two 6th generation OLED panel plants in China and is building the third plant in Chongquing. Its smaller rivals including CSOT and Tianma are set to make a huge investment in small- and mid-sized OLED panels.
The Chinese makers' leap in OLED owes to Beijing's aggressive support. The Chinese government has cut corporate taxes for future-promising industries including display from 25 percent to 13 percent and exempts tariffs on equipment and material imports. The generous state funding has allowed Chinese makers to produce at 71 percent of the cost of Korean makers.
[ⓒ Maeil Business Newspaper & mk.co.kr, All rights reserved]
ⓒ 매일경제 & mk.co.kr, 무단전재 및 재배포 금지