"Squid Game" creator wins big with story of society's "losers"
한겨레
입력

2021. 9. 29. 18:06
글자크기 설정
파란원을 좌우로 움직이시면 글자크기가 변경 됩니다.
이 글자크기로 변경됩니다.
(예시) 가장 빠른 뉴스가 있고 다양한 정보, 쌍방향 소통이 숨쉬는 다음뉴스를 만나보세요. 다음뉴스는 국내외 주요이슈와 실시간 속보, 문화생활 및 다양한 분야의 뉴스를 입체적으로 전달하고 있습니다.
In an interview on Tuesday, the creator of the hit Netflix series shared what inspired him to make the show, and what he believes to be behind its widespread appeal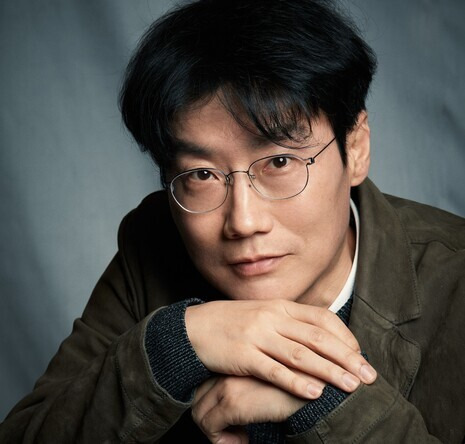 The hit Netflix series "Squid Game" has topped the charts in most of the world and is on pace to becoming the biggest non-English work on the global streaming site and potentially its biggest success of all time.
This is what Netflix co-CEO and Chief Content Officer Ted Sarandos said Monday about the series at this year's Code Conference in Beverly Hills, California. Earlier, Netflix founder and co-CEO Reed Hastings was shown wearing a green tracksuit as contestant No. 457 in an Instagram post by Netflix Korea.
Online retailers based outside of Korea are selling T-shirts inscribed with No. 456 of the protagonist Gi-hun (portrayed by Lee Jung-jae) and materials to make sugar honeycomb dalgona cookies, which appear on the show.
Did director Hwang Dong-hyuk, who first conceived "Squid Game" 10 years ago, ever envision this mammoth response?
"Things that are the most Korean, like BTS, Psy's 'Gangnam Style' and director Bong Joon-ho's 'Parasite,' are said to be the most global. I worked with Netflix because I saw the potential of the simple games that appear in my work having global appeal, but I never thought it'd go this far. I joked that perhaps dalgona would trend like the gat (traditional men's hat) from 'Kingdom' did. I'm shocked that it did," he said.
In an online interview Tuesday, the director looked visibly amazed as he shared his thoughts, saying, "Since it's come this far and it keeps doing well, I'd really like to see it become the most successful work in Netflix's history."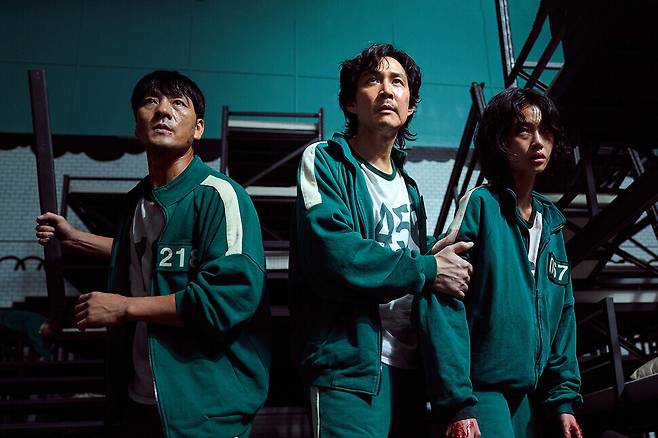 The secret behind "Squid Game" is the simplicity of the games. "The games are easy for people of all ages worldwide to understand, so they can immerse themselves in the characters' emotions," he said.
On whether he was inspired by the "death game" genre made popular by the Japanese comics "Liar Game" and "Gambling Apocalypse: Kaiji," he said, "Other works have games that are hard and complicated, so the main characters have to be geniuses. 'Squid Game' is different in that its simplicity puts the focus on people, not the games."
What makes the series unique? Hwang said, "Unlike other works, the story is about a loser instead of a hero." On the steppingstone game, he added. "This loser Gi-hun is someone who barely takes one step at a time with the help of others."
"Gi-hun and Sang-woo (Park Hae-soo), who survive the steppingstone game, have this chat. Sang-woo says that his ability and effort brought him this far, while Gi-hun says they had been brought so far by many people's sacrifice and dedication. The idea that 'Winners in this society stand upon the corpses of losers, so we must remember the losers' best expresses the theme of the series."
Hwang says another factor behind his success is the changes that have taken place during the decade or so since he first came up with the idea for the show.
"Ten years ago, people told me it was too abstruse. But the world has changed since then and made the show seem plausible. Sadly enough, those changes are one factor behind its success. One thing that viewers seem to find interesting and relatable is that the game is a get-rich-quick scheme, just like Bitcoin, real estate, and the stock market."
Gi-hun's back story is that he was terminated by "Dragon Motors," a nod to real-life Ssangyong Motor (which's name means "double dragon"). That connection was drawn on Facebook by Lee Chang-geun, a former worker at Ssangyong Motor who was fired by the automaker. Lee thanked Hwang for the reference and said he'd like a chance to meet Hwang.
"Lee is right that I used Ssangyong Motor as a reference point. I thought that incident would help explain how an ordinary guy like Gi-hun could fall so far," Hwang said.
"In a capitalist society, anyone can find themselves in Gi-hun's position at any time. Even now many people are fired from their jobs or lose them when the company goes under."
Hwang continued: "After [being fired from Dragon Motors], Gi-hun opens a fried chicken restaurant that ends up folding, and small business owners are currently having trouble because of COVID-19. I wanted to depict a character who could represent people like that. That's what I can do as an artist. But actually meeting Lee for a conversation would be a different matter, and it's hard to say whether that would be appropriate for an artist."
How does Hwang feel about the fact that, while "Squid Game" has been almost universally praised abroad, opinions are divided at home?
"I'd aspired to create a show that everyone would like, regardless of their age, gender, generation or race. But hearing that there are quite a few detractors in Korea just goes to show that you can't please everyone. Seeing as the show has gotten a lot of positive reviews in other countries, it seems that some people out there appreciated what I'd set out to do."
There have been a number of controversies since "Squid Game" became such a hit. For example, individuals whose phone numbers were displayed on screen have complained about the onslaught of calls they've been receiving.
"The staff thought they were using safe numbers that didn't connect to anything, but they were surprised to learn that, if you actually call the numbers, the '010' prefix [for mobile phones] is automatically added. I'm told the staff are working to sort that out. We're apologetic to the people who have been inconvenienced," Hwang said.
"The bank account on screen belongs to one of the staff members. They apparently keep getting deposits of 456 won (US$0.39). They're planning to close the account," he said.
Some have raised accusations of misogyny over a scene in which Han Mi-nyeo (played by Kim Joo-ryoung) seduces a male character to achieve her own ends and a scene in which women wearing body paint are positioned like decorations in the room where the "VIPs" view the game.
Hwang offered the following response: "The scene with Han Mi-nyeo was intended to show that people will do anything in extreme situations and wasn't supposed to be misogynistic or derogatory to women."
"The body painting scene is designed to show the extent to which the VIPs devalue and objectify other people," he added.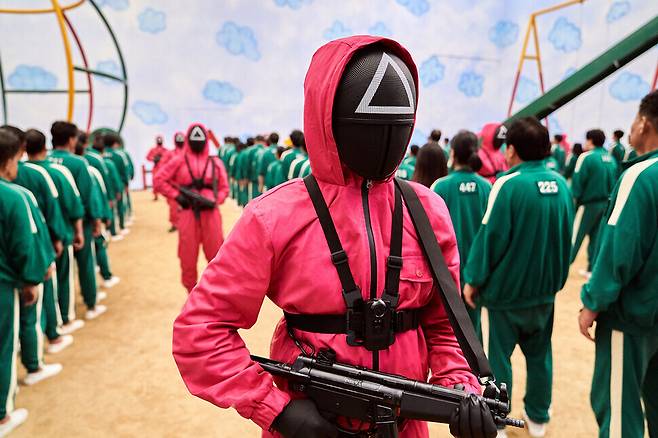 Some argue that "Squid Game" couldn't have been such a blockbuster if it weren't for Netflix's global platform. Hwang fully agrees with that opinion.
"If not for Netflix, who would have given me the freedom to make this kind of series for this kind of budget? I appreciate that they gave me their full backing after hearing my pitch," he said.
"Another big advantage is that the show was released simultaneously around the world. That's why it was possible to get such an unbelievable response in a single week. Working with Netflix was an excellent choice."
Hwang also addressed the fact that, no matter how well "Squid Game" does, he's never going to be paid anything more than Netflix's original production budget and perks.
"It's human nature to have some regrets. But what's the point of regretting something that I've known from the outset? I consider the amazing reaction we're getting right now to be a blessing and something to appreciate as an artist."
Given Hwang's experience directing films such as "Silenced" (2011), "Miss Granny" (2014) and "The Fortress" (2017), what did he find most meaningful about his work on "Squid Game"?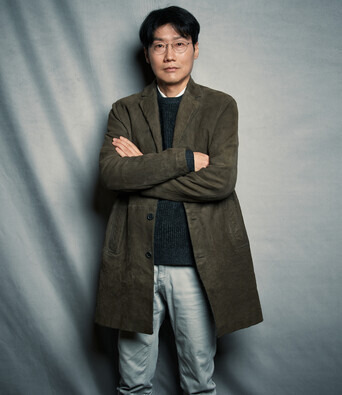 "This was my first TV series [after only doing films], but I guess its outrageous success is going to follow me around my whole life, for better or worse. That's an honor, but also a liability. Whatever I do from this point forward is going to be compared to 'Squid Game.'"
When I mentioned that people are already excited about Season 2, Hwang related some of the difficulties he faced while making Season 1.
"Writing, directing, and producing 'Squid Game' was mentally and physically exhausting. From the get-go, I thought of this as an all-or-nothing project — either boom or bust. That kept me on pins and needles throughout. My stress level was at 100% so long that I lost six teeth."
"The show has so many fans, and I guess they'd be pretty upset if I refused to do Season 2. I've got a few ideas of where we could go from here," he said.
By Suh Jung-min, staff reporter
Please direct questions or comments to [english@hani.co.kr]
ⓒ 한겨레신문사, 무단전재 및 재배포 금지