Korean capital prices tumble on US, China debt issues
Pulse
입력

2021. 9. 29. 15:45
수정

2021. 9. 29. 15:48
글자크기 설정
파란원을 좌우로 움직이시면 글자크기가 변경 됩니다.
이 글자크기로 변경됩니다.
(예시) 가장 빠른 뉴스가 있고 다양한 정보, 쌍방향 소통이 숨쉬는 다음뉴스를 만나보세요. 다음뉴스는 국내외 주요이슈와 실시간 속보, 문화생활 및 다양한 분야의 뉴스를 입체적으로 전달하고 있습니다.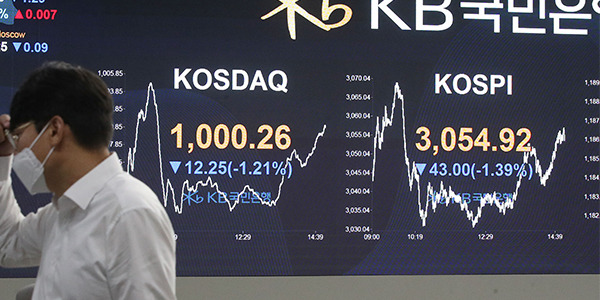 South Korean stock, currency and bond prices slipped to their weakest in the year Wednesday as the capital market shook in a heavy volatility over concerns of an economic slowdown in China from debt and power woes and faster-than-expected tightening in the United States.
The main Kospi is on the verge of losing 3,000 threshold with the index losing 1.22 percent to close at 3,060.27 on Wednesday, whereas the Kosdaq was off 1.09 percent to finish at 1001.46.
Retailers continued buying to protect the hard-won threshold whereas foreigners and institutions continued to sell.
The won sank on foreign selloff.
The U.S. dollar opened at 1,188.0, highest since 1,189.1 on Sept. 9. It eased to 1183.40.
Bond prices also continued to free fall as they followed U.S. debt movement. The three-year government bond yield jumped 2.6 basis points to 1.63 percent while the longer-dated bonds of 10 and 20 years traded above 2.0 percent even as the benchmark overnight rate remains at 0.75 percent.
Market uncertainty has grown sharply in the Korean financial market as spiking U.S. bond yields hurt Wall Street.
As Washington gets into another debt ceiling debate, markets have begun to price a premium on U.S. debt, sending the yield on the 10-year Treasury note to 1.56 percent. As a result, the tech-heavy Nasdaq composite to sink 2.83 percent overnight, the S&P 500 lost 2.04 percent while the Dow Jones Industrial Average retreated 1.63 percent.
Analysts find more downside than upside for emerging markets due to growing concerns over additional rate hike from inflationary pressure and uncertainties in the two biggest economies.
[¨Ï Maeil Business Newspaper & mk.co.kr, All rights reserved]
ⓒ 매일경제 & mk.co.kr, 무단전재 및 재배포 금지