Ciipher welcomes love during autumn with 'Blind'
입력

2021. 9. 28. 19:31
수정

2021. 9. 28. 19:33
글자크기 설정
파란원을 좌우로 움직이시면 글자크기가 변경 됩니다.
이 글자크기로 변경됩니다.
(예시) 가장 빠른 뉴스가 있고 다양한 정보, 쌍방향 소통이 숨쉬는 다음뉴스를 만나보세요. 다음뉴스는 국내외 주요이슈와 실시간 속보, 문화생활 및 다양한 분야의 뉴스를 입체적으로 전달하고 있습니다.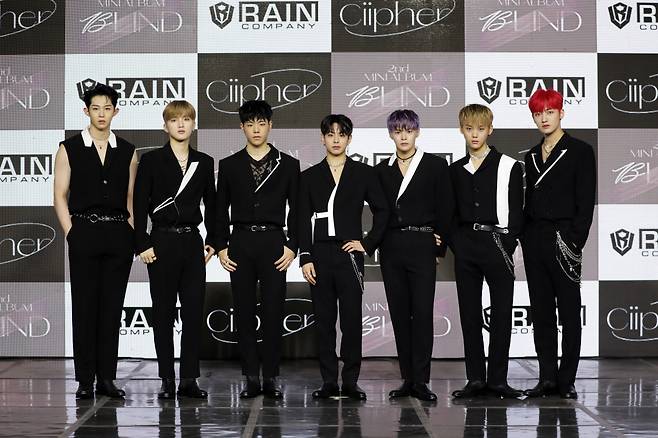 As the days are shortening, the leaves are starting to change, people are pulling out their sweaters, and rookie boy band Ciipher is hoping to capture the mood of the season. The septet has returned with their second EP "Blind," released Tuesday evening, a follow-up to their debut "I Like You" which dropped in March.
The seven-member group said their title track, "Blind," is a song about how a guy succeeds in confessing his love to his crush and how one could be blindly in love by deeply falling for a lover, during an online press conference held Tuesday.
Tag said the song is an extension of "I Like You," with a more dynamic melody, and shows how they have matured when it comes to feelings of love. Hyun-bin chimed in, saying the song is refreshing, but the powerful and energetic choreography adds an energetic and youthful vibe to the melody.
The members also listed themselves as composers and songwriters for their latest EP, just like their debut album. The septet wrote and composed five tracks, including their main track, taking their musical taste to another level.
Talking about the process of making the album, Tag said he took the lead role in producing the main track, backed up by Keita and Won. The vocalist and main rapper added that the catchy hook line is what fans should be excited about when listening as they will be able to feel Ciiper's honest, bright and young energy about love.
Adding to the excitement, the bandmates spoke about the other racks. They described "Moon Night" as a "song that would be a perfect match during the autumn nights," and "Go Ahead" is a song about sincere love. The group also went on about "Joker," a song that shows the band's ambition to be a hidden card in the K-pop scene.
Hwi defined Ciipher's current sound as "a tune that sends out positivity to music listeners," likening their music to a vitamin. The dancer went on, saying that he would be "more than happy if people had a smile on their faces" after listening to the band's new song.
When asked about how they could fill the album with self-composed songs, Keita said the band went through several blind taste phases with other composers to see which song would perfectly match the seven bandmates. "I think we were lucky this time because our self-composed song got picked again as our main title track," he added.
The septet also talked about Jung Ji-hoon, also widely known as singer Rain, as they are under Jung's company. "He helped us in many areas and actually actively participated in our debut album, but he remained silent this time, so we were able to express ourselves when it came to picking songs and styling," Hyun-bin said.
The leader went on to say that Jung always cheers for the group and added that he is the spiritual mainstay of their life, making them feel less worried.
Ciipher forayed into the music scene with a bold ambition -- to become a versatile idol band and create a new paradigm in the music scene on March 15. And the band name suggests, it plans to decipher many different passcodes in the industry.
"Although we are a rookie group, I think we were able to reflect on the differences between being a singer and a trainee during the past six months," Do-hwan said. The vocalist continued, talking about how the group has the know-how to find cameras on stage and how crucial it is to remain humble.
Tan hinted at his desire to win a "Rookie of the Year Award" as the season of award ceremonies is underway. He added that he wants to see Ciipher being nominated for first place on music programs and debut on the Billboard charts.
The five-song EP was released at 6 p.m. on Tuesday.
By Park Jun-hee(junheee@heraldcorp.com)
Copyright© 코리아헤럴드. 무단전재 및 재배포 금지.