Samsung has hits in new foldables, especially Flip 3
이태희
입력

2021. 9. 19. 07:00
글자크기 설정
파란원을 좌우로 움직이시면 글자크기가 변경 됩니다.
이 글자크기로 변경됩니다.
(예시) 가장 빠른 뉴스가 있고 다양한 정보, 쌍방향 소통이 숨쉬는 다음뉴스를 만나보세요. 다음뉴스는 국내외 주요이슈와 실시간 속보, 문화생활 및 다양한 분야의 뉴스를 입체적으로 전달하고 있습니다.
Samsung Electronics' new foldables are raking in so many orders the company can't keep up with demand.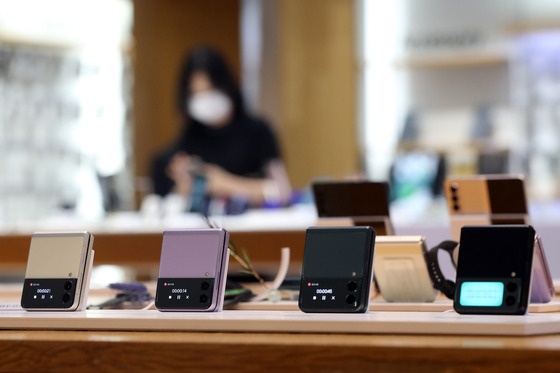 Samsung Electronics' new foldables are raking in so many orders the company can't keep up with demand.
Industry watchers thought the Galaxy Z Fold 3 and Flip 3 got around 800,000 orders before their release on Aug. 27. In fact, according to Samsung. 920,000 orders came in between Aug. 17 and 23.
The Galaxy Z Flip 3 is proving particularly popular, accounting for 70 percent of the orders.
Among the different color options — lavender, cream, green and phantom black — lavender has been most popular and is now hard to get.
With the surge in orders for Samsung's third-generation of foldables, some customers are still waiting for their phones.
Customers who registered their foldables by Aug 27 were eligible for gifts and benefits such as Galaxy Buds 2 wireless earphones, a Samsung Care+ plan offering a one year free warranty and phone cases. Samsung announced on Sept. 14 that the deadline was extended to Sept. 30 for customers who didn't get their devices.
"Even Samsung Electronics didn't expect [the foldables] to be this popular," said an official at a different electronics company. "There's a shortage because the pre-orders surpassed the number of devices Samsung had in stock."
Orders for the foldables beat other recent releases. They are 1.3 times larger than for the Galaxy Note 20 and 1.8 times larger than for the Galaxy S21.
Matching supply and demand may not be easy with the ongoing global chip shortage.
"The initial response to foldable smartphones is above expectations and we expect 6.7 million foldable smartphones to sell this year, which is more than twice as many as last year's 2.4 million," said Park Kang-ho, an analyst at Daishin Securities. "However, smartphone sales may actually slow down compared to the first quarter due to the chip shortage and no [plans to launch] the Galaxy Note 21."
While Samsung is struggling with supply, Apple revealed four iPhone 13 models on Sept 14. With their new releases coming at around the same time, competition between the rival smartphone makers is expected to heat up.
On the day of Apple's launch event, the Samsung Mobile US Twitter account uploaded various tweets apparently aimed at the new iPhones.
One of the account's tweets read, "Now how much cooler would that be if it could fold in half?" and "Imagine still having a notch in 2021 – Galaxy Z Fold 2 5G."
Another tweet read, "We've been refreshing at 120Hz for a while now…," referring to iPhone 13 Pro and the Pro Max's newly improved 120Hz refresh rate.
Apple's remarks at the iPhone launch could have been aimed at Samsung. The company compared its A15 Bionic chip to a chip of a "leading competition," and many assumed the competitor to be Samsung.
"A15 Bionic included our most powerful graphics ever with a new 5-core GPU," said Greg Joswiak, Apple's senior vice president of worldwide marketing, during the Apple Event. "It provides up to 50% faster graphics performance than the leading competition."
BY KIM GYEONG-JIN, LEE TAE-HEE [lee.taehee2@joongang.co.kr]
Copyright© 코리아중앙데일리. 무단전재 및 재배포 금지.