Seoul sees record COVID-19 cases, but fewer severe cases thanks to vaccines
한겨레
입력

2021. 9. 16. 17:36
글자크기 설정
파란원을 좌우로 움직이시면 글자크기가 변경 됩니다.
이 글자크기로 변경됩니다.
(예시) 가장 빠른 뉴스가 있고 다양한 정보, 쌍방향 소통이 숨쉬는 다음뉴스를 만나보세요. 다음뉴스는 국내외 주요이슈와 실시간 속보, 문화생활 및 다양한 분야의 뉴스를 입체적으로 전달하고 있습니다.
Rates of severe and fatal cases of COVID-19 are staying steady, but in order to lower the case fatality rate further, those in high-risk age groups must get vaccinated, an expert says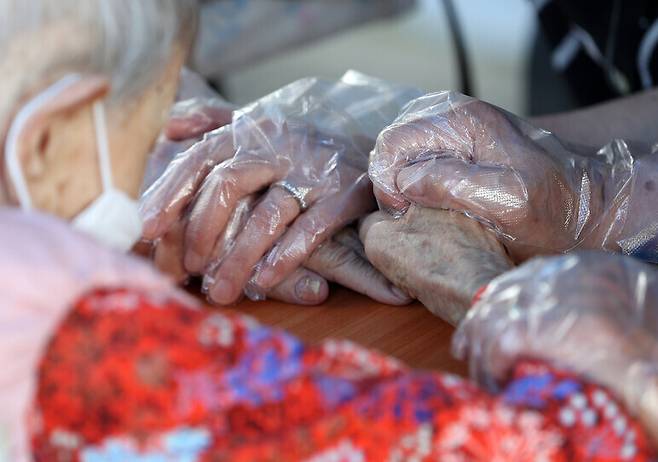 With the Chuseok holiday fast approaching, South Korea has reported more than 2,000 daily cases of COVID-19, with Seoul seeing the most cases since the pandemic began. But as more of the population is vaccinated, the rates of severe and fatal cases are both declining, enabling the medical system to maintain stability.
Korea's Central Disease Control Headquarters (CDCH) reported 2,080 new cases of COVID-19 on Wednesday. That was the eighth time the caseload exceeded 2,000 during a 71-day stretch of four-digit cases. Notably, the greater Seoul area saw 1,656 cases, or 80.5% of the total, while Seoul set a record of 804 cases.
But the medical system is handling the load, as hospital occupancy rates show. Quarantine centers (for patients who are asymptomatic or have mild symptoms) are at 53% of capacity; infectious disease hospitals (for patients with mild or moderate symptoms) and semi-intensive care units are at 60%, and intensive care units are at 50%.
This suggests the medical system can handle an even higher caseload, if necessary. The government said that, thanks to an order issued last week to secure more hospital beds outside of the Seoul area, there will be enough beds available to treat moderate cases (assuming a daily caseload of 2,400) and severe and critical cases (assuming a daily caseload of 3,500).
As the government prepares for a gradual return to normal routines after Chuseok, the number of new cases isn't as important as the percentage that become severe or fatal.
On Wednesday, the CDCH said the percentage of COVID-19 cases that became severe was at 2.22% in July and 2.14% in August, while the percentage that proved fatal was at 0.29% in both months.
That's comparable to the incidence of severe cases (2.22%) and fatal cases (0.24%) in June, just before Korea was struck by the fourth wave of COVID-19 in early July.
Since the pandemic began, Korea saw the highest severe case incidence in September 2020 (5.9%) and the highest case fatality rate in March 2020 (2.87%).
Relative to those peaks, the severe case incidence has dropped by two-thirds and the case fatality rate has plunged by 90%.
The monthly severe case incidence refers to the number of COVID-19 cases contracted in a given month that become serious, critical, or fatal, while the monthly case fatality rate is the number of monthly cases that result in death.
The severe case incidence and case fatality rate rose to 4.72% and 2.7% in December 2020, during the third wave of COVID-19, but they have continued to fall since Korea launched its vaccination campaign on Feb. 26.
Korea has struggled with the pandemic in recent months: the fourth wave began in early July, and the more infectious and virulent Delta variant became dominant in mid-July. But the severe case incidence and case fatality rate have held steady since April and June, respectively, without rebounding.
That's believed to reflect the impact of the vaccination campaign, which began with at-risk groups. People aged 60 and above were administered their first dose between April and June.
"We regard the decrease in the case fatality rate in July and August as being the cumulative effect of vaccination," said Son Young-rae, director of strategy and planning at Korea's Central Disaster Management Headquarters, in a press briefing on Wednesday.
The apparent reason the severe case incidence and case fatality rate didn't decrease in August is because that was when those in the high-risk group (aged 60-74) were receiving their second shot of COVID-19 vaccines. Even with more people becoming fully vaccinated, an increase in transmission among the unvaccinated population can cause the severe case incidence and case fatality rate to stay constant or even undergo a moderate increase.
"It appears that the case fatality rate is not decreasing further because we continue to see a lot of deaths among unvaccinated people aged 60 and above and because people in their 50s have not been fully vaccinated. We need to take extraordinary measures to inoculate unvaccinated people aged 60 and up," said Kim Yoon, a professor of health policy and management at Seoul National University College of Medicine.
By Kim Ji-hoon, staff reporter
Please direct questions or comments to [english@hani.co.kr]
ⓒ 한겨레신문사, 무단전재 및 재배포 금지