S. Korea¡¯s fiscal deficit stretched to record high of $62 bn in 2020
Choi Mira
입력

2021. 9. 16. 15:24
글자크기 설정
파란원을 좌우로 움직이시면 글자크기가 변경 됩니다.
이 글자크기로 변경됩니다.
(예시) 가장 빠른 뉴스가 있고 다양한 정보, 쌍방향 소통이 숨쉬는 다음뉴스를 만나보세요. 다음뉴스는 국내외 주요이슈와 실시간 속보, 문화생활 및 다양한 분야의 뉴스를 입체적으로 전달하고 있습니다.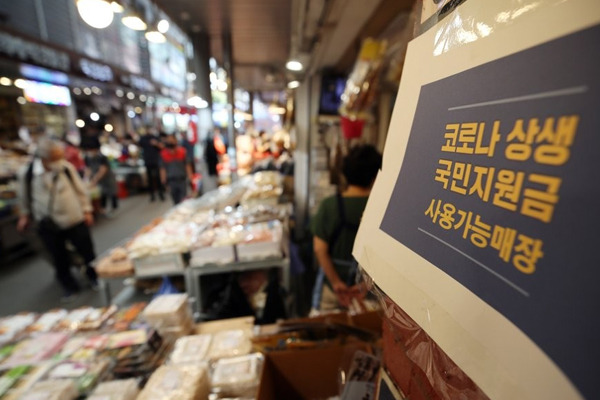 The South Korean fiscal deficit stretched to a record-high of near 73 trillion won ($62 billion) last year due to the heavy spending to fight Covid-19 fallout.
According to data released by the Bank of Korea on Thursday, the central government ran a deficit of 72.8 trillion won in public account balance in 2020 as the result of expenditure of 428 trillion won versus income of 355.2 trillion won. The central bank¡¯s balance figure is different from data compiled by the Ministry of Economy and Finance in terms of covered institutions, items and accounting measures.
The red figure of 73 trillion won nearly doubles 36.9 trillion won in 2019 to the largest-ever since 2007 when the data became available. The central government¡¯s gross income decreased by 2.5 trillion won compared to the previous year as tax revenue decreased, but its expenditure sharply increased by 33.4 trillion won due to the Covid-19 relief handouts.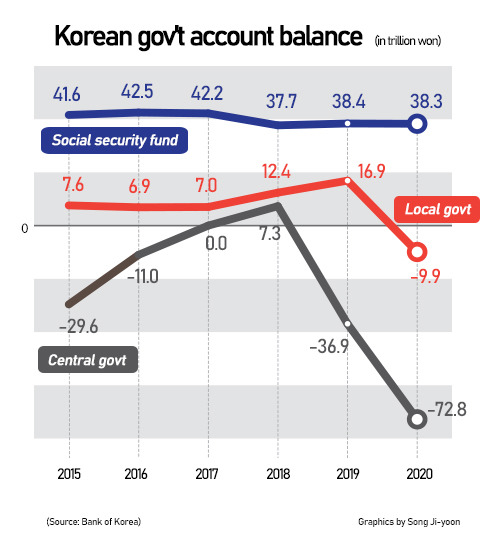 Local government account also swung to 9.9 trillion won in the red last year from 16.9 trillion won in surplus in 2019. Social security funds including national pension, public official pension and national health insurance posted 38.3 trillion won in surplus.
The balance in general government account including balance of central and local government accounts and social security funds was 44.4 trillion won in the red, a record-high since 2007. The deficit ratio against nominal GDP was minus 2.3 percent, but nevertheless well below the Organization of Economic Cooperation and Development (OECD) average of minus 10.8 percent, the central bank said.
[¨Ï Maeil Business Newspaper & mk.co.kr, All rights reserved]
ⓒ 매일경제 & mk.co.kr, 무단전재 및 재배포 금지