WKF: Korea should not doubt US alliance after Afghan withdrawal: Heritage Foundation
Lee Eun-joo
입력

2021. 9. 16. 13:54
글자크기 설정
파란원을 좌우로 움직이시면 글자크기가 변경 됩니다.
이 글자크기로 변경됩니다.
(예시) 가장 빠른 뉴스가 있고 다양한 정보, 쌍방향 소통이 숨쉬는 다음뉴스를 만나보세요. 다음뉴스는 국내외 주요이슈와 실시간 속보, 문화생활 및 다양한 분야의 뉴스를 입체적으로 전달하고 있습니다.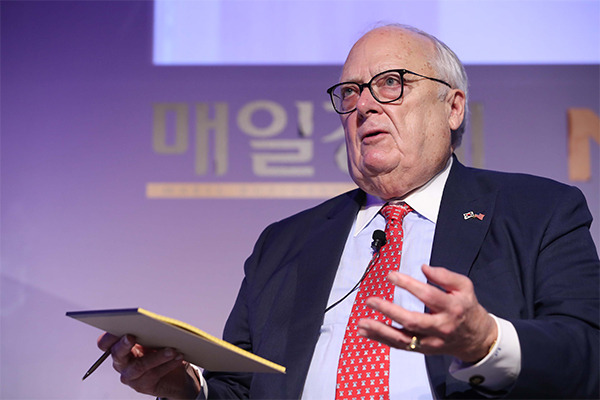 South Koreans need not worry about any changes in security alliance with the United States including troop drawdown following the American withdrawal from Afghanistan as the two nations consider one another "brothers and sisters", according to Edwin Feulner, founder of Washington-based think tank Heritage Foundation.
"I would like to reaffirm something right here in Seoul," Feulner said, during a session on "The Heritage Foundation Dialogue in Seoul: Views from Washington" at World Knowledge Forum on Thursday. "Afghanistan [withdrawal] ˇ is a tragedy on personal level and humiliation on national security but it's very different from what we have here."
Feulner said that the U.S. and South Korea are "brothers and sisters standing side by side with each other" and that "American commitment to bilateral relationship with South Korea is very real and uniformly accepted by both sides."
"We believe in our alliance, friendship," he said.
The session – moderated by Anthony Kim, policy analyst at The Heritage Foundation – was joined by two other think tankers James Carafano, vice president for National Security and Foreign Policy at The Heritage Foundation, and Reince Priebus, who served as the White House chief of staff to President Donald Trump for seven months in 2017 and chairman of the Republican National Committee.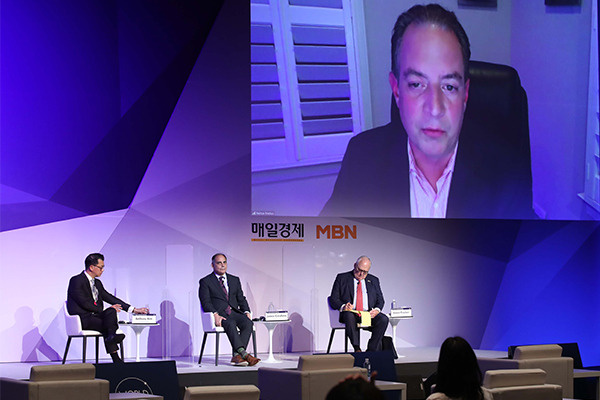 The discussion came at a time when the U.S. has been finger-pointed at for a wide range of issues as world's largest economy and power under the Biden administration entering six months of office.
"He [Biden] came into the White House – supposed to be the guy, not chaotic, not tween bunch of things, very predictable, professional, and experienced," Priebus said. "People are starting to question policies of President Biden."
With regard to China, Priebus said that the U.S. administration is "offering very little clarity" in its positions and "sort of continuing the Trump administration's position" in terms of tariffs on products.
Trying to figure out and know the unknown will be a big task for the Biden administration.
"Consider and think about the effects of withdrawal in Afghanistan to allies, also leadership in North Koreaˇ does it make allies in South Korea doubt the relationship with U.S. when they watch the activity in withdraw in Afghanistan?" Priebus said.
The U.S. is committed to Taiwan's freedom, the question is, Priebus said, "if something happened in Taiwan, and South China Sea, is there a question in Asia in regard to the resolve in U.S.? That's the risk and result of what Biden did in Afghanistan."
Carafano noted that it is a "good opportunity for the U.S. to worth with allies" and that "the fundamental stability of U.S. as a global power is there."
[ㄏ Maeil Business Newspaper & mk.co.kr, All rights reserved]
ⓒ 매일경제 & mk.co.kr, 무단전재 및 재배포 금지