S. Korean startups find lucrative biz opportunities in K-pop's global rise
Lee Yu-sup, Moon Jae-yong and Choi Mira
입력

2021. 9. 16. 13:09
글자크기 설정
파란원을 좌우로 움직이시면 글자크기가 변경 됩니다.
이 글자크기로 변경됩니다.
(예시) 가장 빠른 뉴스가 있고 다양한 정보, 쌍방향 소통이 숨쉬는 다음뉴스를 만나보세요. 다음뉴스는 국내외 주요이슈와 실시간 속보, 문화생활 및 다양한 분야의 뉴스를 입체적으로 전달하고 있습니다.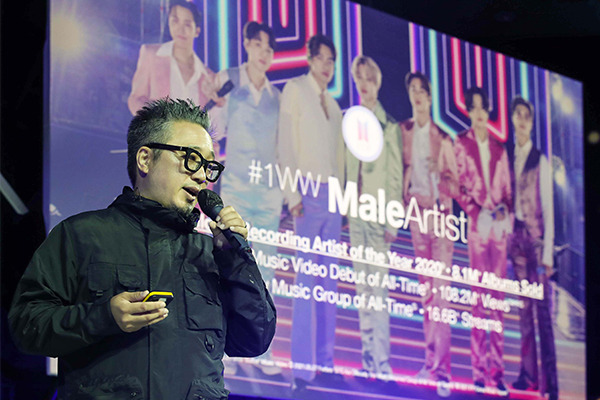 The ever-evolving K-pop that has made South Korea one of global top four music exporters has cut out new niche market and lucrative business opportunities for Korean startups.
ND Soft CEO Park Nam-do introduced a translation application Brit at a session titled 'K-pop Startups with SparkLabs,' during the 22nd World Economic Forum on Wednesday. The session is held as part of 'Try Everything 2021,' a sideline conference jointly organized by Maeil Business Newspaper and Seoul City Government for global startups.
Brit is an automatic multilanguage interpretation and translation app. It not only translates one-to-one video call conversations but also supports one-to-10,000 video calls, enabling K-pop stars to virtually interact with up to 10,000 fans around the globe without an interpreter.
The second speaker Lee Jong-seok, CEO of AMP, presented Duckzill, a K-pop star goods shopping platform. The rapidly growing fandom market has given rise to a new word 'fandustry,' a combination of 'fan' and 'industry,' he said, as fans who hold exhibitions for their stars, buying advertisements and merchandises, have become active suppliers in the market. Duckzill links these fans to companies to provide integrated services ranging from product manufacturing to global distribution. He said around 500 to 700 events are held annually by fans and the market for fan-made star goods is estimated at 800 billion won ($684 million).
Muzlive CEO Seok Joe showcased Kit Album, a new physical album product that can be played on smart devices. There are many fans around the world who want to physically own albums of their beloved artists but CDs are hard to play without a CD player. Kit Album is a music platform that can not only play music on a smartphone but also show photos and videos of stars.
South Korea has become one of the world's top four music exporters along with the U.S., U.K. and Sweden, and $10.6 billion worth of Hallyu, or K-Wave, content including K-pop and drama reached fans across the globe last year, according to Bernie Cho, President of DFSB Kollective who delivered a keynote speech at the session.
[ⓒ Maeil Business Newspaper & mk.co.kr, All rights reserved]
ⓒ 매일경제 & mk.co.kr, 무단전재 및 재배포 금지