Edison Motors, EL B&T, Indi EV join final tender for SsangYong Motor
Pulse
입력

2021. 9. 16. 11:30
수정

2021. 9. 16. 12:12
글자크기 설정
파란원을 좌우로 움직이시면 글자크기가 변경 됩니다.
이 글자크기로 변경됩니다.
(예시) 가장 빠른 뉴스가 있고 다양한 정보, 쌍방향 소통이 숨쉬는 다음뉴스를 만나보세요. 다음뉴스는 국내외 주요이슈와 실시간 속보, 문화생활 및 다양한 분야의 뉴스를 입체적으로 전달하고 있습니다.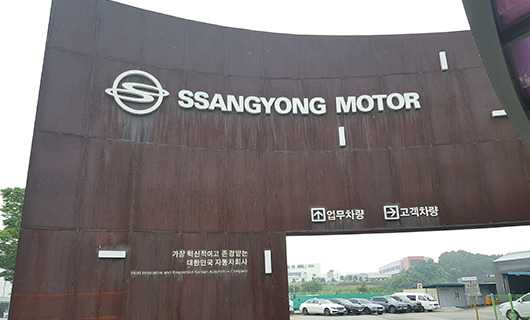 Two South Korean electric vehicle manufacturers and one American EV startup submitted final bids for a controlling stake in SsangYong Motor Co. under court protection, while Samra Midas (SM) Group and American investor Cardinal One Motors bowed out of the race.
According to industry sources on Wednesday, local electric bus maker Edison Motors, electric vehicle and battery manufacturer EL B&T, and California-based EV startup Indi EV joined the tender for SsangYong Motor deal that would cost nearly 1 trillion won ($856.4 million).
As many as 11 candidates initially showed interest in the SUV-specialized car manufacturer during the preliminary tender. Samra Midas (SM) Group and Cardinal One Motors, which were considered the strongest contenders, as well as local EV manufacturer Kpop Motors decided against going through the contest.
Of the three finalists, the Edison Motors-led consortium is considered the most viable contender. It proposed 800 billion won to 1.5 trillion won for the buyout of SsangYong Motor and future R&D investment. It already raised 270 billion won from individual investors, while private equity funds Korea Corporate Governance Improvement (KCGI) and Keystone Private Equity pledged 400 billion won investment.
Upon acquisition Edison Motors plans to expand EV lineup to 10 new models by 2022, 20 models by 2025 and 30 models by 2030. The first release would come in the codenamed Smart S in the second half of 2022, according to its detailed letter of intent. It expects the combination of its own EV system and software technology with SsangYong Motor¡¯s mass-produced combustion engine car infrastructure can create big synergy.
Local EV and battery maker EL B&T has formed a consortium with domestic PEF Pavilion Private Equity. It is said to have recently advanced into the Saudi Arabian EV market by signing a memorandum of agreement with state-run Saudi International Industrial Village Company (SIIVC) to join a government-led project to build a Korean industrial complex in the Middle Eastern country.
Its founder Kim Young-il formerly spearheaded the designing of SsangYong¡¯s luxury sedan Chairman and mid-sized SUV Musso as the head of design team and later joined executive design management at Hyundai Motor and Kia.
Los Angeles-based Indi EV specializes in designing EVs, and its funding capacity has not been disclosed.
SM Group is said to have decided not to bid for SsangYong at the last moment upon discovering discrepancies in its vision and SsangYong Motor¡¯s status after a 45-day due diligence. Financing 1 trillion won also served as another burden to the group, according to sources.
Cardinal One Motors that had expressed strong will to become the largest shareholder of SsangYong Motor since the controlling stake was put up for sale from the beginning did not join the final bid as it stumbled to pool investors.
Instead, it could propose the new owner to become responsible for SsangYong¡¯s North American sales network.
SsangYong Motor and its court-appointed auditor EY Hanyoung Korea plan to pick one preferred bidder and one backup candidate by the end of this month.
SsangYong will allow detailed due diligence for two weeks and negotiate the final terms to sign a memorandum of understanding by early next month and complete the M&A within November.
The controlling stake is yielded by Indian automaker Mahindra which owned 75 percent of SsangYong as of the end of last year since acquisition of the near-bankrupt company in 2010.
[¨Ï Maeil Business Newspaper & mk.co.kr, All rights reserved]
ⓒ 매일경제 & mk.co.kr, 무단전재 및 재배포 금지