Seoul to establish a municipal wealth fund to invest in startups next year
Choi Hyun-jae and Lee Eun-joo
입력

2021. 9. 16. 10:33
수정

2021. 9. 16. 13:15
글자크기 설정
파란원을 좌우로 움직이시면 글자크기가 변경 됩니다.
이 글자크기로 변경됩니다.
(예시) 가장 빠른 뉴스가 있고 다양한 정보, 쌍방향 소통이 숨쉬는 다음뉴스를 만나보세요. 다음뉴스는 국내외 주요이슈와 실시간 속보, 문화생활 및 다양한 분야의 뉴스를 입체적으로 전달하고 있습니다.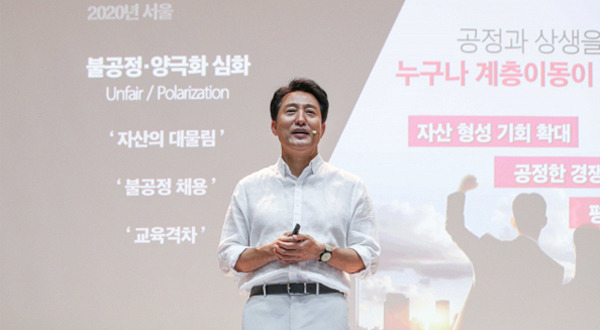 The Seoul government will institutionalize a municipal wealth fund next year to promote the South Korean capital as venture hub and remove regulations to supply 80,000 housing annually up to 2030 at a total spending of nearly $42 billion.
Under Seoul Vision 2030 unveiled by the city's mayor Oh Se-hoon on Wednesday, the municipal government will launch an investment agency in 2022 devoted to invest in startups and ventures based in the capital.
As a municipality-backed investment agency, it will attract overseas unicorns and run 1 trillion won ($856 million) portfolio by 2030 to stand on par with the Singapore Economic Development Board (EDB) and InvestHK in Hong Kong, according Oh, a two-term Seoul mayor who was reelected to the office through a snap election in April and is expected to run in the regular mayoral election for another four-year term in June next year.
The institution will aim to draw 10 global unicorns by 2021 and up to 40 by 2030.
"Hong Kong and Singapore have already set up their respective investment agencies," Oh said. "Seoul will also seek its own growth engine through the specialized investment agency."
Seoul will designate Yeouido as a special digital finance zone as part of its vision to develop the capital city as one of top 5 global financial hubs by 2030.
Oh vowed to bump up Seoul's Global Cities Index ranking, managed and announced by U.S. consulting agency A.T. Kearney, to 5th by 2030, up from 17th in 2020.
The budget for Seoul Vision 2030 is estimated at 48.69 trillion won over the next 10 years.
Seoul City also plans to supply total 800,000 housing by 2030 through redevelopment and rebuilding projects to secure housing stability in the most populous city in Korea. It has proposed to ease related various regulations for rebuilding projects.
Under its new vision, the capital plans to set up 10 job-linked education facilities for young people, create Campus Town Valley in three locations, boost job ecosystem for senior citizens, and carry out projects to bring back life to local commercial spots.
[ⓒ Maeil Business Newspaper & mk.co.kr, All rights reserved]
ⓒ 매일경제 & mk.co.kr, 무단전재 및 재배포 금지