Disney+ expected to bring fresh spin to fast-evolving streaming market in South Korea
입력

2021. 9. 15. 18:22
수정

2021. 9. 15. 18:30
글자크기 설정
파란원을 좌우로 움직이시면 글자크기가 변경 됩니다.
이 글자크기로 변경됩니다.
(예시) 가장 빠른 뉴스가 있고 다양한 정보, 쌍방향 소통이 숨쉬는 다음뉴스를 만나보세요. 다음뉴스는 국내외 주요이슈와 실시간 속보, 문화생활 및 다양한 분야의 뉴스를 입체적으로 전달하고 있습니다.
Disney aims to gain foothold in expanding market with launch of streaming service in Korea, amid heightened interest among local investors, telecom operators
For die-hard South Korean fans of "The Simpsons," Marvel and "Star Wars" franchises, the planned launch of Disney+ on Nov. 12 is a long-awaited day for celebration -- and binge-watching.
Netflix and other streaming services currently available in Korea do not offer the much-coveted video library of the Walt Disney Co., so the introduction of another video service is a welcome development for viewers.
The launch of Disney+ also signals a fresh round of competition in the streaming video and content production markets in Korea, one of the key beachheads for expansion in Asia and beyond.
Korea's major telecom operators are keen to work with Disney as its streaming service with a competitive subscription fee is likely to appeal to mainstream family viewers, especially parents who want to watch popular Disney films themselves and let their kids enjoy a big archive of Disney animated features.
The subscription fee of Disney+ is set at 9,900 won ($8.50) per month or 99,000 won per year, while allowing four people to access the mobile app simultaneously from different devices.
Disney's monthly fee and the four-person simultaneous access is more affordable than its top rival Netflix, whose three-tier fees range between 9,500 won and 14,500 won, with simultaneous access of four people allowed only for the highest tier.
Aside from general viewers, filmmakers and Korean TV drama production houses expect the entry of Disney+ to offer an additional boost to the local market, considering that the global fan base for Korean content is steadily on the rise, due partly to the distribution of Netflix.
Domestic telecom operators are also watching closely how Disney+ will reshape the content market, as they have already witnessed dramatic changes led by Netflix.
A growing number of Koreans are signing up for subscription-based services. The value of the subscription economy expanded from 25 trillion won in 2016 to 40 trillion won in 2020, according to KT Economics & Management Research Institute. The rapid expansion is expected to gain further momentum as local telecom operators like SK Telecom and online heavyweights are launching more subscription-based services.
Disney+ vs. Netflix
The debut of Disney+ is drawing particular attention among industry watchers and investors as it can potentially steal away a sizable chunk of viewers from the existing No. 1 player, Netflix.
Netflix has been the front-runner in the streaming business in Korea with some 9.1 million subscribers as of July. Last year, Netflix saw its revenue in Korea more than double to $356 million, spurred by people staying home amid the pandemic.
Recognizing the growing interest in Korean content among viewers, Netflix pledged to invest $500 million in Korean films and series this year. Netflix is also strengthening the lineup for its Japanese edition. The unique content pool of Korea and Japan is seen as a growth driver for Netflix's international expansion at a time when the growth of its subscriber bases in the US and Europe are slowing down.
Disney+ is also expected to beef up its programming lineup for Asian viewers to better compete with Netflix and other streaming content providers in the region. The quality and diversity of Disney+ programs might be lower than Korean viewers expect in the initial stage, but the volume of the streaming library is likely to expand in the months following the official launch.
The performance of Disney+ here is also related to the expectations of Korean investors. Disney is one of the top US stocks purchased by Korean investors. The stock holdings by investors here are estimated to be around $50.9 million, according to Korea Securities Depository. After the launch, the amount of stock investment is likely to fluctuate, depending on how well it is received by local users.
For the Walt Disney Co., the Disney+ service in Korea is seen as part of its expansion strategy in Asia. "Disney+ has successfully launched in several Asia Pacific markets, and we are so excited to bring this service to consumers in Korea," said Jay Trinidad, general manager of the direct-to-consumer division in the Asia-Pacific region at Disney, last week. "With the rising sophistication of consumers, we look forward to bringing Disney's unparalleled storytelling, creative excellence and endless entertainment to audiences in Korea."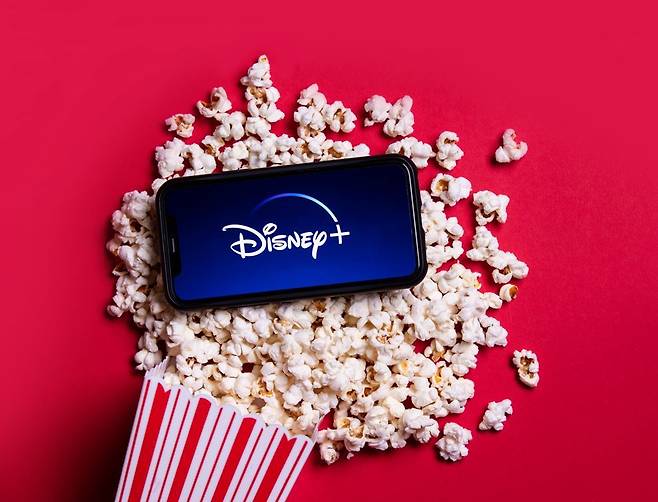 Disney's expansion strategy
Disney's online expansion through the mix of its unique content library and streaming technology -- Disney+, ESPN+ and Hulu -- seems inevitable, given that its flagship business, from offline cinemas to theme parks, has been mired in a protracted slump due to the pandemic.
The number of Disney+ subscribers worldwide jumped by 101.7 percent on-year to 116 million as of the third quarter this year, beating expectations after a slowdown in the previous quarter. ESPN+, a sports streaming service, saw its user base rise by 75.2 percent to 14.9 million, and Hulu, a streaming service currently available only in the US and Japan, increased its subscriber base by 21.8 percent to 42.8 million during the same period.
The combined revenue of Disney's online services is roughly equivalent to what it earns from its offline businesses, including theme parks. The prospect for offline operations remains uncertain as the schedule of people getting back to offices and schools is being delayed due to the spread of the delta variant and complicated rollouts of vaccines around the world.
As with Netflix, Disney+ is also faced with the slowing growth of its subscriber base amid intensifying competition and a steady decrease in pandemic-related demand. Against this backdrop, strong growth in Korea and other key markets in Asia could offer a much-needed boost to its revenue generation and brighten its global expansion outlook.
Ahead of the launch of Disney+, Korea's major telecom operators are keen to partner with Disney to further shore up their own subscriber bases through the US entertainment giant's family-oriented content library.
LG U+, which had teamed up with Netflix when its service was launched, appears close to a deal with Disney. On Aug. 7, LG U+ CEO Hwang Hyun-sik said the two companies are "in the last stage of negotiation." Local media outlets reported earlier that LG U+ is in a better position to become a partner as most of its IPTV set-top boxes come with Google's operating system, which can be easily upgraded to add Disney+ content.
KT, a larger rival to LG U+, is also reportedly interested in a piece of the action. Since the content partnership is not necessarily exclusive, KT might be able to work with Disney later. Adding new content from a foreign partner is important for KT as it seeks to expand its digital platform business as a key growth sector.
By Yang Sung-jin(insight@heraldcorp.com)
Copyrightⓒ Herald Media INC. All rights reserved.