Chinese foreign minister visits S. Korea to talk US, N. Korea
한겨레
입력

2021. 9. 15. 18:16
글자크기 설정
파란원을 좌우로 움직이시면 글자크기가 변경 됩니다.
이 글자크기로 변경됩니다.
(예시) 가장 빠른 뉴스가 있고 다양한 정보, 쌍방향 소통이 숨쉬는 다음뉴스를 만나보세요. 다음뉴스는 국내외 주요이슈와 실시간 속보, 문화생활 및 다양한 분야의 뉴스를 입체적으로 전달하고 있습니다.
The visit comes after recent missile tests by North Korea, and amid a growing rivalry between the US and China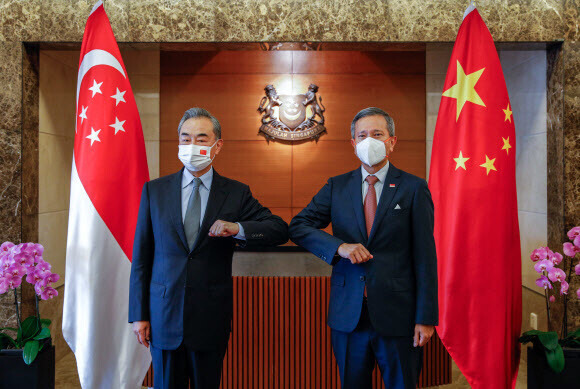 Chinese State Councilor and Foreign Minister Wang Yi arrived in South Korea on Tuesday evening for a two-day visit. The visit comes shortly after North Korea test-launched a long-range cruise missile, the first such launch in six months. It also follows a meeting of the nuclear envoys from South Korea, the US and Japan in Tokyo, drawing attention to what message major powers are sending about affairs on the Korean Peninsula.
Wang met with South Korean Foreign Minister Chung Eui-yong on Wednesday morning. This is Wang's first visit to South Korea since November 2020, and the first meeting between the two countries' top diplomats in five months, following one in Xiamen, in China's Fujian Province, in April.
The meeting was reportedly set up as an occasion for boosting senior-level communication ahead of the 30th anniversary of South Korea-China diplomatic relations in 2022 and discussing matters such as the successful staging of the Winter Olympics in Beijing next February.
But Korean Peninsula issues are also expected to account for a larger part of the discussions in the wake of North Korea's recent military actions.
While the cruise missile Pyongyang claimed to have test-fired was not itself in violation of UN Security Council resolutions, it is drawing increased attention — especially when viewed together with recent hints that North Korea may be resuming activity at its Yongbyon nuclear facility.
Currently, North Korea's recent ramped-up actions are seen as an attempt at signaling to the international community the authoritative role it wants to play on matters of the Korean Peninsula. Both Seoul and Beijing are in a position where they need to manage the situation to prevent it from deteriorating.
In that sense, they appear likely to explore practical measures for swiftly inviting Pyongyang back to the table for dialogue.
Remarks by Chung at a joint press conference held the day prior by the South Korean and Australian foreign and defense ministers following their "two plus two" talks reflected this attitude as well.
"This resumption of nuclear/missile activity [by North Korea after a six-month gap] is an excellent illustration of how urgently we need dialogue, involvement and diplomacy with North Korea to fundamentally resolve this issue," he said at the time.
Chung and Wang also appear likely to focus on trading views about their respective positions on the strategic rivalry between Washington and Beijing.
In their first telephone conversation in seven months on Friday, the US and Chinese presidents discussed the need to "ensure competition does not veer into conflict."
But the rivalry between the two sides appears poised to continue for the foreseeable future.
China has sent a clear message about keeping the US in check, as seen from Wang's remarks on Sunday in Vietnam, the first stop in a four-country tour of East Asia. There, he talked about Beijing's willingness to work with Hanoi to "prevent external forces from impairing ASEAN's central role."
It remains to be seen what actions China takes to encourage greater "neutrality" from South Korea, which is seen as having moved closer to the US following a summit between the two countries last May.
Previously, relations between South Korea and China had taken a nosedive amid China's strategy of intense retaliation for the deployment of a Terminal High Altitude Area Defense (THAAD) anti-missile system with US Forces Korea. The two sides have since mended fences, and China has sought to guide South Korea by establishing a strong strategic relationship between them.
Wang's arrival Tuesday came after visits to Vietnam, Cambodia, and Singapore. South Korea was set his last stop before returning to China on Wednesday.
By Kim Ji-eun, staff reporter
Please direct questions or comments to [english@hani.co.kr]
ⓒ 한겨레신문사, 무단전재 및 재배포 금지