HHI's hot debut could be weighed down by foreign selling due to low lockup
Kang Woo-seok and Choi Mira
입력

2021. 9. 15. 15:36
글자크기 설정
파란원을 좌우로 움직이시면 글자크기가 변경 됩니다.
이 글자크기로 변경됩니다.
(예시) 가장 빠른 뉴스가 있고 다양한 정보, 쌍방향 소통이 숨쉬는 다음뉴스를 만나보세요. 다음뉴스는 국내외 주요이슈와 실시간 속보, 문화생활 및 다양한 분야의 뉴스를 입체적으로 전달하고 있습니다.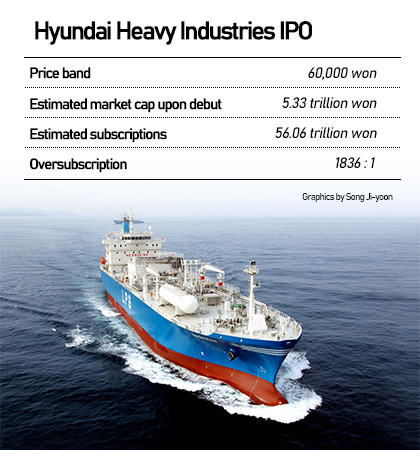 Hyundai Heavy Industries' hot debut of initial public offerings is due on Friday, but its early performance could be weighed down by potential foreign selling due to low lockup mandate.
Domestic institutions received 35.6 percent or 6,408,700 shares and foreign institutions 19.4 percent or 3,491,000 shares, according to the company's filing on Tuesday. About 60.3 percent of the holdings by institutions are subject to lock-up obligation.
Lock-up agreement is a contractual constraint that prohibits shareholders from selling their shares for a certain period of time. Companies sign lock-up commitments to win over a popular IPO.
Most market experts expect the company's opening price would double the IPO price of 60,000 won ($51.25) apiece, given the heat during the IPO process. Its performance from then on is relatively positive since most institutional holdings are held up in lockup.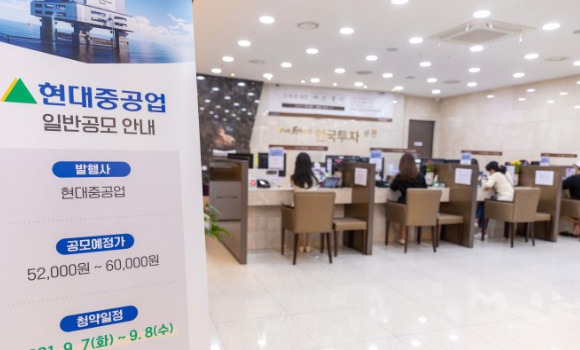 But foreign investors are free to take profit on their initial holdings since their commitment to lockup is at 1.2 percent
Hyundai Heavy Industries' market capitalization would reach 5.3 trillion won based on the IPO price. If it doubles the subscription price, its market cap would surpass that of its parent Korea Shipbuilding & Offshore Engineering (KSOE) worth 8.4 trillion won as of Tuesday.
The IPO price of the country's biggest shipbuilder was set at 60,000 won per share, the highest end of its desired price range of 52,000 won-60,000 won. The book-building was oversubscribed 1,836.1 times, the second most competitive in Korea's IPO history after SK IET's 1,883:1.
[ⓒ Maeil Business Newspaper & mk.co.kr, All rights reserved]
ⓒ 매일경제 & mk.co.kr, 무단전재 및 재배포 금지