Hong Joon-pyo Accuses Yoon Seok-youl of Spreading False Rumors about the Involvement of Someone from Hong's Camp
Yu Sul-hee
입력

2021. 9. 14. 16:20
글자크기 설정
파란원을 좌우로 움직이시면 글자크기가 변경 됩니다.
이 글자크기로 변경됩니다.
(예시) 가장 빠른 뉴스가 있고 다양한 정보, 쌍방향 소통이 숨쉬는 다음뉴스를 만나보세요. 다음뉴스는 국내외 주요이슈와 실시간 속보, 문화생활 및 다양한 분야의 뉴스를 입체적으로 전달하고 있습니다.
[경향신문]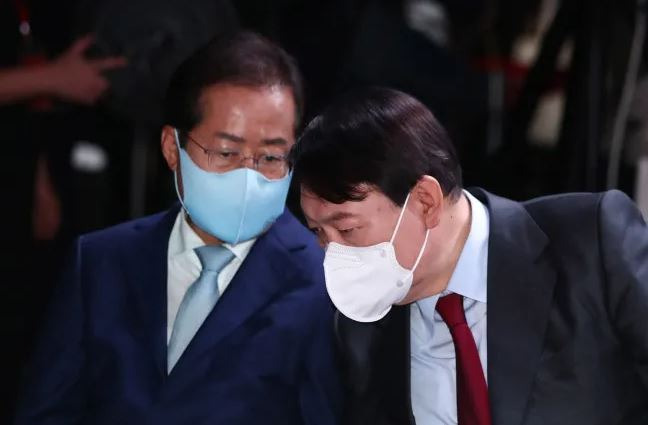 Lawmaker Hong Joon-pyo, a candidate in the People Power Party presidential primary, accused former Prosecutor General Yoon Seok-youl of spreading "a false rumor suggesting that a figure from our camp was involved in filing a criminal complaint," and criticized, "It is a mean political behavior that he learned incorrectly."
On September 14, Hong posted the accusation on social media. He suggested that Yoon's camp was spreading rumors among journalists that a figure from Hong's camp was present when Cho Sung-eun, former vice chairman of the United Future Party (current People Power Party) election committee, who tipped Newsverse on suspicions of so-called "encouraging criminal complaints," and National Intelligence Service (NIS) director Park Jie-won met at a hotel on August 11.
Hong said, "He is scheming a counterattack by spreading false rumors suggesting that someone from our camp was involved in encouraging criminal complaints and telling reporters to verify the people (present when Cho and Park met)." He added, "This is a mean political behavior that he definitely learned incorrectly."
Hong continued and advised Yoon "to proudly walk the right path. Just because you stand among the old and stubborn, do not be stained by them." He said, "I know who is spreading the false rumor (about someone from Hong's camp being present in the meeting of Cho and Park)." He also said, "That (recommendation to file criminal complaints) is not a secret strife within the opposition party, but simply a clash between Yoon himself and the truth," and added, "No matter how pressed one may be, such a behavior is a politics of conspiracy that only worked in the days of the Fifth Republic."
The previous day, Yoon Seok-youl's camp filed a criminal complaint at the Corruption Investigation Office for High-ranking Officials against Cho and Park for violating the National Intelligence Service Act and the Public Official Election Act. They also reported one more unidentified person claiming that he was present when Cho and Park met on August 11. Reportedly, the complaint stated, "Many people have raised the allegation that a person from a certain election campaign was present." Yoon met with reporters in Andong, Gyeongsangbuk-do the previous day and said, "People say there was another person present," and added, "We included him (in the report), expecting the authorities to identify him after using various means."
This day on social media, Cho also named the person from Hong's camp mentioned as the person present at the meeting and said, "I have never even heard of him." The person Cho mentioned was Lee Pil-hyeong, first director of organization (former head of agenda at the Yeouido Institute), who is known to have worked at the NIS. A representative of Hong's camp told the reporter over the phone, "From what I know, he left the NIS years ago," and said, "He has nothing to do with it (the meeting between Cho and Park)."
ⓒ 경향신문 & 경향닷컴(www.khan.co.kr), 무단전재 및 재배포 금지