Korea's car output estimated to rise 4.4% on year, domestic sales down 3.5% this year
Pulse
입력

2021. 9. 13. 15:45
수정

2021. 9. 13. 15:54
글자크기 설정
파란원을 좌우로 움직이시면 글자크기가 변경 됩니다.
이 글자크기로 변경됩니다.
(예시) 가장 빠른 뉴스가 있고 다양한 정보, 쌍방향 소통이 숨쉬는 다음뉴스를 만나보세요. 다음뉴스는 국내외 주요이슈와 실시간 속보, 문화생활 및 다양한 분야의 뉴스를 입체적으로 전달하고 있습니다.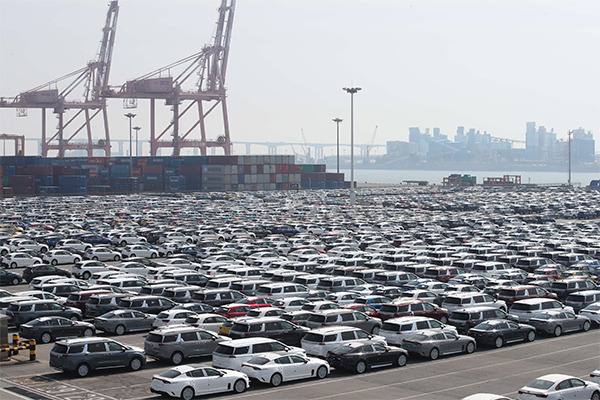 Korean car output is expected to increase 4.4 percent from pandemic-stricken 2020 to 3.66 million units this year, although sales at home is projected to fall 3.5 percent to around 1.84 million units due to production disruption from chip shortage.
According to the Korean Automobile Manufacturers Association on Monday, sales of domestic cars are projected to lose 5.8 percent to 1.51 million units due to lackluster new releases amid chip shortage.
Only eight new models including Hyundai Motor's Ioniq 5 and Casper, Kia's K8 and EV6 and GM Korea's Bolt EUV have been launched this year, compared with 12 of last year. Renault Samsung Motors and SsangYong Motor have no plan for new release this year.
Foreign car sales are expected to gain 9.1 percent to 330,000 units this year thanks to aggressive marketing efforts, increased price competitiveness, and growing interests in premium vehicles. Electric car giant Tesla extends grounds in Korea.
Auto exports are expected to climb by 14 percent to 2.15 million units on a sign of recovery in both major markets like the U.S. and European Union and emerging markets.
In terms of value, vehicle exports are projected to jump 28.3 percent on year on strong sales of high value-added models like SUVs and eco-friendly vehicles.
On the back of rising outbound shipments, the country's auto output also is forecast to reach 3.66 million units to add 4.4 percent from the previous year.
The projection has been revised upward from 1.82 million units estimated in late last year to 1.84 million units for domestic sales, and downward from 2.34 million units to 2.15 million units for exports and from 3.86 million units to 3.66 million units for output.
From January to July, the number of cars produced from Korea amounted to 2.11 million units, up 7.0 percent from a year earlier. Outbound shipments soared 23.1 percent to 1.24 million units, while domestic sales fell 3.2 percent to 1.06 million units. On home turf, domestic car sales were off 6.8 percent to 870,000 units, but import car sales expanded 18.2 percent to 190,000 units.
[ⓒ Maeil Business Newspaper & mk.co.kr, All rights reserved]
ⓒ 매일경제 & mk.co.kr, 무단전재 및 재배포 금지