Korea International Tourism Show 2021 prepares post-pandemic travels
글자크기 설정
파란원을 좌우로 움직이시면 글자크기가 변경 됩니다.
이 글자크기로 변경됩니다.
(예시) 가장 빠른 뉴스가 있고 다양한 정보, 쌍방향 소통이 숨쉬는 다음뉴스를 만나보세요. 다음뉴스는 국내외 주요이슈와 실시간 속보, 문화생활 및 다양한 분야의 뉴스를 입체적으로 전달하고 있습니다.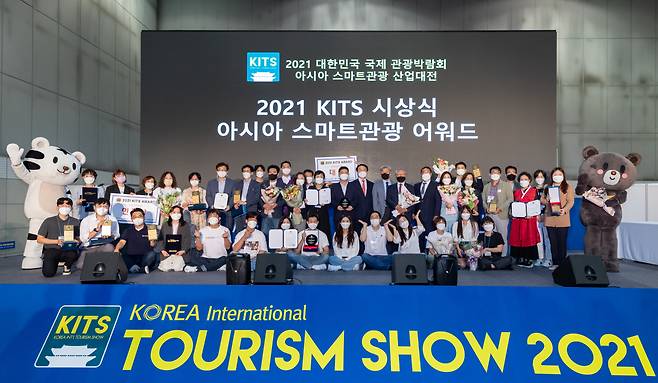 The sixth Korea International Tourism Show, held Sept. 9. to 12 at the Kintex exhibition hall in Goyang, northwest Gyeonggi Province, finished with a vision for the potential of the tourism industry and its future both in and outside South Korea.
The event, organized by the Korea Exhibition Industry Center, featured more than 300 booths from 181 organizations, including 97 local governments in Korea and 14 from overseas, in addition to various travel-related content companies.
Themed "The national tourism industry's preemptive response after the pandemic," the event aimed to encourage active networking and information-sharing within the tourism industry after a stagnant period of two years.
The event was divided into three sections. Korea's Travel Fair introduced domestic tourism; the Asia Smart Tourism Industry Exhibition looked at the future of the tourism industry through the use of smartphones and digital technologies; and KITS Travel Mart delved into related industries and market opportunities.
Two award ceremonies took place toward the end of the show, the KITS Awards and the Asia Smart Tourism Awards. Jung Chang-soo, chairman of the show's organizing committee and former president of the Korea Tourism Organization, conferred all the awards.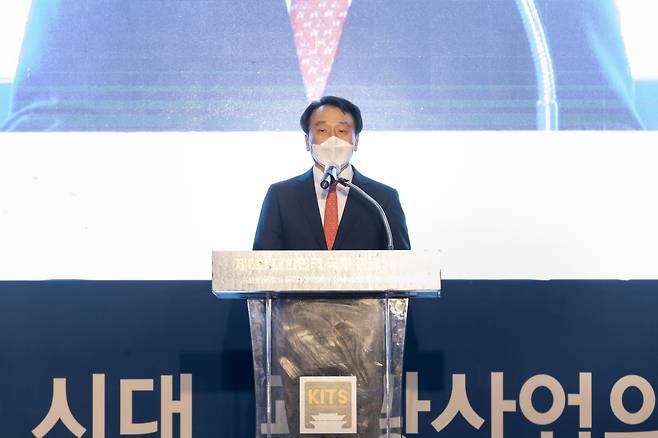 The KITS Awards' grand prize in the metropolitan government category went to Gangwon Province for taking the initiative to follow strict pandemic guidelines, swiftly adapting to the emphasis on "safe travels and tourism" during the pandemic.
In the local government category, Iksan, North Jeolla Province, won the grand prize. The city is making ongoing efforts to develop products to make Iksan stand out as a top travel destination in 2022.
The Asia Smart Tourism Awards recognized organizations that used information and communications technology to meet the content needs of smart tourism.
Grand prizes went to Incheon in the smart tourism city category, the Singapore Tourism Board in the overseas category, and Kyung Hee University's Smart Tourism Research Center in the associations and organizations category. Queenssmile, a catering company that specializes in festivals, took the top prize in the business category.
By Kim Hae-yeon (hykim@heraldcorp.com)
By Kim Hae-yeon(hykim@heraldcorp.com)
Copyrightⓒ Herald Media INC. All rights reserved.