Lee Jae-yong forgoes filing additional appeal and accepts final ruling in bribery case
한겨레
입력

2021. 1. 26. 19:06
글자크기 설정
파란원을 좌우로 움직이시면 글자크기가 변경 됩니다.
이 글자크기로 변경됩니다.
(예시) 가장 빠른 뉴스가 있고 다양한 정보, 쌍방향 소통이 숨쉬는 다음뉴스를 만나보세요. 다음뉴스는 국내외 주요이슈와 실시간 속보, 문화생활 및 다양한 분야의 뉴스를 입체적으로 전달하고 있습니다.
Samsung vice chairman may have eye on special pardon or conditional release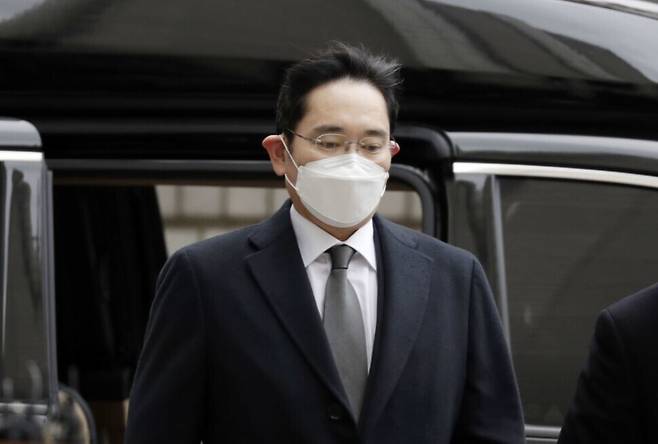 Samsung Electronics Vice Chairman Lee Jae-yong's guilty verdict has been finalized following his prison sentence for bribery in a remanded case concerning a government influence-peddling scandal. Neither Lee and nor the team of special prosecutors under Park Young-soo opted to pursue another appeal.
"Lee Jae-yong humbly accepts this judgment and has decided not to attempt another appeal," Lee's attorney Lee In-jae said on Jan. 25. On Jan. 18, Lee Jae-yong was taken into legal custody after being sentenced to two years and six months in prison by the first criminal division of the Seoul High Court on charges of providing 8.6 billion won (US$7.8 million) in company money as a bribe in exchange for assistance from former President Park Geun-hye and her associate Choi Seo-won (formerly known as Choi Soon-sil) in securing his succession of control over the Samsung Group.
With this final court judgment in the bribery case, Lee will have to serve the remaining 18 months of his sentence, having previously been released with a suspended sentence in an appellate trial following his February 2017 detention.
Analysts said the decision by Lee's team to forgo another appeal was based on the determination that there was no realistic chance of the ruling being overturned by the Supreme Court, since the remand trial was itself based on that court's en banc decision to convict in August 2019. The same day, Park Young-soo's team said, "Lee Jae-yong being sentenced to two years and six months in prison when a five-year sentence had been requested seems lenient in light of the charges, but there aren't legitimate grounds for another appeal."
"Having determined that the sentence in the remand trial is consistent with the position of the Supreme Court's en banc judgment, we have decided not to appeal," the team added.
Some observers suggest that Lee Jae-yong may want to speed along the judicial process with an eye toward pursuing a special pardon or conditional release. In other words, Lee may have concluded that it would be pragmatic to meet the conditions for a pardon with a finalized sentence, given the recently reignited debate among politicians over potential pardons for former Presidents Lee Myung-bak and Park Geun-hye.
CJ Group Chairman Lee Jay-hyun previously pursued a renewed appeal after being sentenced in December 2015 to two years in six months in a remand trial on charges of tax evasion and embezzlement. He ended up withdrawing the appeal in July 2016 after plans for a special pardon were revealed, and he was eventually released under a National Liberation Day special pardon the same year.
But Samsung maintained that the prospects of a special pardon or conditional release did not factor into Lee's decision to forgo an appeal. A special pardon is the president's prerogative, and while criminal law holds that a prisoner qualifies for a conditional release once they have served over one-third of their sentence, it typically only happens when they have completed over 80%. Having currently served around 40% of his sentence, Lee would have to spend another year in prison before becoming eligible for consideration for a conditional release.
In addition to the government influence-peddling case, Lee has also been indicted on other charges related to illegal attempts to secure his corporate succession. This means that his legal risks would not be fully eliminated even if he is freed under a conditional release or special pardon.
"The determination was that a renewed appeal would simply be a legal trial that would not benefit him in any practical sense, and that delaying the finalization would have little benefit beyond delaying things for a few months," a Samsung source said.
"A conditional release or special pardon was not a consideration at all," the source added.
By Joh Yun-yeong and Shin Min-jung, staff reporters
Please direct comments or questions to [english@hani.co.kr]
ⓒ 한겨레신문사, 무단전재 및 재배포 금지