6 in 10 workers will not travel to hometown for Lunar New Year: survey
글자크기 설정
파란원을 좌우로 움직이시면 글자크기가 변경 됩니다.
이 글자크기로 변경됩니다.
(예시) 가장 빠른 뉴스가 있고 다양한 정보, 쌍방향 소통이 숨쉬는 다음뉴스를 만나보세요. 다음뉴스는 국내외 주요이슈와 실시간 속보, 문화생활 및 다양한 분야의 뉴스를 입체적으로 전달하고 있습니다.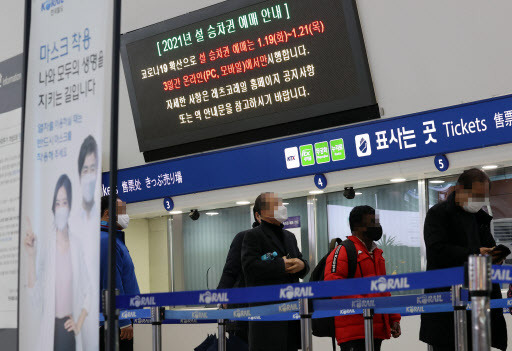 Six out of ten office workers in South Korea said they will not visit their families in their hometowns during the Lunar New Year holiday due to the spread of the coronavirus, a survey showed Monday.
According to a survey of 1,434 officer workers conducted by a job search engine Saramin, 63.4 percent of the respondents said they will not travel to their hometowns in what is normally the busiest time of the year for family get-togethers.
This year's Lunar New Year holiday falls on Feb. 11-14.
The biggest reason for not traveling to their hometowns was related to the coronavirus, with 65.9 percent of them having said that they wanted to avoid traveling or gathering with relatives.
Some 11 percent of the respondents cited financial burden, followed by heavy traffic (5.2 percent) and plans to visit their hometowns some other time. (3.4 percent)
Instead of going to their hometowns, 74 percent of the surveyed said they would stay home, followed by enjoying leisure and cultural activities (16 percent) and meeting their families (12 percent) and meeting their friends. (10.2 percent)
What the surveyed officer workers found most impressive about the way traditional holidays are observed during the pandemic was the fall in the number of those going to their hometowns, at 27.3 percent.
Twenty percent of the surveyed cited a decrease in the number of domestic tourists, 12.1 percent picked online shopping and 11.1 percent chose an increase in contactless gatherings.
The surveyed expected to spend about 300,000 won ($271) for the Lunar New Year holiday, down from 410,000 won a year earlier.
In the same survey of office workers ahead of the Chuseok holiday, which ran from Sept. 30 to Oct. 4 last year, 57.7 percent of the respondents said they will not visit their hometowns.
Chuseok and Lunar New Year's holidays are the country's biggest holidays during which millions of Koreans travel across the country to visit their families and relatives or go on vacation.
On Tuesday, Korea saw 354 more COVID-19 cases, according to the Korea Disease Control and Prevention Agency. The coronavirus curve in Korea has been flattened out since the daily virus tally reached a peak on Dec. 25 with a record high of 1,241 cases.
Amid the stabilizing situation, the government is considering relaxing the level of social distancing rules and a ban on gatherings of more than four people, with the decision likely to be announced Friday.
At the moment, Level 2.5 social distancing rules are in place in the Seoul metropolitan area, consisting of Seoul, Incheon and Gyeonggi Province, and Level 2 rules in the rest of the country, with business operations restricted after 9 p.m.
By Ock Hyun-ju (laeticia.ock@heraldcorp.com)
Copyrightⓒ Herald Media INC. All rights reserved.