Doosan Heavy Industries wins $708 mn seawater desalination plant deal in Saudi Arabia
Han Woo-ram and Lee Eun-joo
입력

2021. 1. 26. 10:03
수정

2021. 1. 26. 15:57
글자크기 설정
파란원을 좌우로 움직이시면 글자크기가 변경 됩니다.
이 글자크기로 변경됩니다.
(예시) 가장 빠른 뉴스가 있고 다양한 정보, 쌍방향 소통이 숨쉬는 다음뉴스를 만나보세요. 다음뉴스는 국내외 주요이슈와 실시간 속보, 문화생활 및 다양한 분야의 뉴스를 입체적으로 전달하고 있습니다.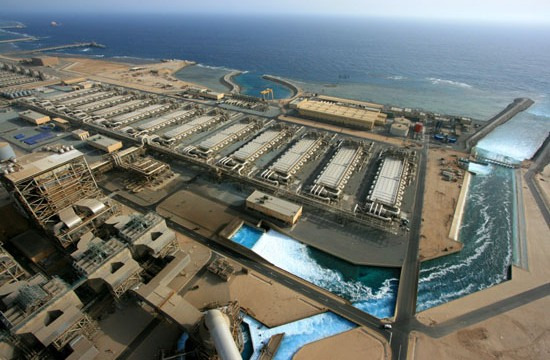 A consortium of South Korea¡¯s Doosan Heavy Industries & Construction has received a 780 billion won ($708 million) order from Saudi Arabia to build a seawater desalination plant.
Doosan Heavy Industries said on Monday that it signed a deal to build Yanbu-4 seawater desalination plant in Alrayyis, 260 kilometers north of Jeddah city in Saudi Arabia. The deal was clinched with a consortium of French developer and energy company Engie SA and Saudi Arabian companies Mowah and Nesma.
The Export-Import Bank of Korea will finance 260 billion won in the plant construction project.
The plant is a reverse osmosis type seawater desalination plant that uses reverse osmosis principle to remove contaminants from water by artificially pushing the water under pressure through a membrane to turn it into fresh water.
Doosan Heavy Industries – responsible for engineering, procurement and construction – plans to complete construction by 2023. The facility, after construction, will be capable of providing 450,000 tons of fresh water per day to Alrayyis in western Saudi Arabia which is sufficient for use by 1.5 million people.
Park In-won, head of plant EPC BG at Doosan Heavy Industries, said that the company has once again been acknowledged of its technology in the Middle East where reverse osmosis type seawater desalination plant industry has been expanding.
The company plans to aggressively move into the industry in the Middle East whose value is projected to reach $2.8 billion by 2025.
Doosan Heavy Industries, meanwhile, has clinched a number of seawater desalination plant projects in recent years, including Doha-1 project in Kuwait in 2016, Shuaibah project in Saudi Arabia in 2017, and Sharqiyah project in Oman in 2018.
Shares of Doosan Heavy Industries finished 0.38 percent higher at 13,300 won on Tuesday.
[¨Ï Maeil Business Newspaper & mk.co.kr, All rights reserved]
ⓒ 매일경제 & mk.co.kr, 무단전재 및 재배포 금지