Emart to house pro baseball club SK Wyverns for $123 mn
Cho Hyo-sung, Park Dae-eui and Kim Hyo-jin
입력

2021. 1. 26. 10:00
수정

2021. 1. 26. 16:15
글자크기 설정
파란원을 좌우로 움직이시면 글자크기가 변경 됩니다.
이 글자크기로 변경됩니다.
(예시) 가장 빠른 뉴스가 있고 다양한 정보, 쌍방향 소통이 숨쉬는 다음뉴스를 만나보세요. 다음뉴스는 국내외 주요이슈와 실시간 속보, 문화생활 및 다양한 분야의 뉴스를 입체적으로 전달하고 있습니다.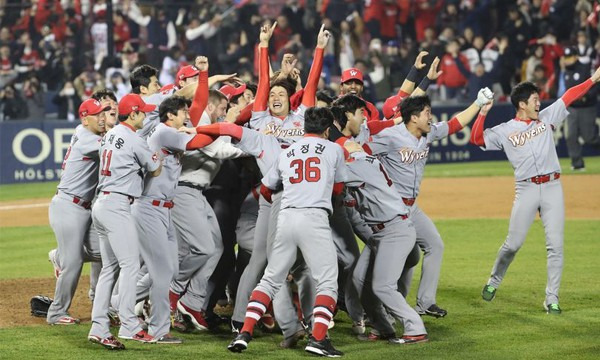 (Updated with new information)
South Korean retail giant Emart will take over professional baseball club SK Wyverns from the country's largest mobile carrier for 135.2 billion won ($122.7 million).
Emart signed a memorandum of understanding Tuesday with SK Telecom to acquire the full stake in SK Wyverns.
The stake would be worth 100 billion won, with the baseball training grounds and real estate to cost 35.3 billion won.
The purchase reflects the resolve of Chung Yong-jin, vice chairman of Emart's parent company Shinsegae Group, who has shown interest in recreating the offline retail space to deliver unique customer experience. Under this initiative, the group spent 30 percent of its investment budget to renovating Emart outlets last year.
Industry observers say the retailer may use the national appeal of baseball to better market its offline channels. Shares of Emart fell 4.9 percent to 174,500 won on Tuesday.
Shinsegae holds a 14.5 percent stake in another KBO club, Samsung Lions. But it had been sidelined from club management despite being one of the top three shareholders as ownership was shared with other Samsung owner families. By acquiring a full stake in SK Wverns, Shinsegae is expected divest its stake in Samsung Lions, according to insiders.
SK Wyverns joined the league in March 2000 after taking over the defunct Ssangbangwool Raiders.
The Wyverns won four Korean Series championships and three regular season championships. But it had a tough year in 2020, finishing ninth among 10 clubs with 51 wins and 92 losses.
It posted an operating loss of 617.7 million won in 2019 and operating profit of 930 million won in 2018.
[ⓒ Maeil Business Newspaper & mk.co.kr, All rights reserved]
ⓒ 매일경제 & mk.co.kr, 무단전재 및 재배포 금지