S. Korea's Q4 GDP adds 1.0%, falls 1.0% for full 2020, deepest in 22 yrs
Lee Eun-joo
입력

2021. 1. 26. 08:48
수정

2021. 1. 26. 14:06
글자크기 설정
파란원을 좌우로 움직이시면 글자크기가 변경 됩니다.
이 글자크기로 변경됩니다.
(예시) 가장 빠른 뉴스가 있고 다양한 정보, 쌍방향 소통이 숨쉬는 다음뉴스를 만나보세요. 다음뉴스는 국내외 주요이슈와 실시간 속보, 문화생활 및 다양한 분야의 뉴스를 입체적으로 전달하고 있습니다.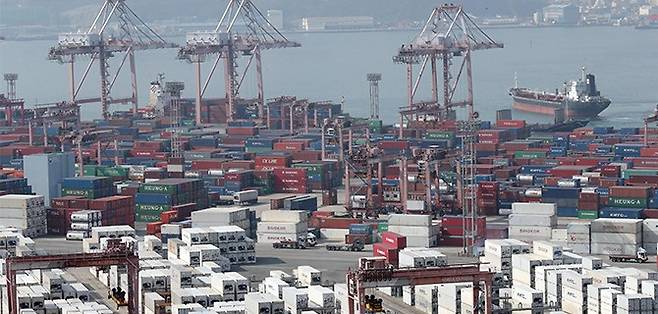 (Updated with quotes and market data)
The South Korean economy added 1.1 percent in the fourth quarter thanks to recovery in global demand for chips and tech devices, although it finished the pandemic-ridden year of 2020 with a 1.0 percent contraction, the deepest in 22 years.
The gross domestic product (GDP) of Asia's fourth largest economy grew 1.1 percent in the October-December period from the previous quarter, eased from a recovery pace of 2.1 percent in the third quarter, according to preliminary data from the Bank of Korea. Against a year ago, the economy contracted 1.4 percent.
It posted an annual decline of 1 percent, a tad milder than the negative 1.1 percent growth estimated by the Bank of Korea, thanks to rebound in the second half after the back-to-back decline of 3.2 percent in the second quarter and 1.3 percent in the first.
Hong Nam-ki, finance minister and deputy prime minister for economy, observed the economy has managed relatively well compared with other developed economies that fell 3 to 10 percent last year.
"Recovery in exports not only drove recovery in growth but also led to facility investment by companies, raising expectations for economic recovery momentum," Hong said, although adding private consumption stayed tepid due to the winter outbreak.
The BOK voiced more discretion in judgment in recovery.
"Many institutions project 3.0 percent growth this year, but against a negative growth of 2020, the pace cannot be sufficient," said Park Yang-su, head of economic statistics department at BOK.
Korean markets were little affected by the data and moved mostly on profit-taking.
Kospi slipped 2 percent to 3,139.52 as of 1:50 p.m. Tuesday after briefly touching above 3,200. Kosdaq revisited 1,000 threshold for the first time in 21 years but fell 0.8 percent to 991.20.
The three-year government bond yielded 1.006 percent by midday, sharply above the policy rate of 0.50 percent. The longer-dated curve has been gaining faster in line with economic recovery.
The second-half economy was driven by recovery in exports and record fiscal and monetary stimuli, while domestic demand stayed subdued.
Exports fell in double digits throughout the first half and began to ease in the latter half.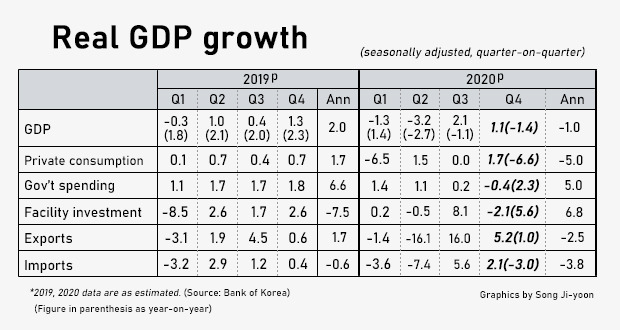 In the fourth quarter, exports gained 5.2 percent from the previous quarter compared with a 16 percent surge in the third quarter and 16.1 percent plunge in the second quarter. Imports added 2.1 percent mainly led by machinery and equipment items.
For full year, exports fell 2.5 percent.
Construction investment jumped 6.5 percent led by building and civil engineering works.
The resurgence of Covid-19 and stricter social distancing hampered private spending and job sector, weighing heavily over domestic demand. Private spending fell 1.7 percent in the cited period on decline in services including food and accommodation and goods. For full year, it shrank 5.0 percent,
Facility investment was down 2.1 percent in the October-December period, compared with an 8.1 percent gain in the previous quarter ended September. For full year, it rose 6.8 percent.
Government spending retreated 0.4 percent in the fourth quarter from a 0.2 increase in the third quarter mainly of cost of goods and health insurance payments. But for full year, government spending increased 5.0 percent on record budget and four supplementary increases.
Government spending contributed 1 percentage point to GDP growth last year, whereas the private sector ate up 2 percentage point, suggesting last year's growth was largely sustained by fiscal spending and global demand.
The country's gross domestic income added a mere 0.7 percent in the fourth quarter and edged down 0.3 percent for the full year.
[ⓒ Maeil Business Newspaper & mk.co.kr, All rights reserved]
ⓒ 매일경제 & mk.co.kr, 무단전재 및 재배포 금지